Studded with fresh apples and lot of warm spice flavor, this easy apple cinnamon rolls recipe will be an instant favorite!
Try my fresh Apple Coffee Cake next! Check out my other dessert like breakfast recipes here.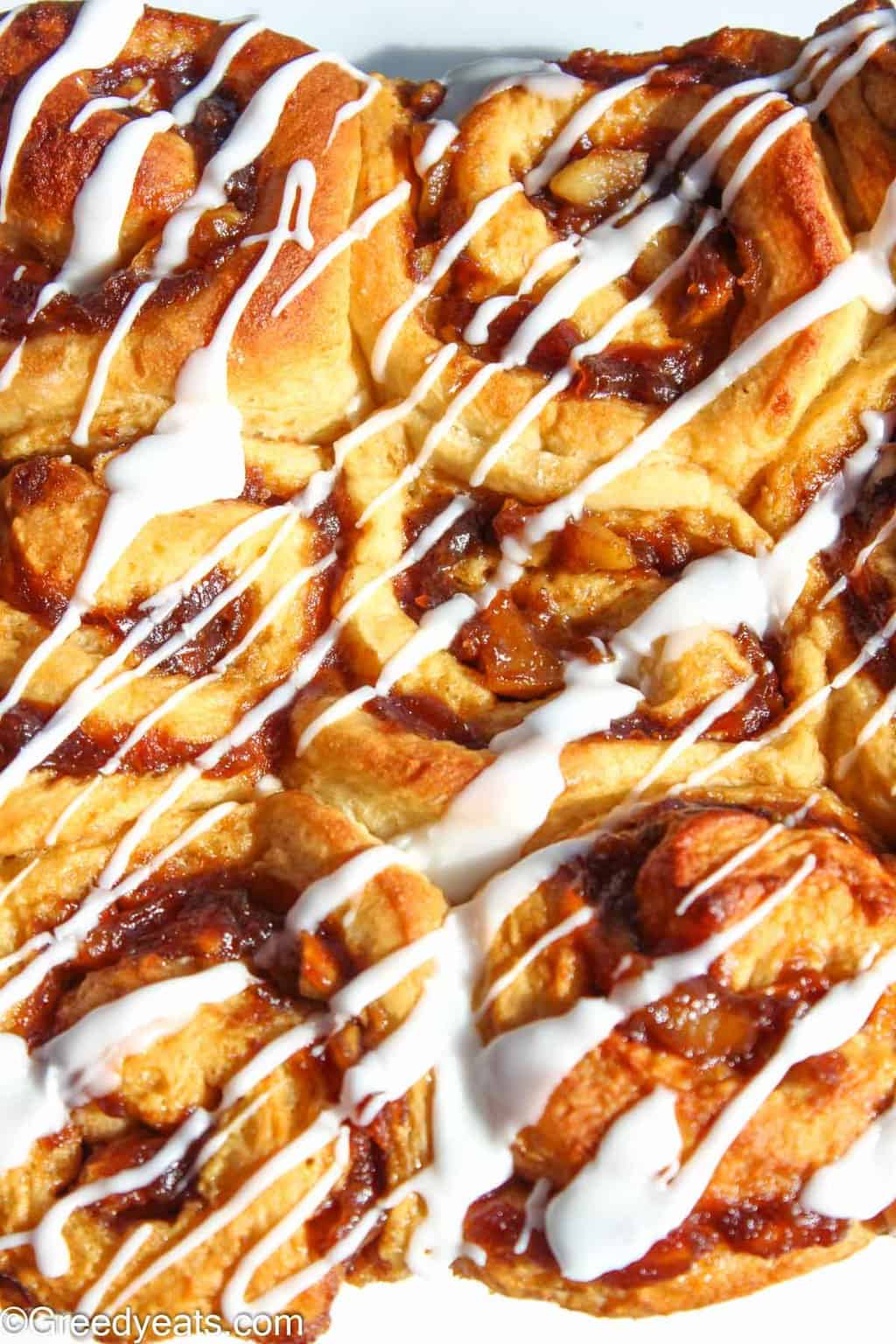 When cinnamon roll meets your favorite fall flavor. Who wouldn't like to taste cinnamon roll and apple pie both in a single bite?
Delicious, warm, gooey centers swirled in soft, golden brown and buttery bread. And that drizzle of sweet vanilla glaze takes these rolls over the top.
Apple cinnamon rolls recipe ingredients
We require 7 ingredients for making the dough.
Bread flour: Makes the structure of our cinnamon rolls. You can also sub it with all purpose flour.
Milk: Makes the dough rich and helps in activating the yeast.
Yeast: Active dry or instant yeast, both can be used. Today we are using instant one!
Sugar: To tenderize and flavor the dough. It also helps in activating the yeast.
Salt: For flavor
Butter: Butter gives ultimate flavor profile to our dough.Don't skip it!
One egg: For structure.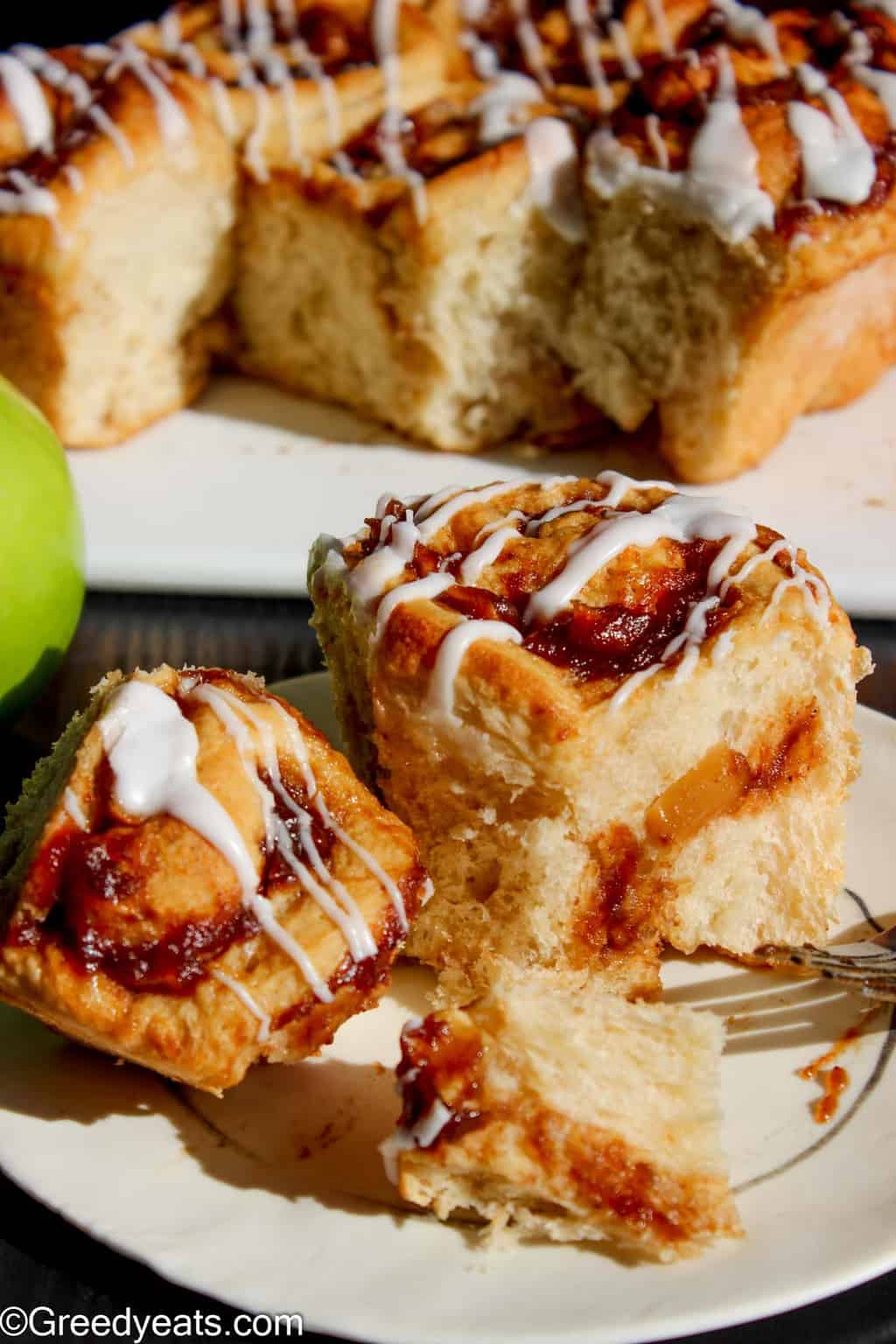 For the filling we will need-Apple butter, brown sugar, cinnamon and some fresh apple chunks
And for vanilla glaze: Confectioners' sugar, some vanilla and milk.
How to make apple cinnamon rolls recipe
There are 6 parts to today's recipe. An these homemade cinnamon rolls are super easy to make.
Make the dough: We are making the dough with hands. You can also use a mixer. But I like to feel my dough and trust me it doesn't take that long!
Let the dough rise: I prefer a warm environment for this step. You can also let these rise overnight if you prefer to bake them next day in the morning.
Flatten the dough and spread the filling: Flatten your dough into a 9×15 inch rectangle. Spread all the filling on this dough.
Shape the rolls: Fold the dough tightly and cut into 9 rolls.
Time for second rise: Cover the rolls with aluminium foil and allow to rise again.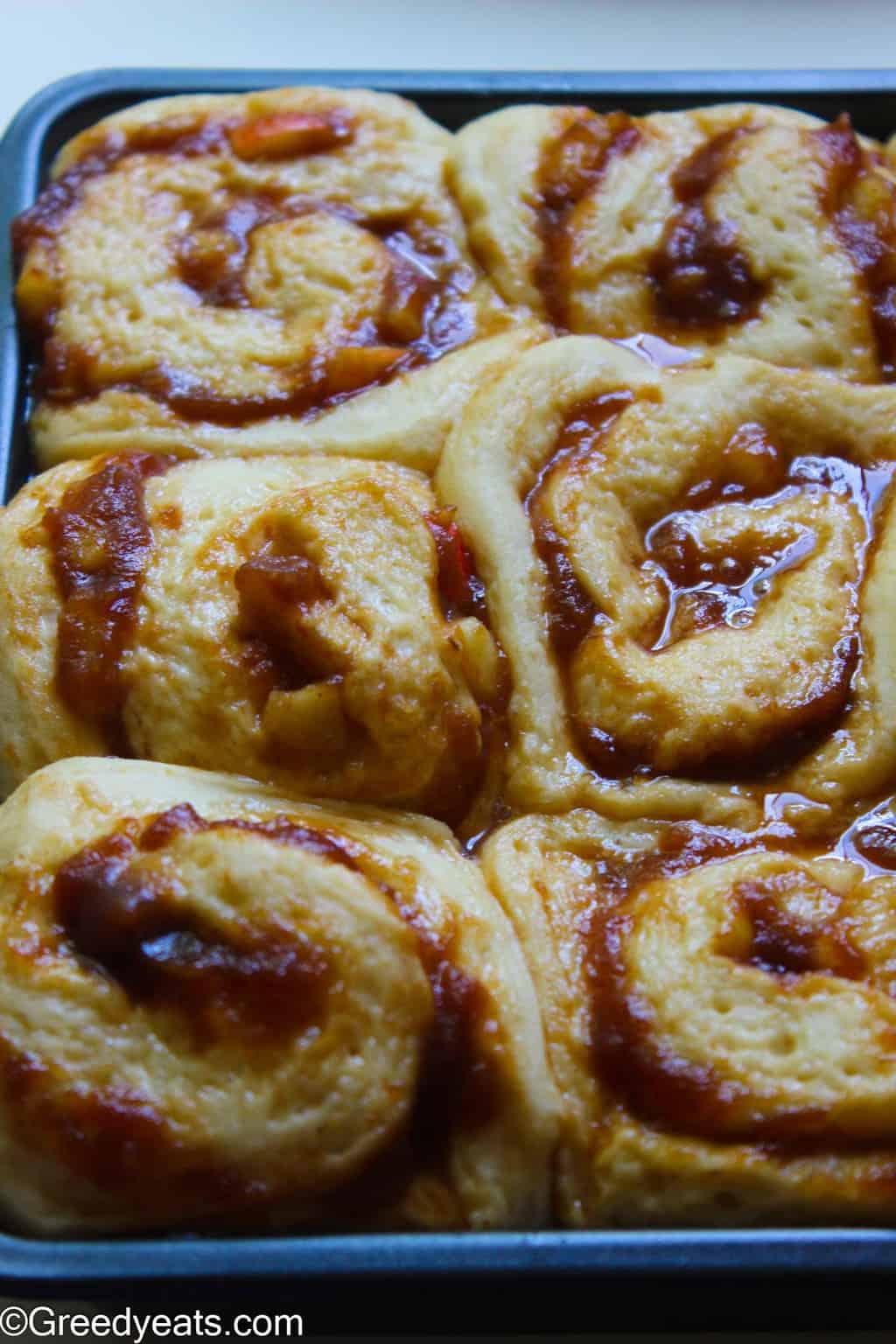 Bake: Till done or golden brown in color. If you notice they are browning too much. cover the rolls with aluminium foil.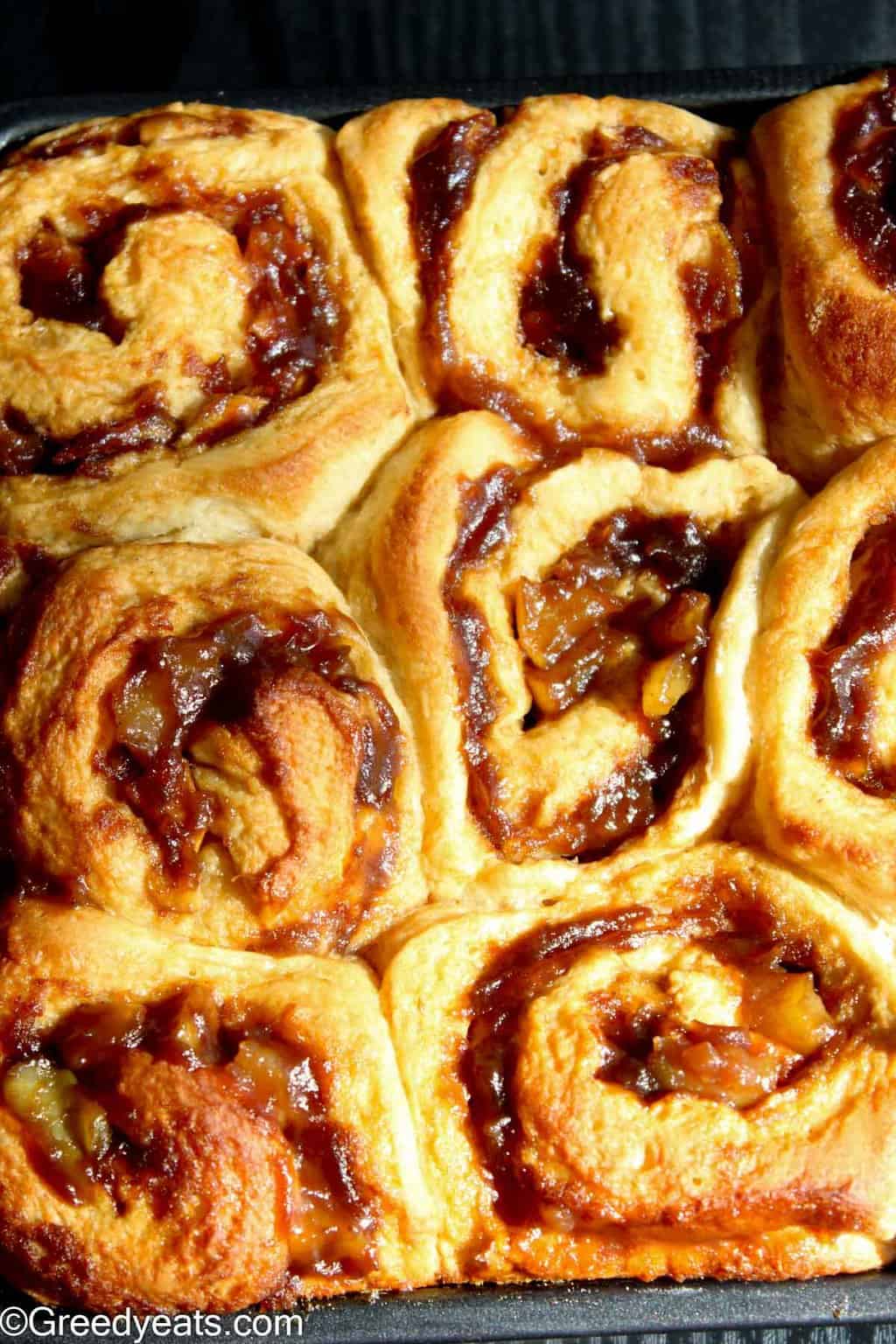 Glaze while the rolls are still warm: Beat all the icing ingredients together and drizzle on the rolls.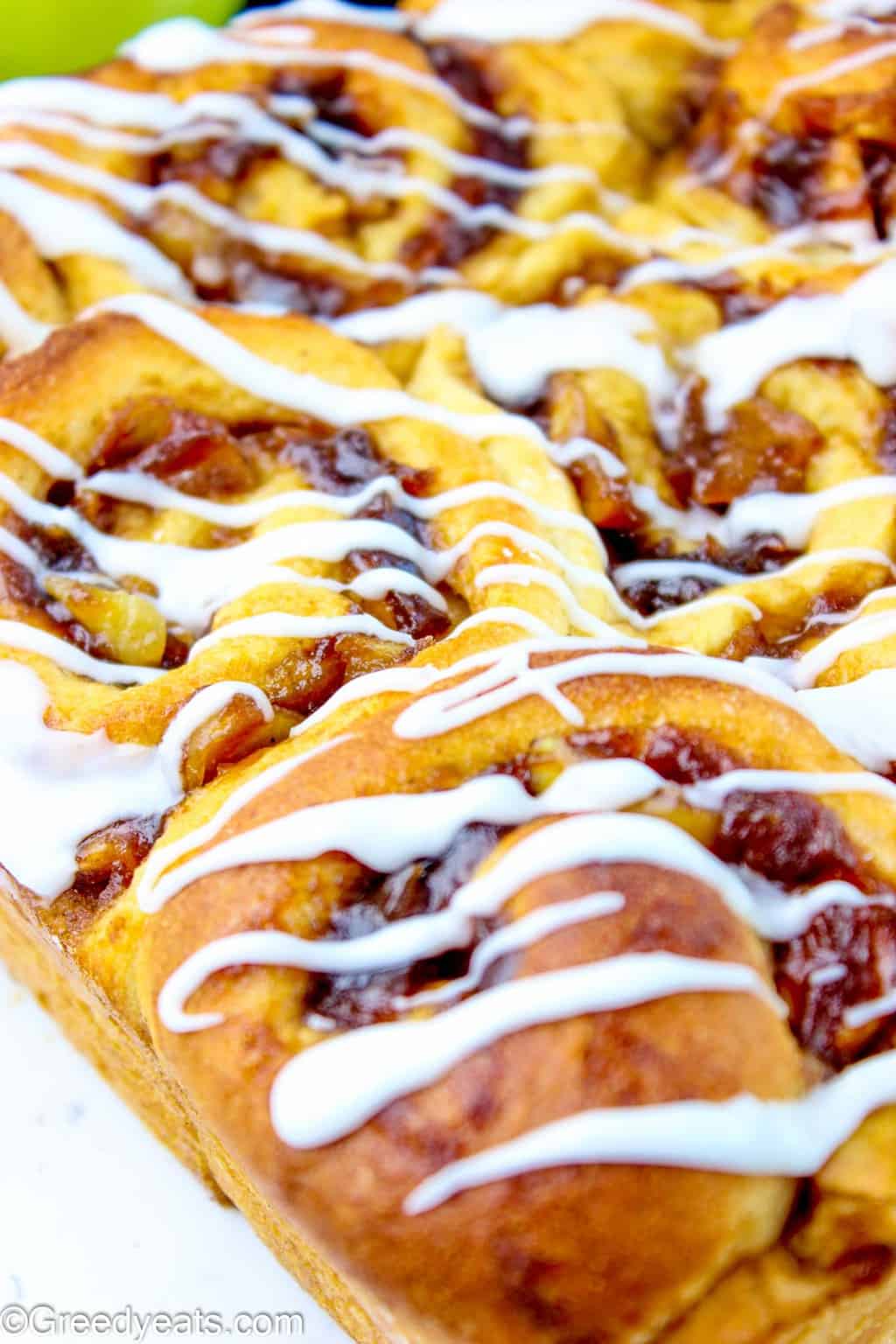 tips for making apple cinnamon rolls recipe
Should cinnamon rolls touch when baking?
Cinnamon rolls should not touch before rising and before baking. So don't jam pack them in your pan. The will expand as they rise and bake. So leave that space!
How do you know when cinnamon rolls are done?
They will be golden brown in color. Also check the center most roll with a fork for doneness. It should not appear raw.
How long can you keep cinnamon roll dough in the fridge?
The dough can stay in the fridge for about 24 hours. You can let it rise there. This makes the rolls very flavorful!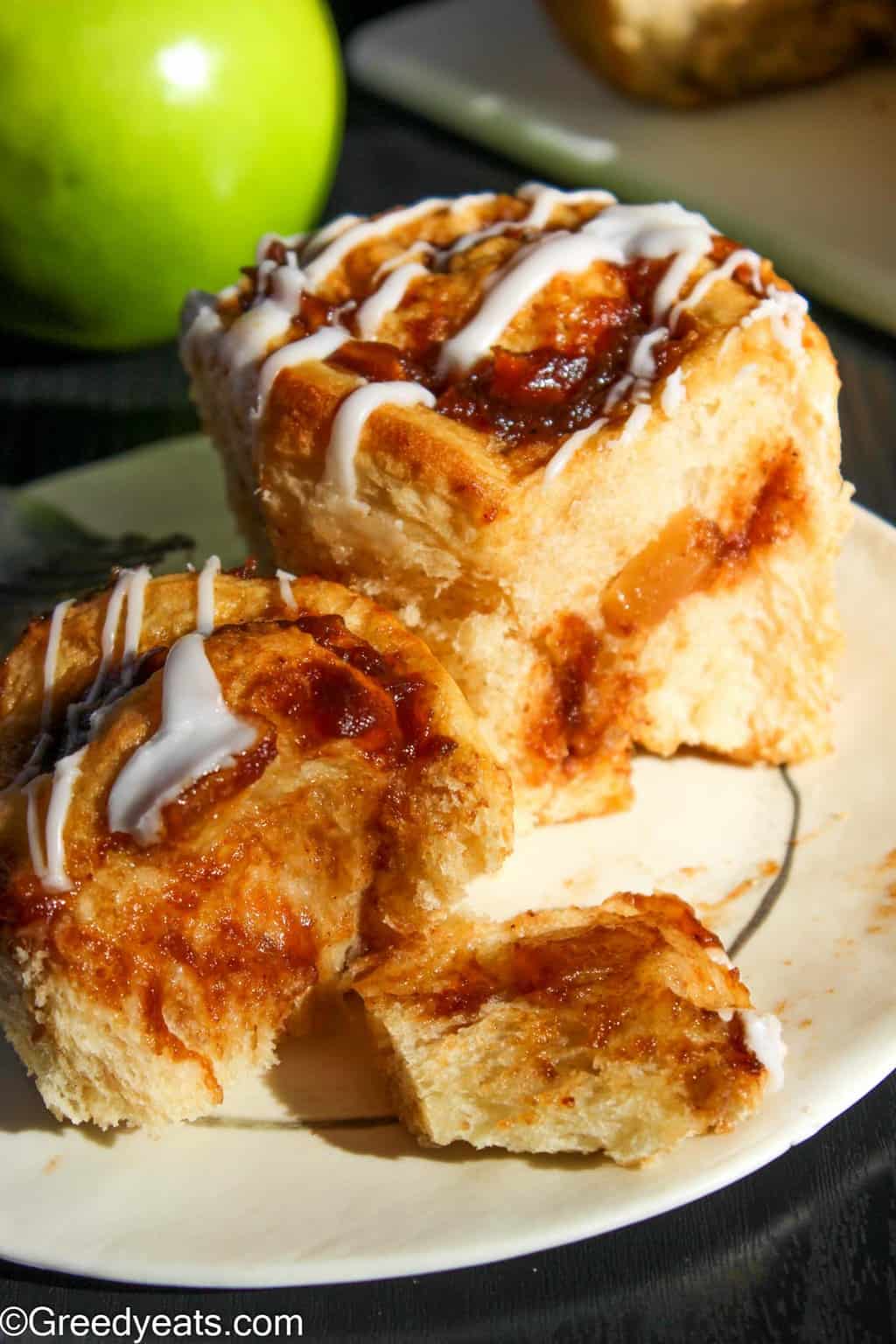 Can you bake cinnamon rolls in a glass pan?
Yes you can. But as the glass doesn't heat up as quickly as metal, you will need to increase the baking temp by approx. 25 deg F for your rolls to bake well.
Why are my cinnamon rolls tough?
You might have accidentally added too much flour. This may result in dry and tough rolls. The dough may appear a bit sticky at first. Don't be tempted to add way too much flour at once!
Why are my cinnamon rolls tough?
Sounds like your dough was over worked or under proved.
You only need to knead the dough till it comes together and gets a little pliable.
Don't skimp on the rising time. Let the dough double in it's volume (for both rises) before proceeding ahead.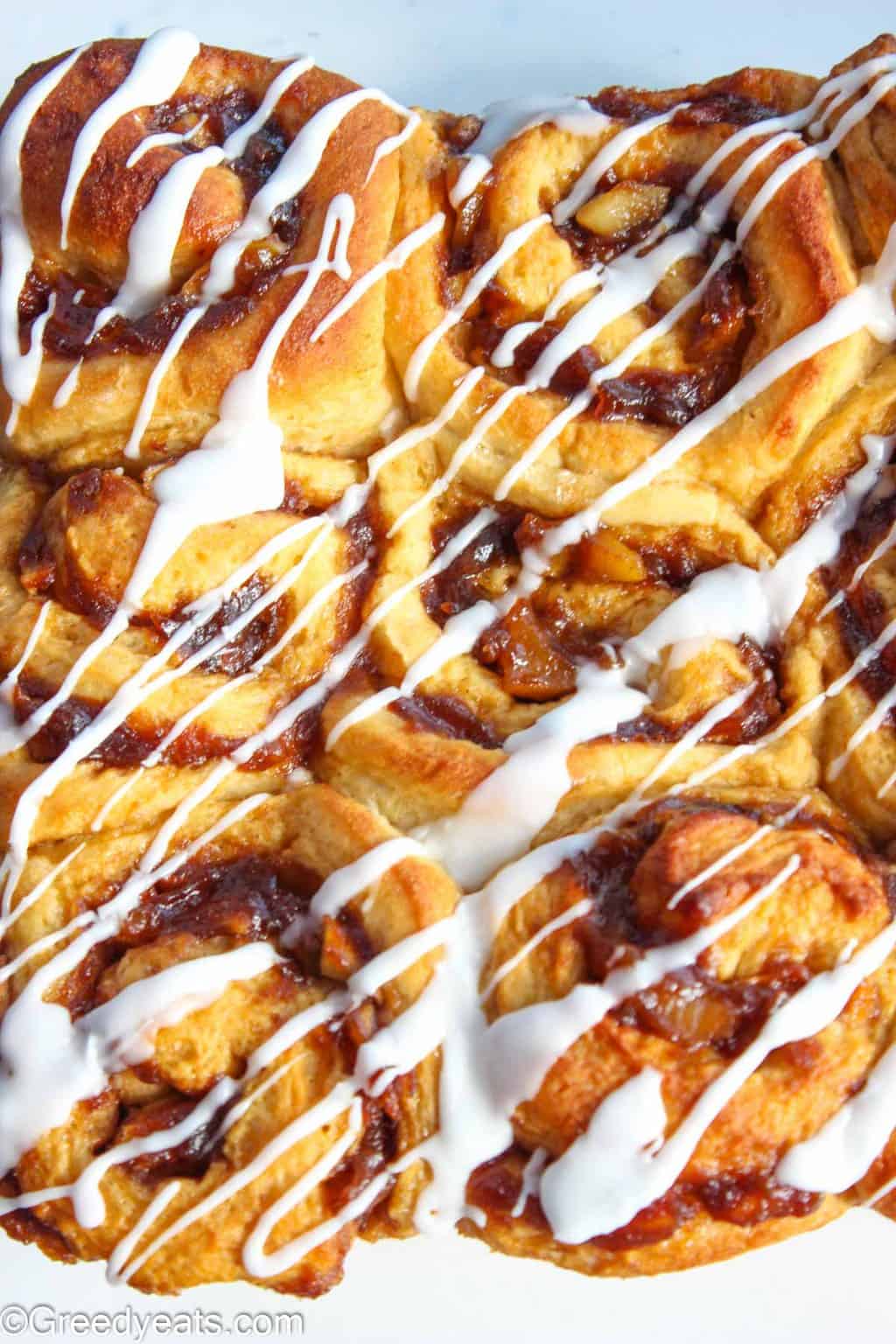 Follow the basic bread baking rules and you will bake perfectly soft, buttery, and puffy Cinnamon rolls. Every single time!
If you liked these rolls you will love my easy banana caramel cupcakes.
Also these cinnamon scented coffee crumb cake is calling your name!
Have you tried my pumpkin flavored overnight oats yet?
You'll be thrilled to wake up to these fall flavored oatmeal cookies!
And all my very favorite fall favorite desserts recipes!
Follow me on Instagram and tag me in your creations!<3
Recipe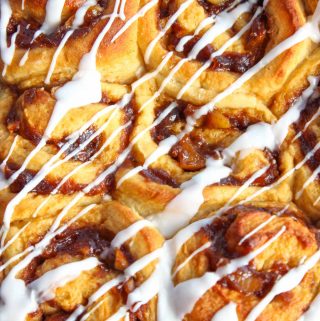 Apple Cinnamon Rolls
Studded with fresh apples and lot of warm spice flavor, this easy Apple Cinnamon Rolls recipe will be an instant favorite!
Print
Pin
Rate
Ingredients
¾ Cup

Whole Milk

3 Tbsp

Granulated Sugar

2 ¼ teaspoon (7 gms) 1 packet

Yeast

(I used instant)

2 ¾ Cups

Flour

(I used bread flour, All purpose flour can be substituted)

1 large

Egg

2 Tbsp

Butter

(unsalted, melted and cooled)

1 tsp

Salt
Apple Filling:
¾ Cup

Apple Butter

(mine was spiced, if yours is plain add 1 teaspoon apple pie spice)

¾ Cup

Brown sugar

1 Tbsp

Cinnamon

1 small

Apple

(Peeled, cored and cut into small chunks)
Vanilla Glaze:
1

Cup

Confectioners' sugar

2-3

tablespoon

Milk

1

teaspoon

Vanilla extract
Instructions
Prepare the dough: Heat milk to 95°F (35°C) it will feel warm to touch at this temp. Add sugar and yeast. Cover and let it sit for 5-10 mins or until the yeast is foamy. If yeast doesn't foam, start over with fresh active yeast.

Pour yeast mixture into a mixing bowl. Next add the egg and whisk it in. Now add flour and knead by hand. You can also make this dough with a hand mixer or in stand mixer(with hook attachment). If using mixers knead on medium for about 5-6 minutes(after the dough forms). Knead with hand till a soft dough forms.

Don't be alarmed if the dough is sticky. It will come together after adding butter. If it still is too sticky add more flour 1 tablespoon at a time. I am positive you won't need any more!

Next add butter and salt. Knead for another minute and keep back in the mixing bowl (covered with a towel or plastic wrap) for first rise.

You can rise the dough in a warm oven for about an hour (heated for 2 minutes at 350 deg F and turned off). Or you can let the dough rise in the fridge for 8-10 hours or until doubled in volume.

Grease a 9x9 square baking pan. Punch the risen dough down, and turn it on to a lightly floured surface. Roll the dough into a 9x15 inch rectangle and spread apple butter, cinnamon, brown sugar and fresh apple chunks on it.

Roll the dough tightly and cut 9 equal sized large rolls out of it. Place them in the pan.

Cover and let rise again for an hour or till they are doubled. Preheat oven to 375°F (191°C).

Bake the rolls for 15-20 minutes or until they turn golden brown on top and the roll in center gets fully baked.

To make the glaze: Mix and whisk all the ingredients together in a bowl. The glaze should look smooth and free from lumps. Drizzle with glaze while the rolls are warm.
Notes
How do you store cinnamon rolls?
Baked cinnamon rolls can be stored at room temp for up to 2 days, covered tightly.
Rolls will keep good in the fridge for about 6-7 days. Cover them tightly to prevent them from drying out.
You can also freeze baked cinnamon rolls for about a month or so. Thaw and reheat before enjoying!
How do you reheat frozen cinnamon rolls?
Thaw them to room temp and microwave them individually for about a minute. If you prefer a fresh baked crust, pop them into preheated oven at 350 deg F for 2-3 minutes.
Alternatively reheat the rolls in a preheated oven for about 10-15 minutes at 425 deg F.
Preparing ahead instructions:
You can leave your dough for first rise in the refrigerator overnight or up to 24 hours. Take the dough out and continue with step 6.
A note about yeast: If you use active dry yeast, rising time will be a little longer.
Nutrition
Serving:
1
Roll
|
Calories:
378.54
kcal
|
Carbohydrates:
79.16
g
|
Protein:
6.2
g
|
Fat:
4.47
g
|
Sodium:
310.38
mg
|
Sugar:
46.24
g