Who can resist chocolate cake pops? We know we can't, that's for sure! Moist, fudgy chocolate cake wrapped in a velvety smooth chocolate candy shell. Bet you can't eat just one. Plus they can be prepped ahead and are ready in no time!
These chocolate hand-held treats are sure to please and make dessert time fun. Great for kids and those young at heart!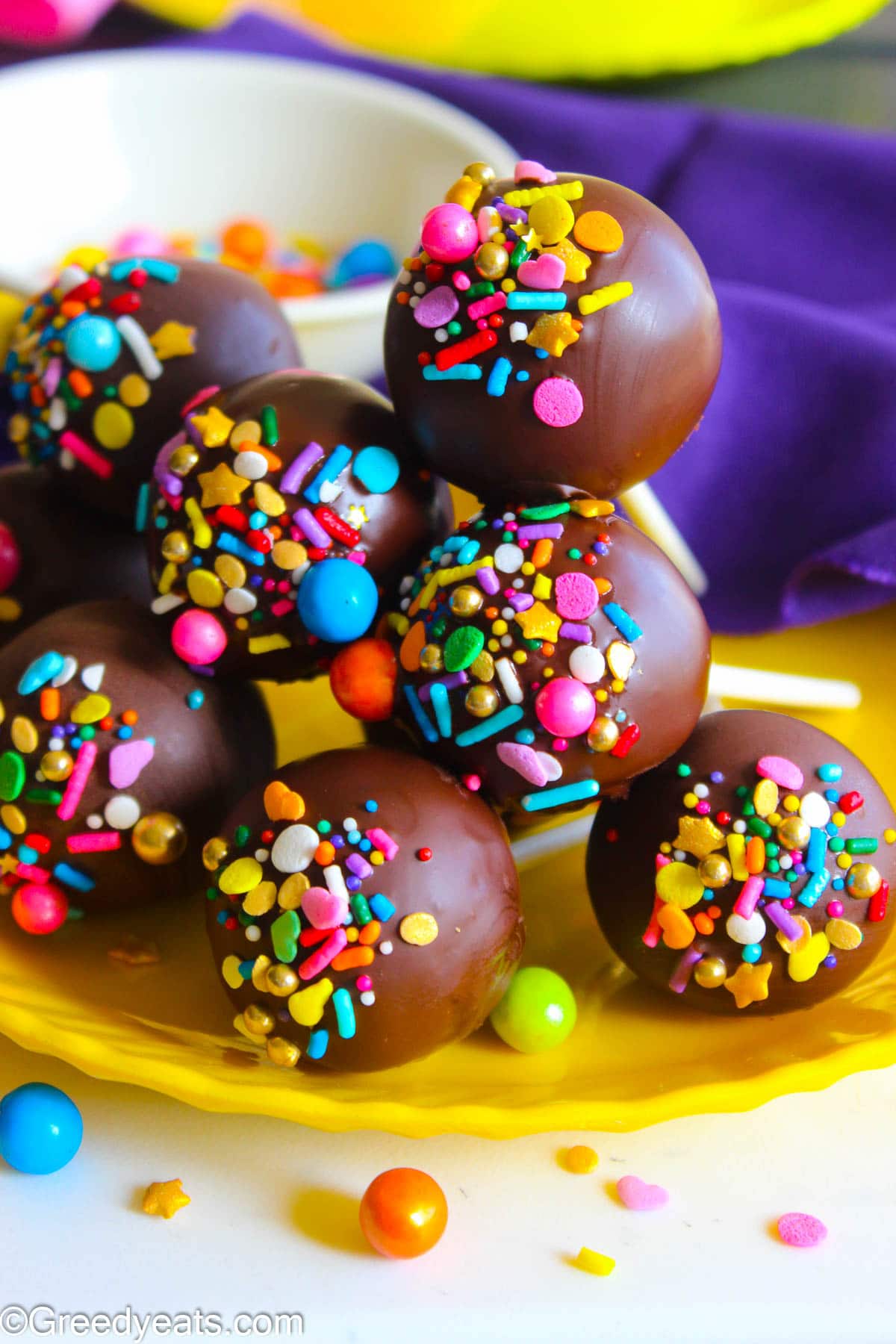 Looking for more cake pop ideas? Check out these Vanilla Cake Pops or these Pumpkin Cake Balls.
TASTE AND TEXTURE:
Soft moist cake balls wrapped in chocolate
Chocolate crunch from the chocolate covering and sprinkles
Rich chocolate taste from the cake and the icing


CHOCOLATE CAKE BALLS INGREDIENTS:
Store bought chocolate cake mix: keep a box of chocolate cake mix in the pantry for when those chocolate cravings hit. These boxes have a long shelf life so having them on hand makes whipping up these balls super easy. Or make this Simple Chocolate Cake recipe if you don't have a cake mix on hand.
Pillsbury Creamy Supreme Chocolate Frosting: we use this frosting to add creaminess and texture to the cake balls. Homemade chocolate frosting works well too.
Chocolate Candy Melts: using these chocolate melts adds a milk chocolate taste and smooth texture.
Sprinkles: these sprinkles give the cake pops a festive and celebratory feel.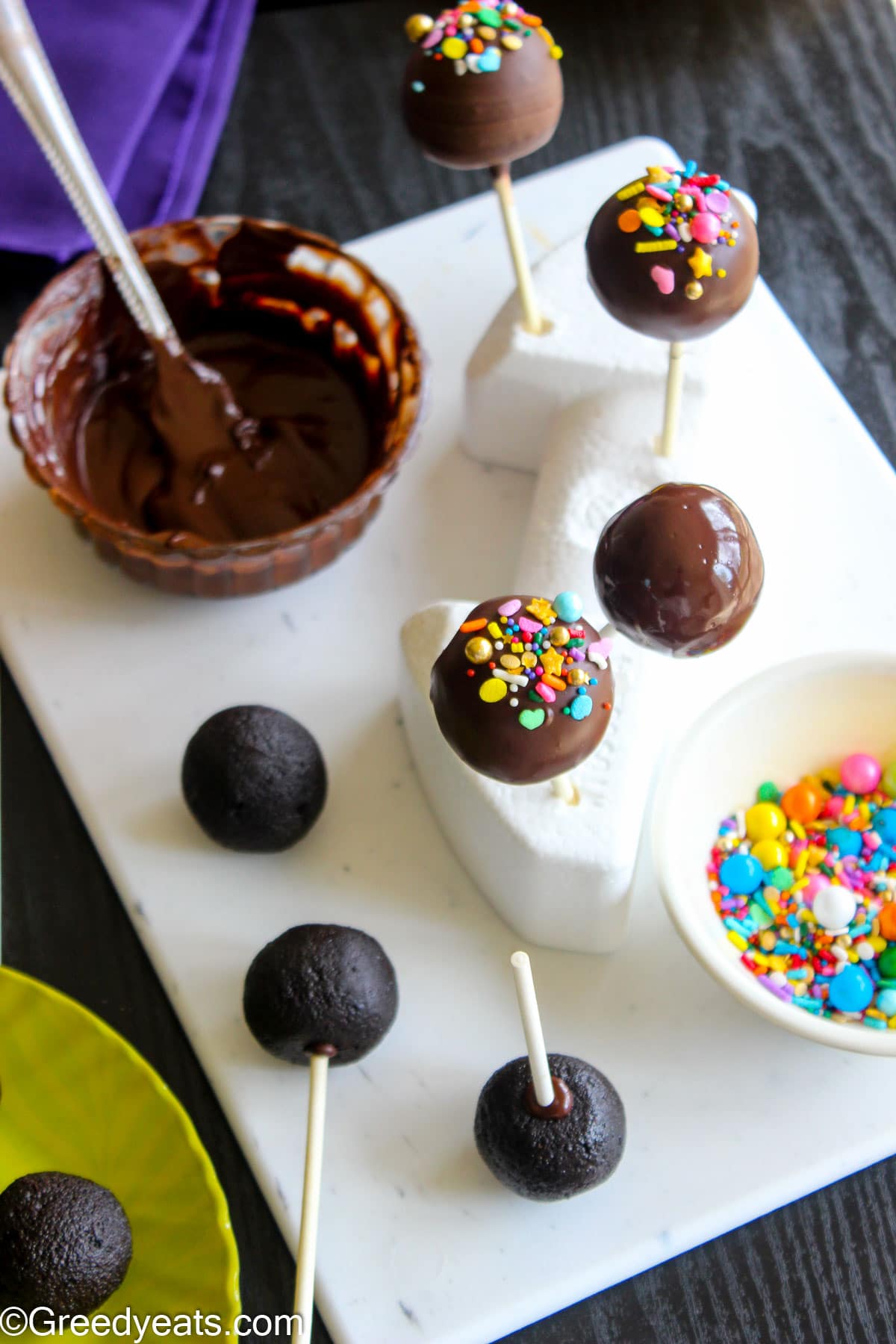 HOW TO MAKE CHOCOLATE CAKE BALLS:
Bake the cake and cool it. Bake a cake using a chocolate cake mix or from scratch. Allow it to cool completely.
Crumble the cake. Crumble the cake into a large bowl once trimmed.
Mix cake with frosting. Scoop the chocolate frosting into the cake crumbs and mix together.
Roll the cake balls. Roll the cake crumbs into individual balls.
Melt the chocolate. Pour chocolate candy melts into a small bowl and melt in the microwave.
Dip the cake pop sticks. Dip the end of each of the cake pop stick into the melted candy and insert it into the cake ball.
Freeze the cake pops. Freeze the cake pops to help lock in the stick.
Melt the remaining chocolate. Melt the rest of your chocolate in a large bowl and stir in dipping aid chips.
Dip your cake pops. Pour melted candy into a cup and begin dipping your cake pops.
Sprinkle the cake pops. Hold the cake pop at an angle and tap your wrist so all the extra candy coating drips off, quickly sprinkle on the sprinkles of your choice.
Let the cake pops set. Place the cake pops into a styrofoam block and let them set for a while.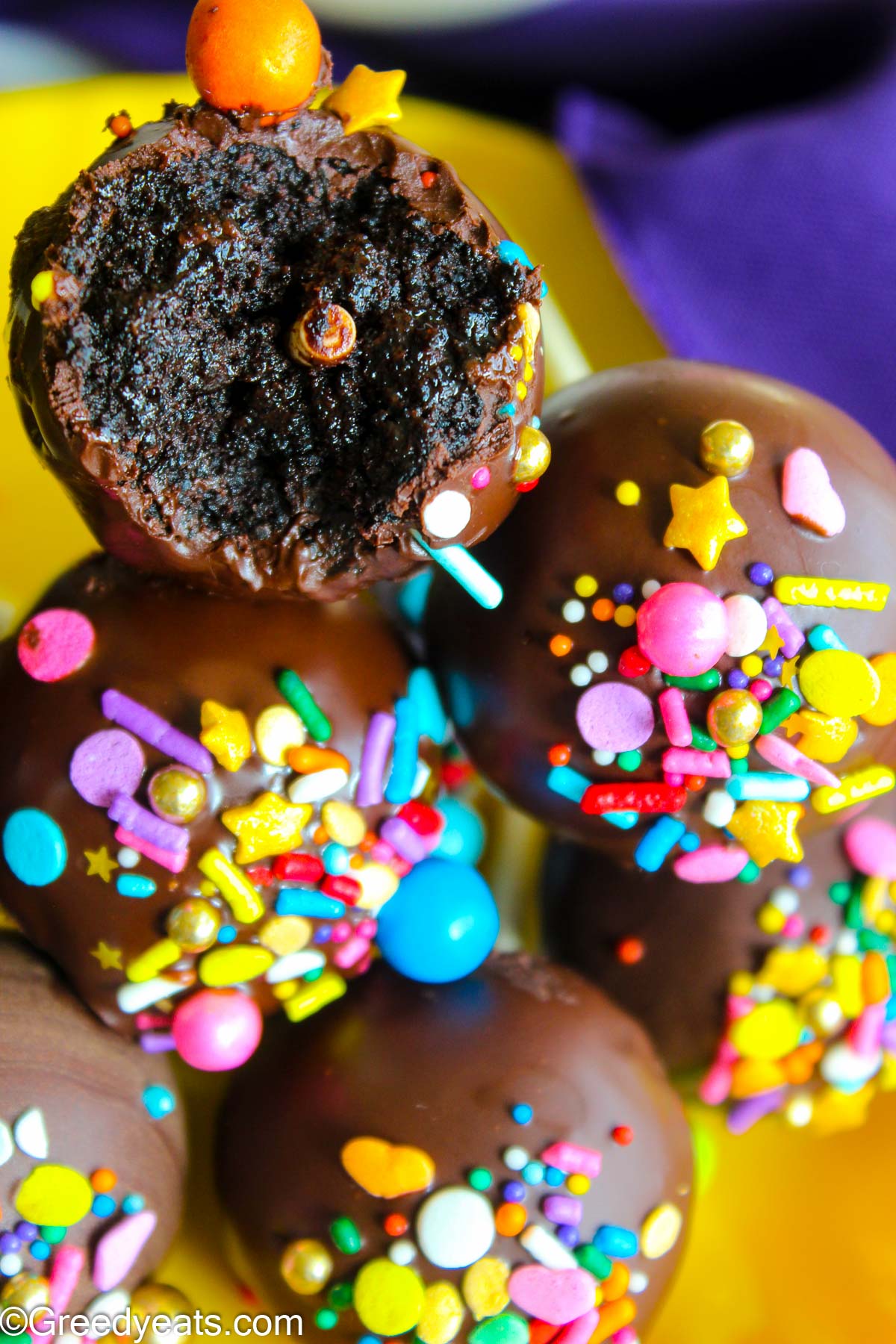 CHOCOLATE CAKE BALLS FAQS
WHY ARE MY CAKE POPS CRACKING?
There can be a number of reasons why cake pops are cracking.
If cake balls are too cold and the melted candy they are dipped in is hot, they may crack.
If there are cracks in the balls, they may expand even more when dipped in chocolate. Roll the balls smoothly to avoid cracks.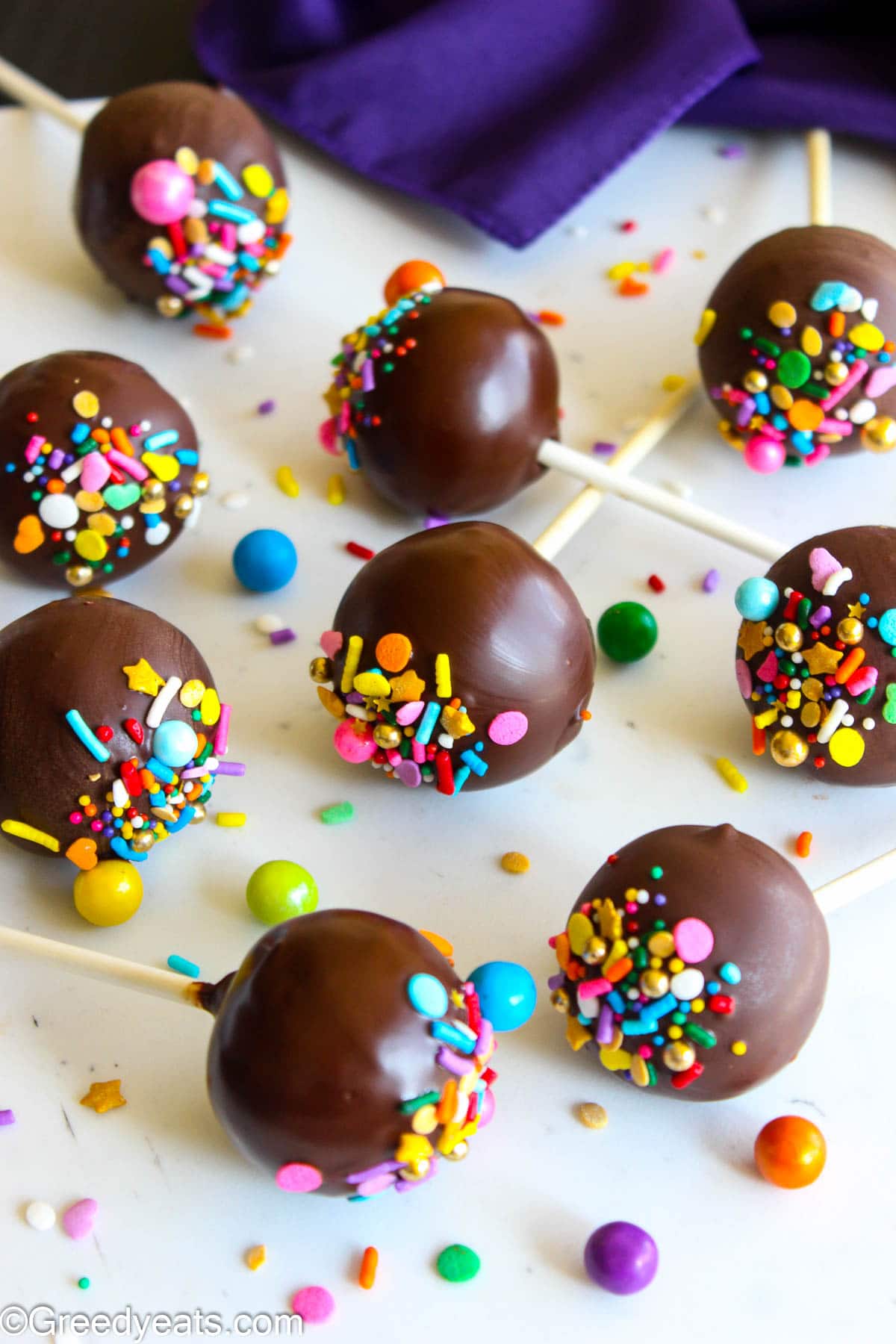 HOW DO YOU FIX CAKE POPS THAT ARE TOO MOIST?
Make sure the cake ball mixture isn't too fine. To avoid a fine crumb don't crumble cake in the food processor, use your hands or a fork.
HOW LONG DO YOU CHILL CAKE POPS BEFORE DIPPING?
Chill the cake pops until they are firm to touch. I'd do not have a specific chilling time, anywhere between ½ to 1 hour should be enough.
CAN CAKE POPS BE LEFT OUT?
Yes, if it is not too hot outside cake pops can be left on the counter. To be on the safe side, keep them refrigerated until you serve them.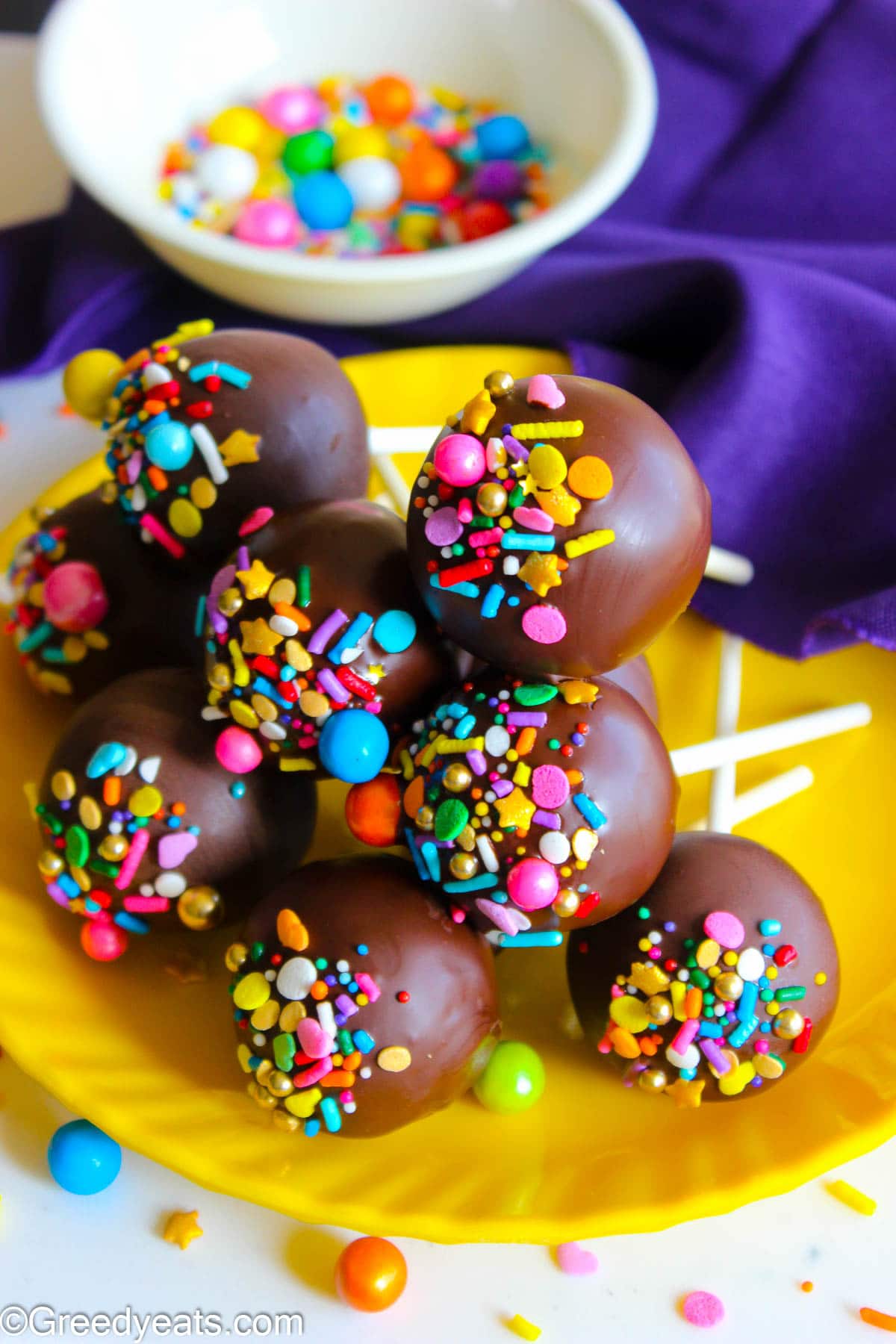 HOW DO YOU THIN OUT MELTING CHOCOLATE FOR CAKE POPS?
If you find your chocolate is getting too thick add a teaspoon of oil to thin it out.
CAN CAKE POPS BE MADE IN ADVANCE?
Yes, cake pops can be made and frozen. Do not dip them in chocolate, freeze them undipped.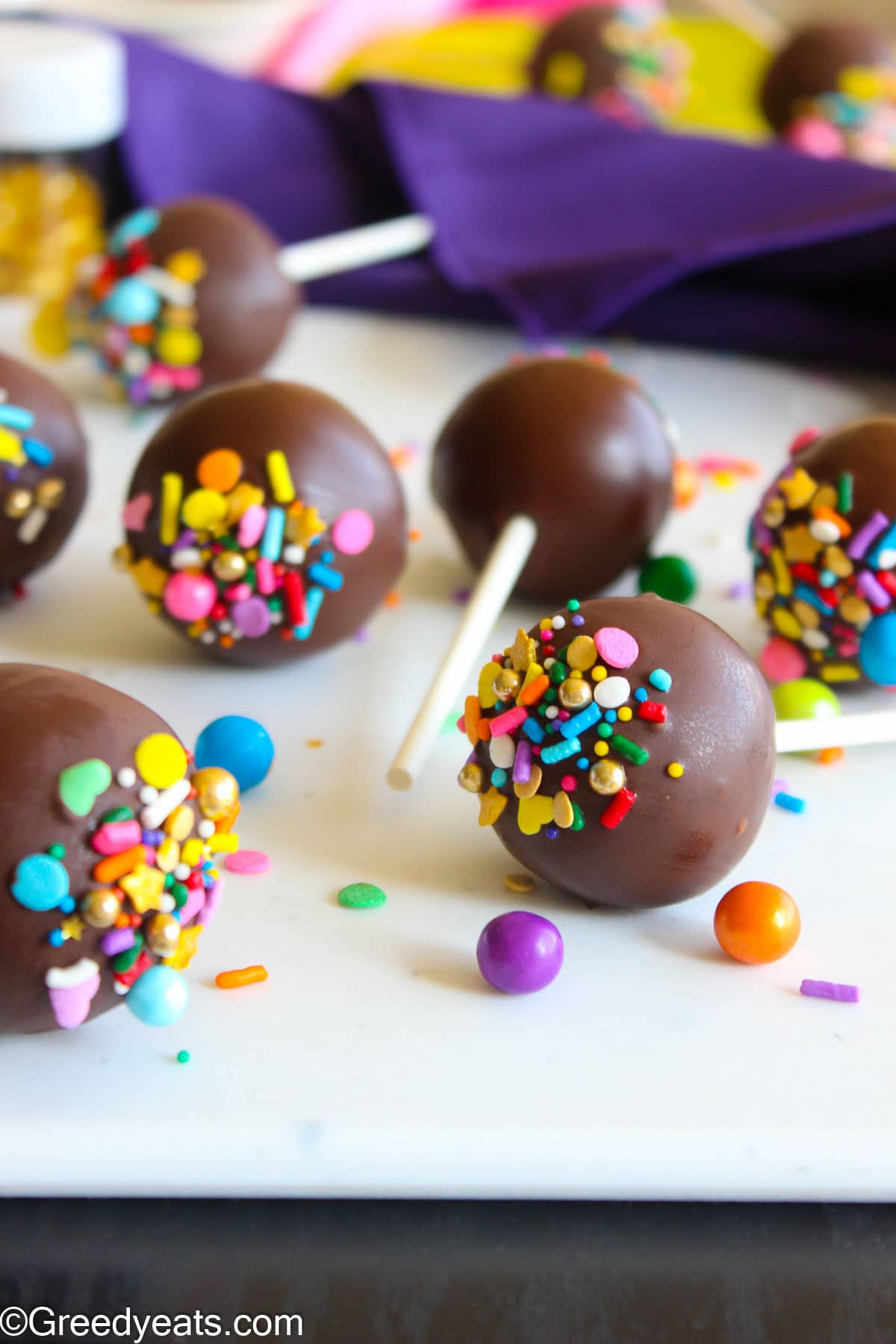 If you liked this cake pop recipe, give it a star review. Also, tell me in the comments below, how did they turn out for you! And don't forget to share your creations with me on Instagram at #greedyeatsblog And let's be friends on Pinterest and Facebook too!
More chocolate recipes you will love:
Recipe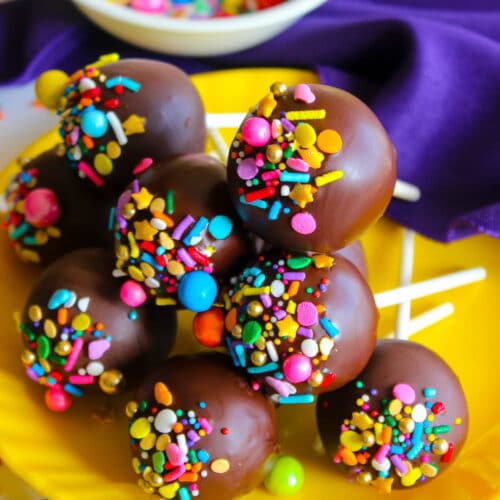 Chocolate Cake Pops
These Chocolate Cake pops are hand-held rich and creamy chocolate treats that can be prepped ahead and are ready in no time!
Print
Pin
Rate
Equipment
Cake Pop Sticks

Styrofoam to Set Cake pops

1 9x13 inch Baking Pan
Ingredients
1

15 oz box

chocolate cake mix

⅓

cup

vegetable oil

3

eggs

1 ¼

cups

water

2

tablespoon

chocolate frosting

(I used Pillsbury Supreme Chocolate Fudge Frosting)

12

oz

Chocolate Candy Melts

1

teaspoon

Coconut oil

(to thin the chocolate out before coating)

½

cup

Sprinkles

(of choice)
Instructions
Using an electric hand mixer combine all the ingredients.

Spray a 9×13 inch baking pan with non-stick spray and pour the cake batter in.

Bake at 350 degrees Fahrenheit for 30-35 minutes.

Carefully flip the cake over onto a cooling rack and let it cool completely.

Use a knife remove the entire outer layer of the cake. The outside of the cake tends to be pretty dry so try to keep the dry pieces out or they might cause your cake pop to fall apart.

Once the cake is trimmed, begin crumbling the cake into a large bowl. Try to get these crumbs as fine as possible.

As you remove the cake ball, you'll see a fine line that runs across it. This is a weak point that will cause the cake pop to fall apart.

Take the cake ball back into your hands and roll it out once more to eliminate the lines.

Before you dip the cake pops into the melted candy freeze them for about 15 minutes to help lock in the stick. Don't freeze for more than 15 minutes or they will be too cold. When they are too cold the chocolate firms up too fast after dipping and the sprinkles will not stick to it.

Melt the rest of the chocolate candy melts in a large bowl and add stir in 1 teaspoon of dipping aid chips to help thin out the candy melts.

Pour the melted candy into a cup and begin dipping your cake pops.

To ensure that your cake pops don't fall off the stick, do not swirl them around in the candy melts, just dip and remove.

Hold the cake pop at a 45-degree angle and tap your wrist so all the extra candy coating drips off. Then quickly sprinkle on your sprinkles.

Place the cake pops into a styrofoam block and let them set for about 30 minutes. Serve at room temperature.
Nutrition
Serving:
1
Cake Pop
|
Calories:
48
kcal
|
Carbohydrates:
4
g
|
Protein:
1
g
|
Fat:
1
g
|
Sodium:
10
mg
|
Sugar:
3
g