Soft, chewy, festive and inky-pinky strawberry chocolate chip cookies recipe. Only one you will want to bake!
Or try their giant counterpart! You won't even need to roll extra balls. So easy! Find all my pretty and yum cookie recipes here!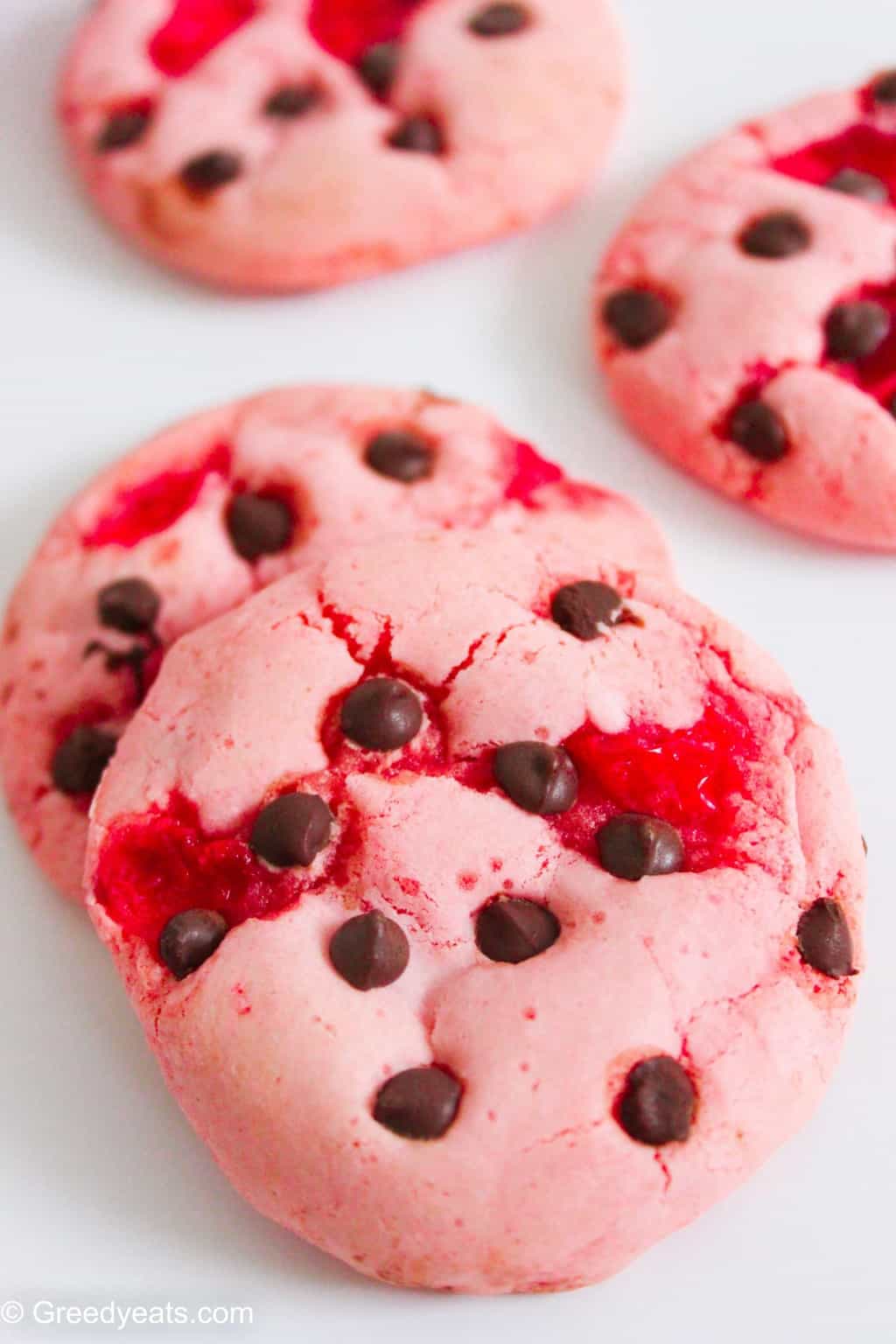 These strawberry cookies you sight above are anything but ordinary. They are filled with strawberry flavor, loaded with gooey chocolate chips and exploding with sweet cherries.
If you have can pick one cookie from a plate that serves chocolate cookies, vanilla chocolate chip cookies and strawberry chocolate chip cookies, which one will you pick? Pink ones?
See. Told Ya. You are already in love!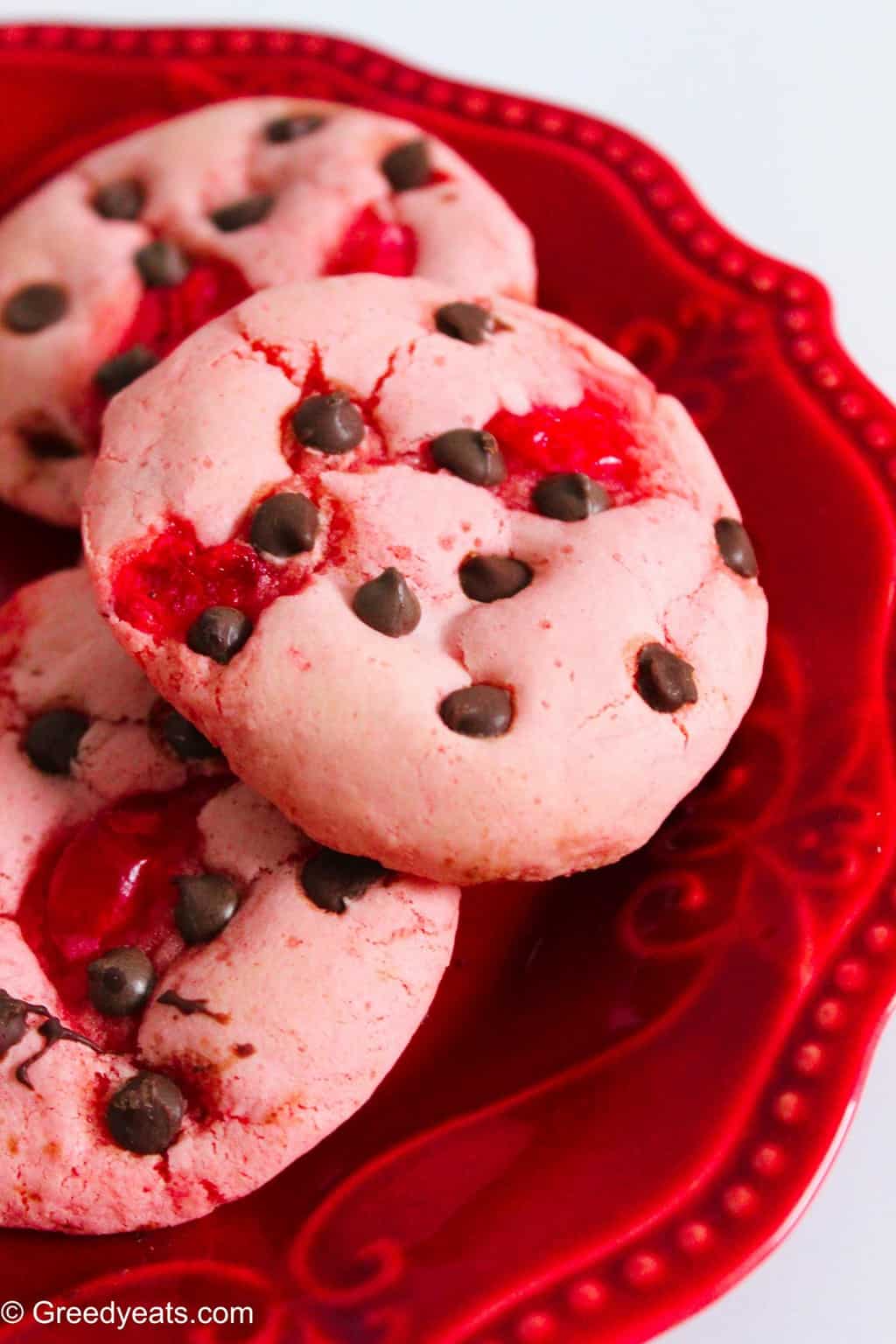 When you taste chocolate, strawberry and cherry in every bite of a soft, perfectly chewy and flavorsome cookie. You reach cookie nirvana! That's the kind of homemade strawberry chocolate chip cookies we are talking about!
Won't these be perfect for Valentines' Day too?
Oh and you need to bake these, these, also these and OMG! these for Valentines' Day!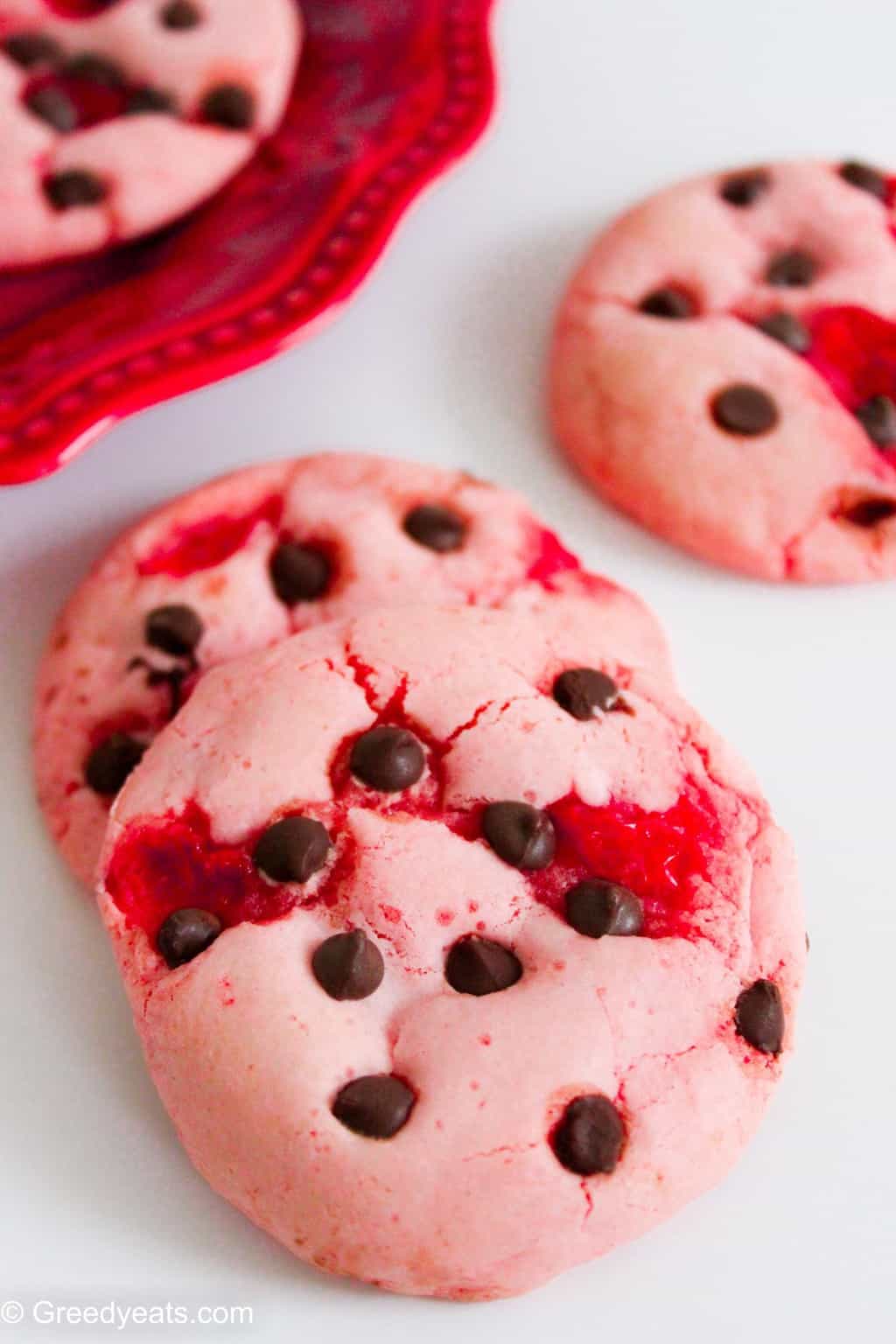 Strawberry Chocolate chip cookies ingredients
Only 7!
Strawberry flavored cake mix (I use Duncan Hines)
A tsp of Baking powder for lift
Some flavorless oil for moist cookies
2 large eggs for texture and binding
Some vanilla extract for flavoring
Mini chocolate chips (do you need a reason?)
And cherry preserves!
How to make strawberry chocolate chip cookies
One bowl, 7-ingredients, no sifting, no chilling! Yes, it's more than a cookie dream come true!
Mix eggs, oil and vanilla in a bowl to combine.
Add in cake mix and leavener.
Throw in mini chocolate chips and some cherries.
Roll into tall balls.
And bake!
The only thing to keep in mind is these cookies have the tendency to spread quite a lot. To avoid excessive spreading, we will roll the balls tall rather than round. This trick keeps the spread in check.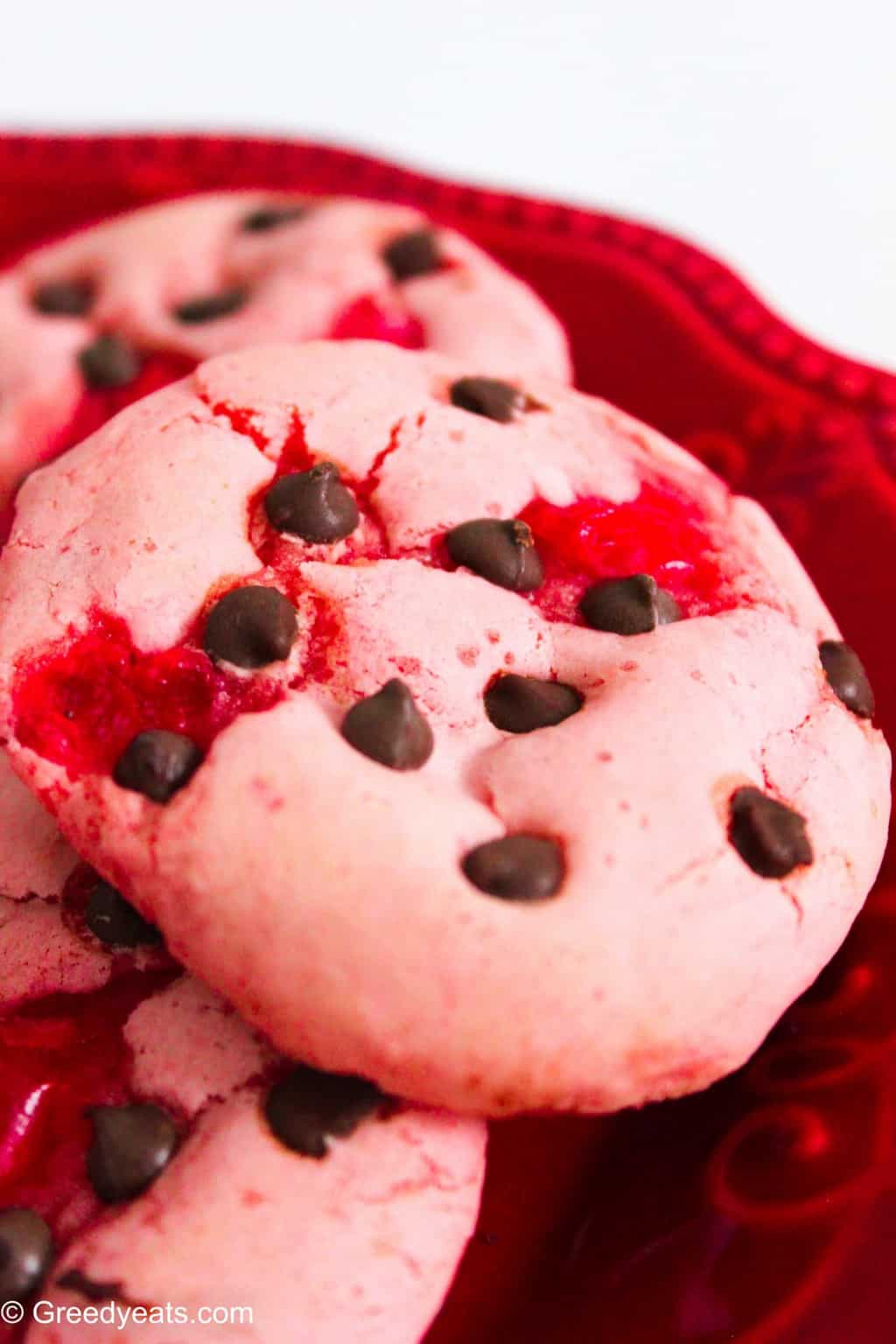 Oh and also do not bake them more than 9 minutes. They may appear undone or unset. But worry not! They will firm up once they cool down. You bake these anymore than 10 minutes and they will turn brown.
I'd suggest baby sit them as eighth minute passes by!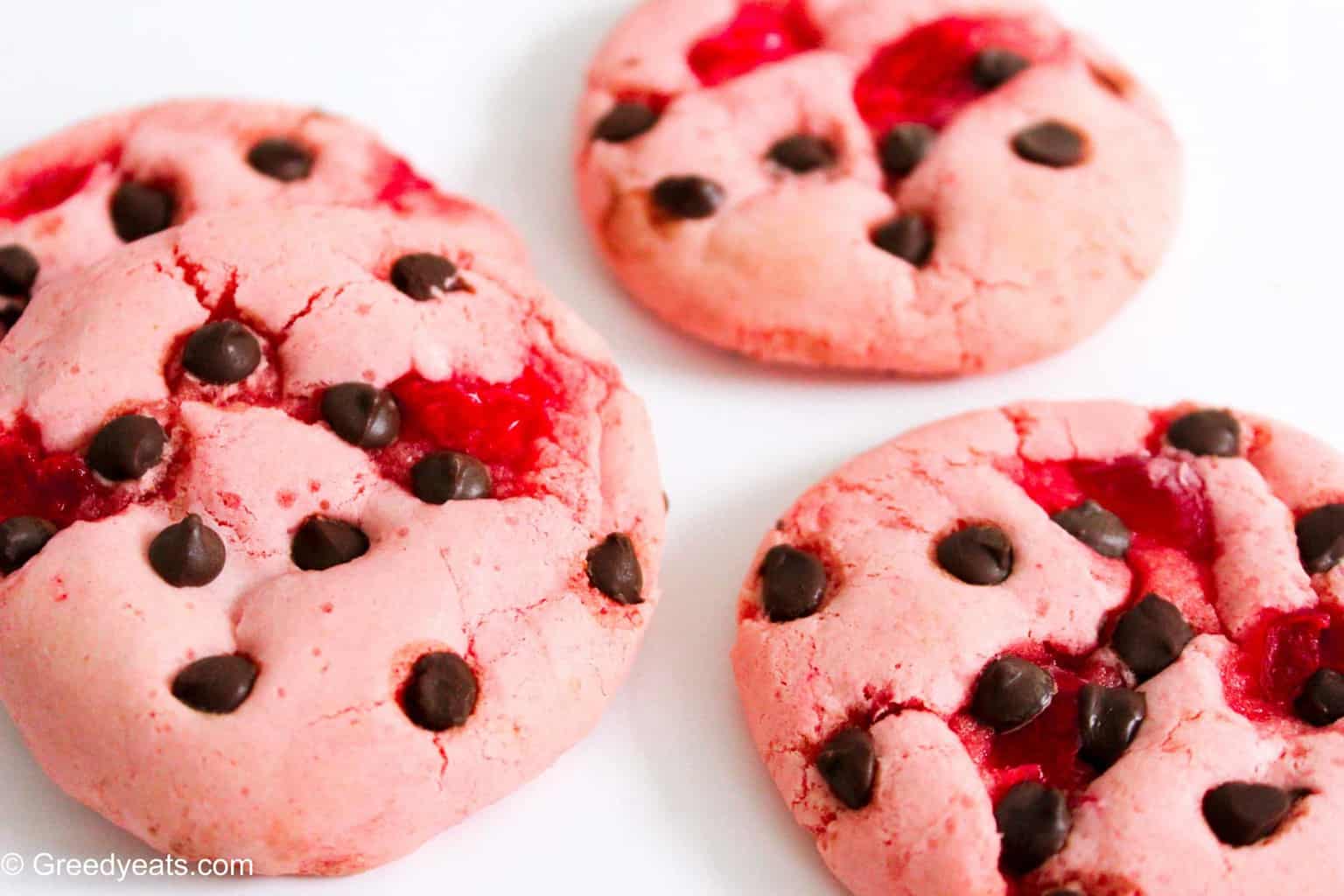 I am not a huge fan of cake-mix cakes or cupcakes in general. But I adore these super easy strawberry cookies. Reason? Only one. These don't taste artificial, like they are filled with chemicals and raising agents.
All you taste is real sweet strawberries folded with chocolate and cherries! If you are a strawberry desserts fan, you gotta try this strawberry cake!
How do you freeze cookies from a cake mix?
Both baked and unbaked cake mix cookies can be frozen for up to 2 months.
Unbaked cookies: Form balls and chill them on a tray in the freezer until firm and store in ziplocs. Bake for an extra min, no need to thaw them before baking!
Baked Cookies: Store them in an air tight container. Thaw on counter top/in the fridge for a few hours before enjoying.
Love strawberries??? Then baking strawberry cookies in cups is a must! But ignoring my stupid rhymes is optional.
Give this pink glazed real strawberries bread a shot next!
Looking for more easy and made with 7 ingredients or less recipes, I got ya!
Follow me on Pinterest for more recipe updates from Greedyeats!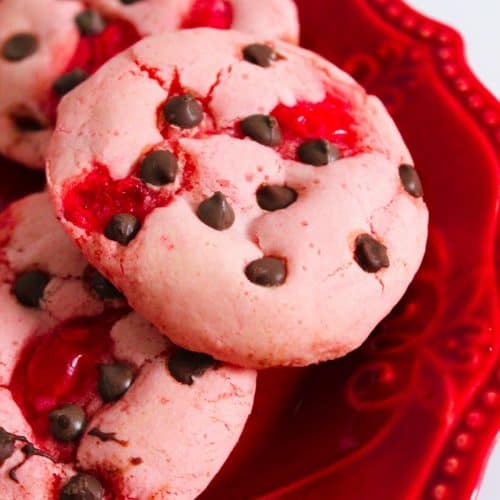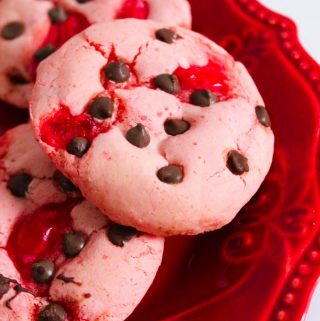 Strawberry chocolate chip cookies
Soft, chewy, festive and inky-pinky strawberry chocolate chip cookies recipe using cake mix. Only one you will want to bake!
Print
Pin
Rate
Ingredients
1 Box

Strawberry cake mix

1 tsp

Baking powder

⅓ Cup

Oil

2

Eggs

½ tsp

Vanilla extract

½ Cup

Mini chocolate chips

10-12

Whole cherries (preserved ones, drained)
Instructions
1. Preheat your oven to 350 deg F and line 2 large cookie sheets with parchment paper/silicone baking mat and set aside.

2. In a mixing bowl add oil, vanilla and egg (everything at at room temperature). And mix well with a spoon till well combined.

3. Add in cake mix and baking powder. No need to sift. Stir with a spoon to form a dough. Make sure no lumps remain. Throw in half of the chocolate chips (save the rest for decoration) and chopped cherries. If you find the dough sticky, freeze for 3-4 minutes (covering with a cling wrap) or until the dough is firm enough to handle.

4. Take the dough in your hands (using a small ice cream scoop) and roll into tall balls. Don't make these round. As the cookies have a tendency to spread out in oven quite a bit.

5. Put the tall dough balls on the prepared sheets at a distance and bake for about 9-10 minutes.

6. Let them cool down further on a wire rack and this is the time to press the remaining chocolate chips into them.

7. Ready to enjoy when cooled down completely.
Notes
Strawberry cookies are famous for catching color quickly. So keep an eye on them. Every oven is different. Turn the tray half way through (after 6 mins) if you see them browning too soon on one side.
The cookies might appear soft in the center at the ninth minute. Don't be tempted to over bake them. These will firm up as they cool down.
Nutrition