Cream Cheese chocolate chip cookies are a satisfying treat, perfect for any occasion. Soft in centers, chewy on the edges, ultra rich and oh-so-flavorful! With just 30 minutes of active time required in the kitchen, these cookies are an ultimate delight!
If you are always on the hunt for Good Cookies recipes, try these Double Chocolate Cookies next! You are sure to love these Chewy Chocolate Chip Cookies too.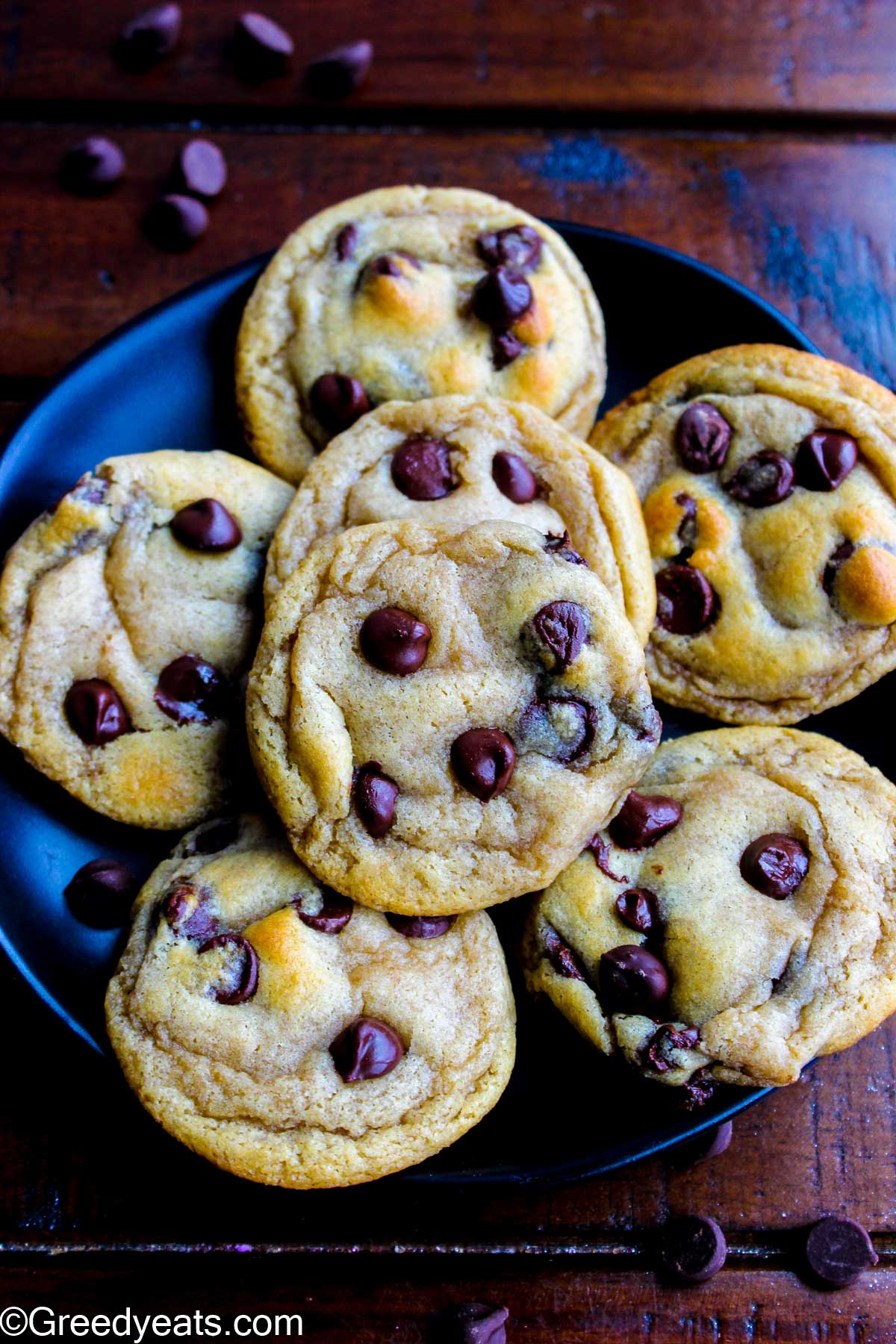 TASTE- These choc chip Cookies are baked to absolute perfection. Flavorsome, soft and thick in the centers, buttery and dotted with gooey chocolate chips all around. I bet you won't be able to stop at one!
EASE- Other than browning the butter in this recipe, these cookies are a breeze to make! Taking the pain to brown butter is so worth it. Brown butter imparts so much depth to cookie dough and a ton of flavor in the baked cookies!
TIME- Chilling the dough and browning the butter adds some time to this recipe. But both of these steps can be done ahead.
Like you can brown and chill the butter up to 2 days in advance prior to preparing the dough. Also cookie dough can chill in the refrigerator for 3-72 hours before baking.
Browning butter takes approx. 10 minutes, making the dough takes another 10. Quickly form dough mounds and bake them for around 9-10 minutes. That way active time for this recipe is barely 30 minutes.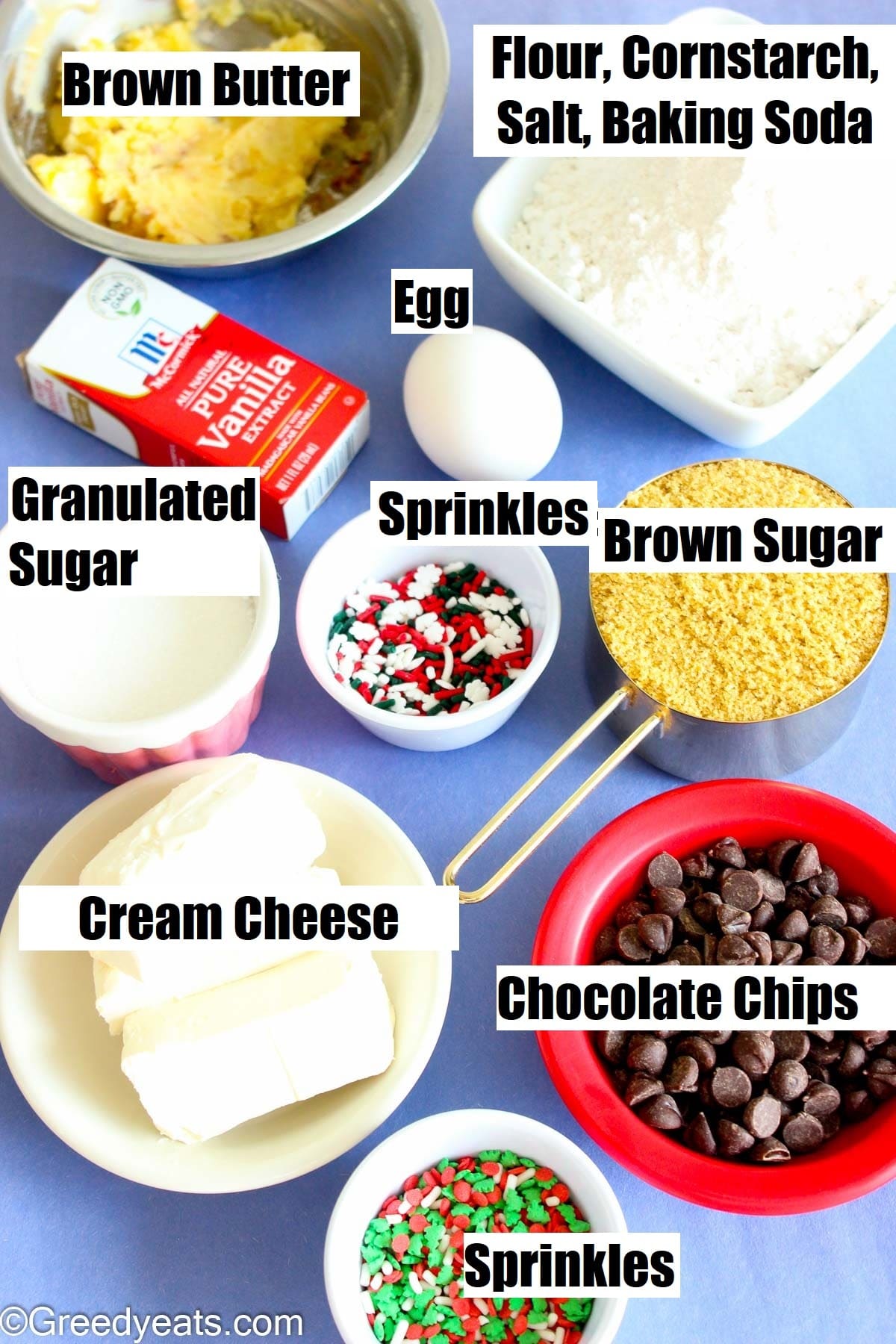 Brown Butter Cookies Ingredients:
To make chocolate chip cream cheese cookies, you will need these ingredients:
Cream Cheese: Use full fat block style cream cheese, not the spreadable or whipped kind. Spreadable/whipped cream cheese will make the cookie dough runny!

Non-fat or light cream cheese won't work in this recipe either. Fat free cheese will make the cookies too dry.
Unsalted butter: We are taking an extra step and browning the butter, for extra flavor that brown butter brings to these cookies.

Brown the butter and solidify it in the fridge quickly, before beginning to make the dough. Bring brown butter to room temperature for making cookie dough.

If you wish not to brown the butter (you will miss out on the added deliciousness and chewiness in the cookies!), regular butter at room temperature can be substituted. But make sure to add only ½ cup.

Since butter loses moisture when browned, we are taking ¾ cup regular butter and browning it over stove top.


Sugars: Both granulated and brown sugars will form this dough. We are using more brown sugar than granulated. More brown sugar in a cookie recipe leads to moister, chewier and more flavor packed cookies.
vanilla extract: Provides a great flavor to cookies. Use good quality pure vanilla extract for best taste!
all-purpose flour: APF is the base of this cookie dough. You can replace half of the flour with bread flour as well.
Leavener: Baking soda is used as the rising agent in this dough.
cornstarch: Just 2 tsps of cornstarch makes a big difference in these cookies. There is no substitute for cornstarch. If you don't have it on hand, just leave it out. Do not replace it with anything else.
chocolate chips: Chocolate chips of any size and kind can be used to make these cookies. Dark, semi-sweet or even milk chocolate chips.

Sometimes, I use a combination of regular and mini chocolate chips to make this dough. Even chocolate chunks will work here!
How to make chocolate chip cookies with cream cheese:
I hope, by now, your kitchen counter looks like a bakery setup. Love it? You will love the process even more. So what are you waiting for?
Just grab your apron and get going!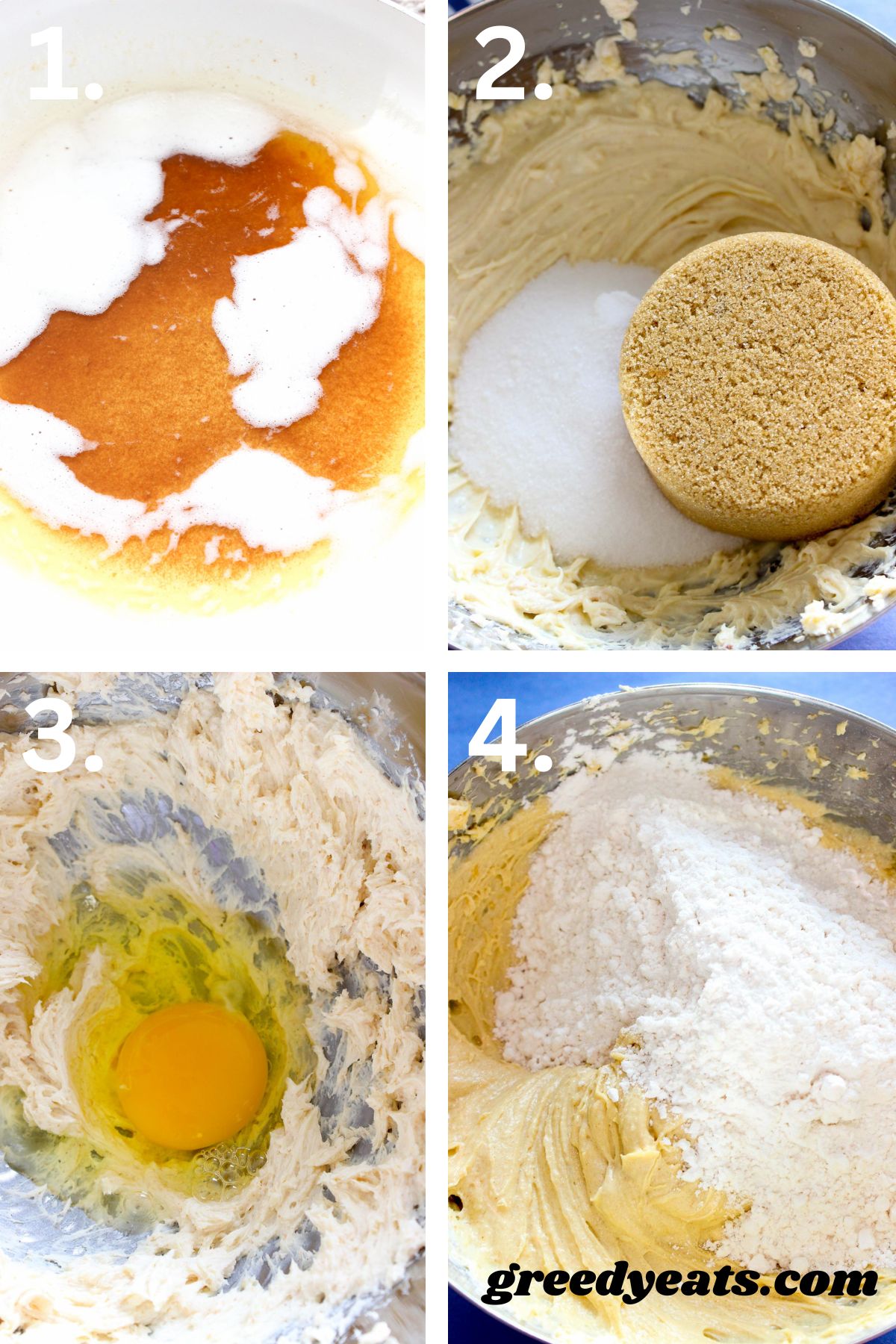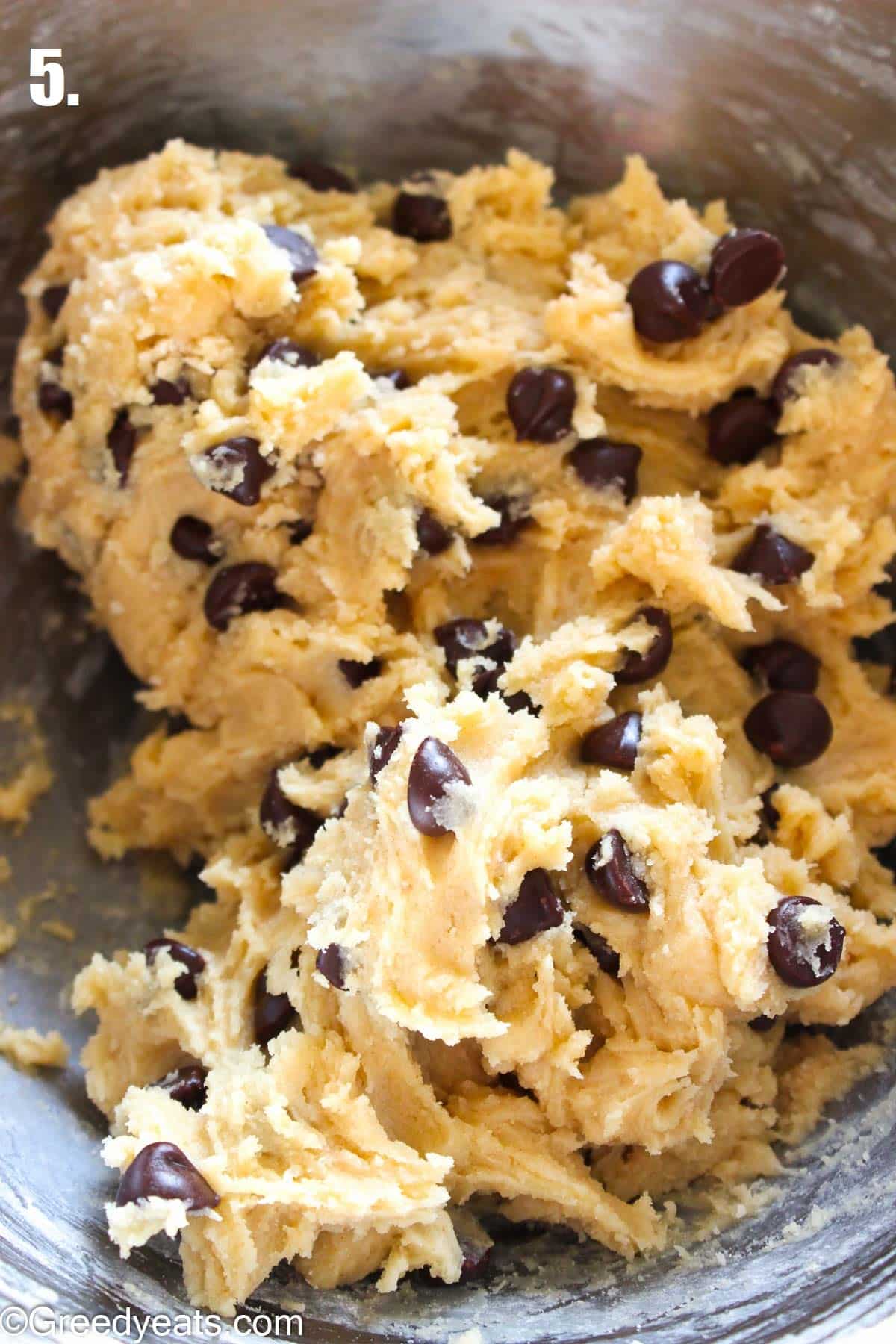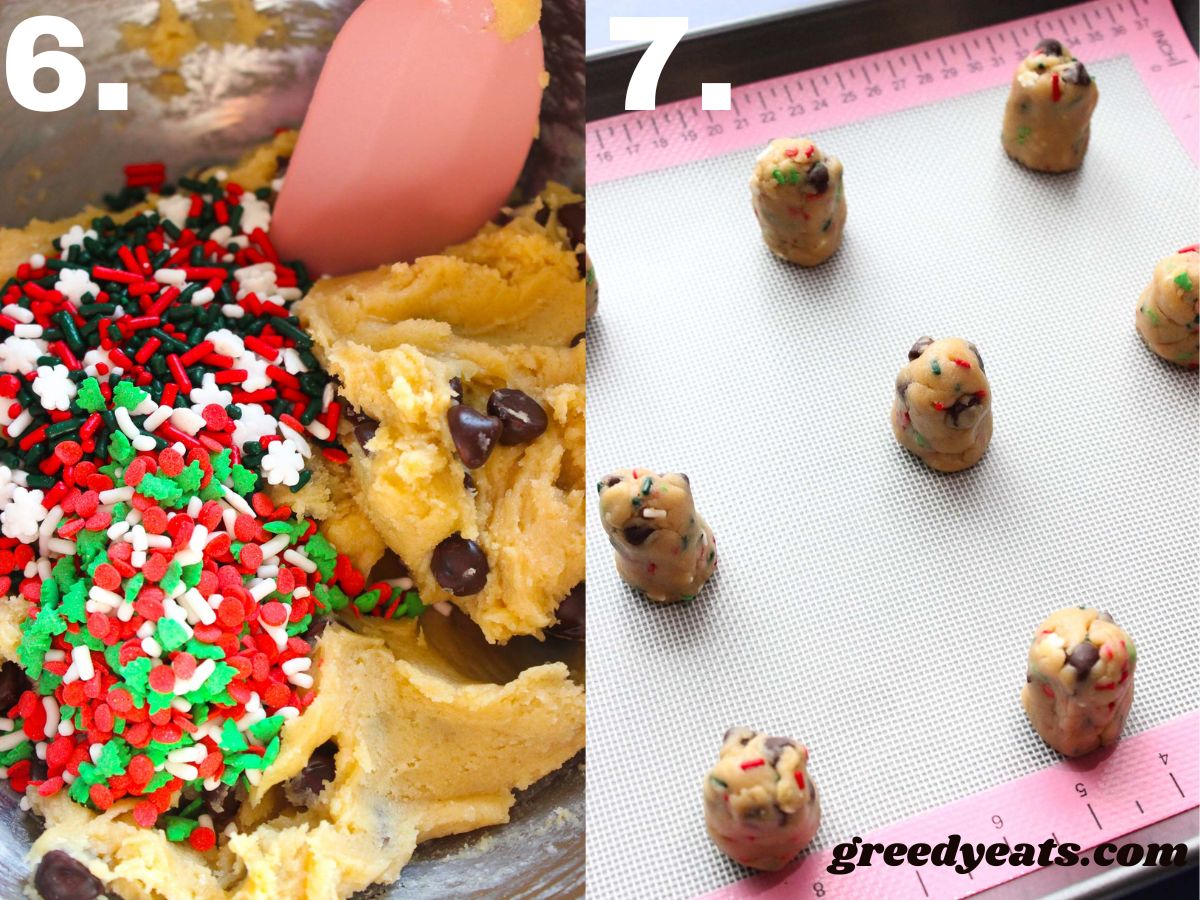 Step 1. In a large saucepan, melt butter over medium heat. Continue cooking the butter, stirring occasionally, until it is browned.

Remove butter from heat and let it cool slightly. DO NOT strain away those brown milk solids. Solidify brown butter in the refrigerator.
Step 2. In a large mixing bowl, cream together room temperature cream cheese and butter. Next, add in both sugars and beat until the mixture gets light and fluffy.
Step 3. Next beat in the egg, then stir in vanilla. Scrape down the sides of bowl as needed.
Step 4. Gradually add dry ingredients (flour, cornstarch, salt and baking soda) to the wet, mixing until just combined.
Step 5. After the cookie dough is formed, fold in chocolate chips.
Step 6. Gently fold in sprinkles too (if adding).
Step 7. Form tall dough balls, chill them in the refrigerator for about 2 hours. Bake for 9-10 minutes, or until the edges turn golden.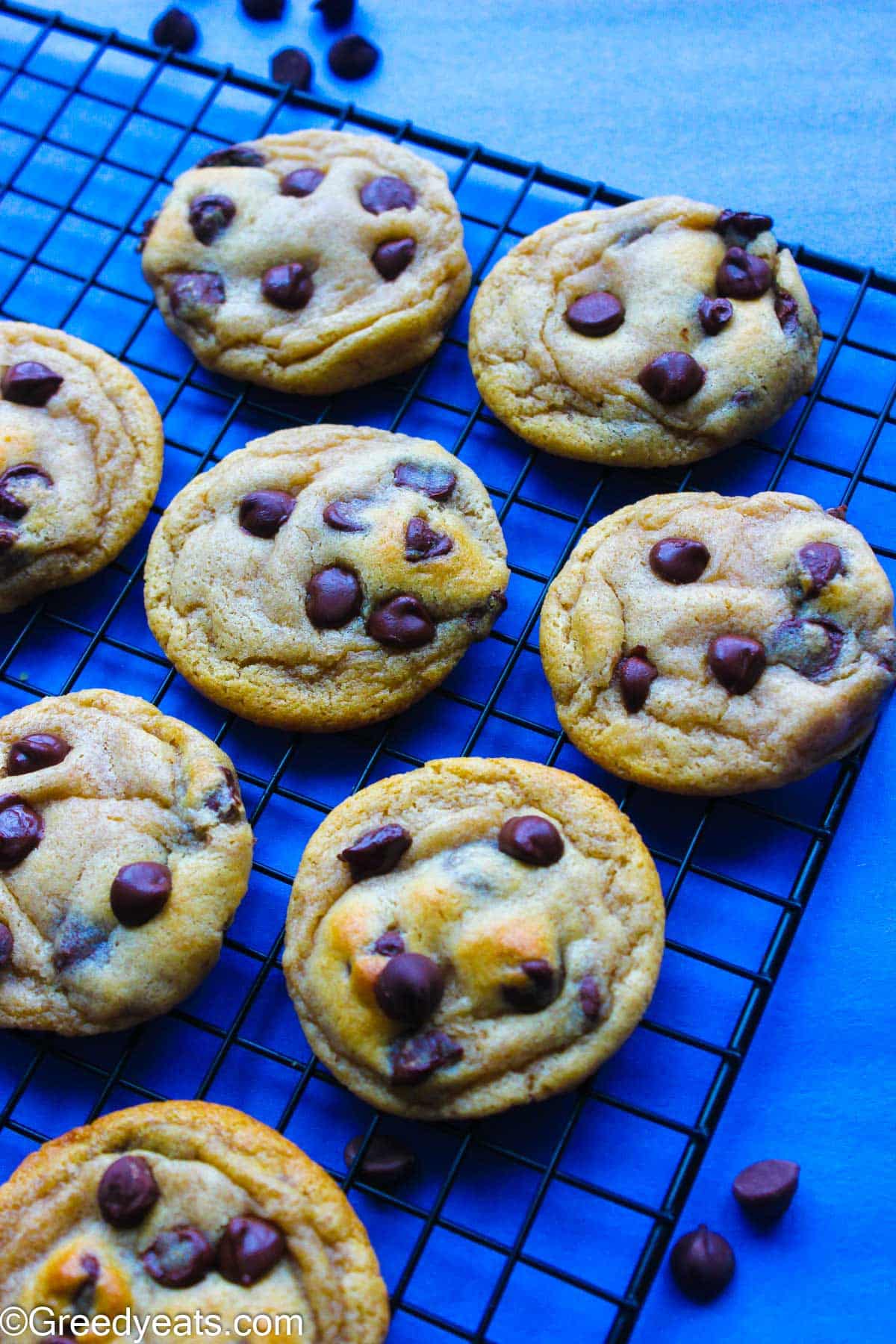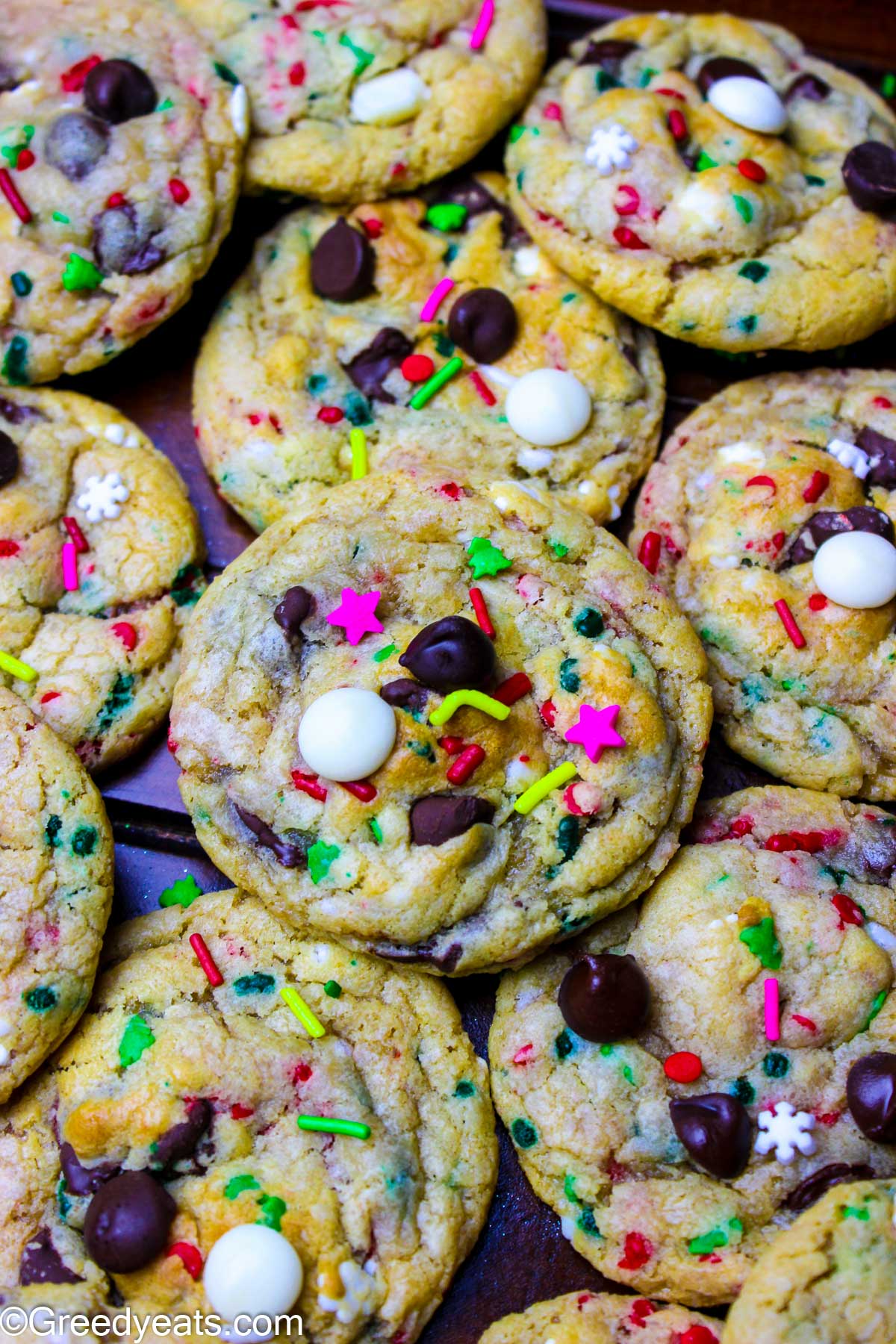 Tips for making cookies with cream cheese:
Use good quality ingredients. This includes using real butter, not margarine, and using good-quality chocolate chips.
Don't overmix the dough after adding your dry ingredients. Mix only till the flour disappears into the dough. Overmixing cookie dough can result into tough cookies.
Use a Cookie Scoop: I always use cookie scoop to make my cookies. Cookie scoop helps to make all your cookies just the same size so that they can bake evenly! If you don't own a cookie scoop, use a tablespoon.

I go for approximately 2-3 tbsps of cookie dough to make one cookie.
Chill the dough for at least 2 hours before baking. This is the most crucial step for recipe success. Chilling will help cookies to hold their shape better, bake thick and prevent them from spreading too much.

Also, your baked cookies will be so much more flavorful when chilled well.
Bake the cookies until they are just turning golden around edges. Overbaking will result in dry, hard cookies.
Allow the cookies to cool completely on a wire rack before storing them. This will prevent them from turning soggy in the storage container. Also the cookies will stay fresh for longer.
Recipe Variations:
There are many ways to vary this recipe to give it your own spin. Here are a few ideas:
Add m&ms or sprinkles along with regular chocolate chips

Add nuts, such as walnuts, macadamia nuts or pecans

Add dried fruit, such as cranberries, raisins, or cherries.

Add spices, such as cinnamon, nutmeg, or ginger or a combination of these.
Whatever add-ins you opt for, just keep them to 1 and ½ to 2 cups.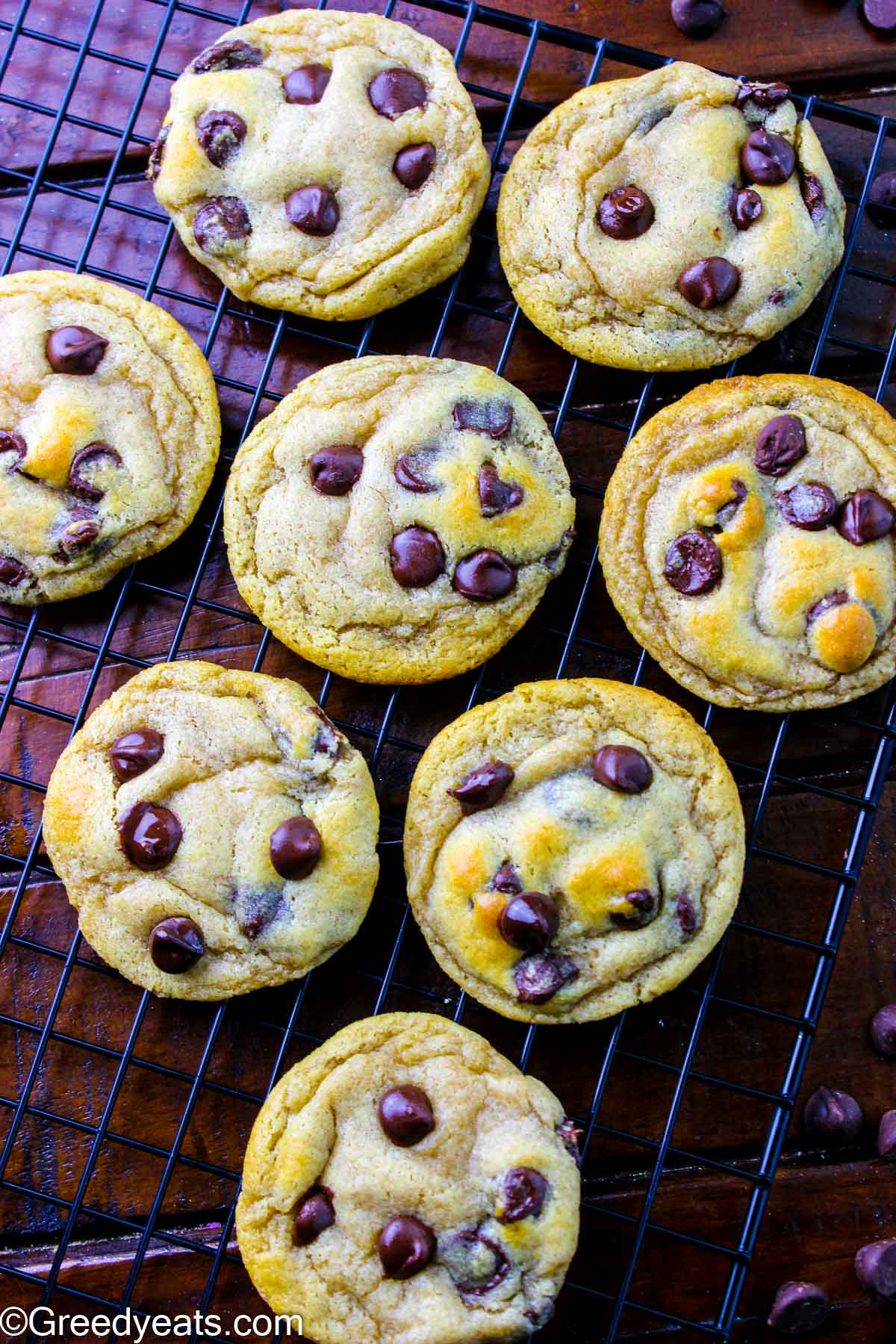 What does cornstarch do to cookies:
Here are a few ways cornstarch can be used in cookie baking:
As a softening agent: Cornstarch can be added to cookie recipes to help create a softer texture. It helps inhibit gluten formation, resulting in a more tender cookie texture.
Just take it as a hack and enjoy your soft cookies.
As a Thickening agent: If you are dealing with thin cookies issues, try adding a few tsps of cornstarch to your dough.
Also when making filled cookies or sandwich cookies with a fruit or custard filling, cornstarch can be used as a thickening agent.
It helps to bind and thicken the filling, preventing it from being too runny and seeping out of the cookies. Follow a recipe that specifically calls for cornstarch to ensure correct ratios and techniques.
For preventing spread: In some cookie recipes, particularly those that tend to spread excessively during baking, a small amount of cornstarch can be added to help reduce spreading.
It absorbs some of the moisture in the dough, resulting in cookies that hold their shape better.
Start by adding 1-2 tsps of cornstarch in one batch of recipe. Or follow a recipe that specifically includes this ingredient for controlling spread.
In short, cornstarch will make your cookies super thick and ultra soft. It will also help to prevent excessive cookie spread.
It's important to note that while cornstarch can provide certain benefits in cookie baking, it's not suitable for all cookie recipes.
It's best to follow specific recipes that incorporate cornstarch. Or experiment with small batches to see how it affects the texture and taste of your cookies.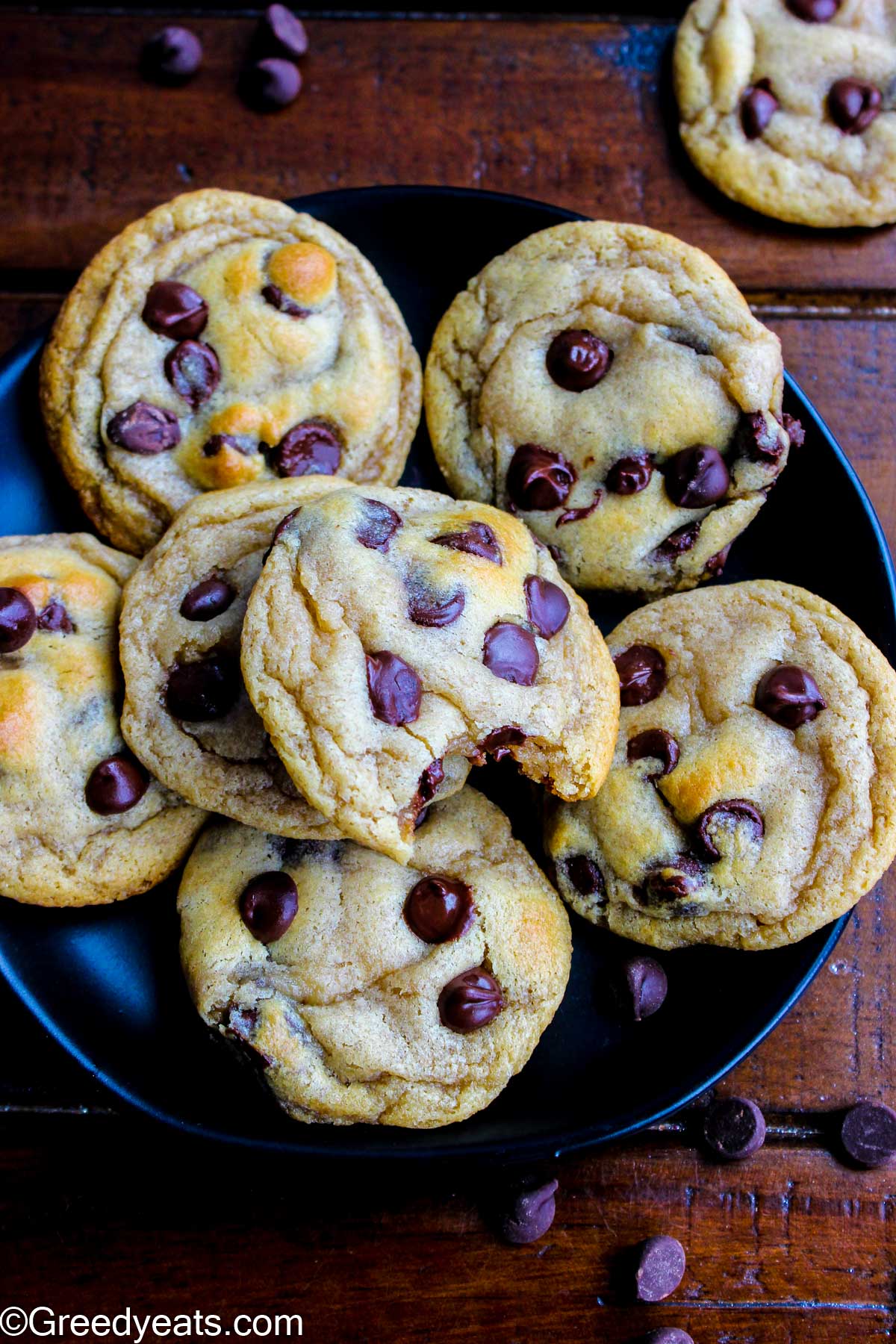 How does cream cheese affect baking?
Cream cheese can be a wonderful addition to cookie recipes, adding richness, moisture and a lot of flavor.
You won't be able to taste cream cheese in the baked cookies. It will just add a deliciously soft and tender texture to the cookies.
Also worry not, your cream cheese cookies won't turn out cakey. They will bake thick and stay soft for days!
Here's a hack for every Chocolate Chip Cookie recipe: Replace a portion of butter in your favorite chocolate chip cookie recipe with cream cheese. For example, if the recipe calls for 1 cup of butter, you can use ½ cup of butter and ½ cup of cream cheese.
What is brown butter?
Brown butter is made by melting butter over low heat until milk solids in the butter caramelize and give off a nutty aroma. This process gives brown butter a richer flavor and a deeper color.
I simply heated the butter (stirring it in between) till such a time that it turned brown. And tada! brown butter is ready. simple right?
What does browned butter do in cookies?
There are several reasons why brown butter is a great choice for cookies. The most important reason is, you guessed it right, the flavor!
It gives the cookies a richer, nuttier, deeper and a more complex toffee like flavor.
Brown butter cookies bake super chewy around the edges, making them impossible to resist.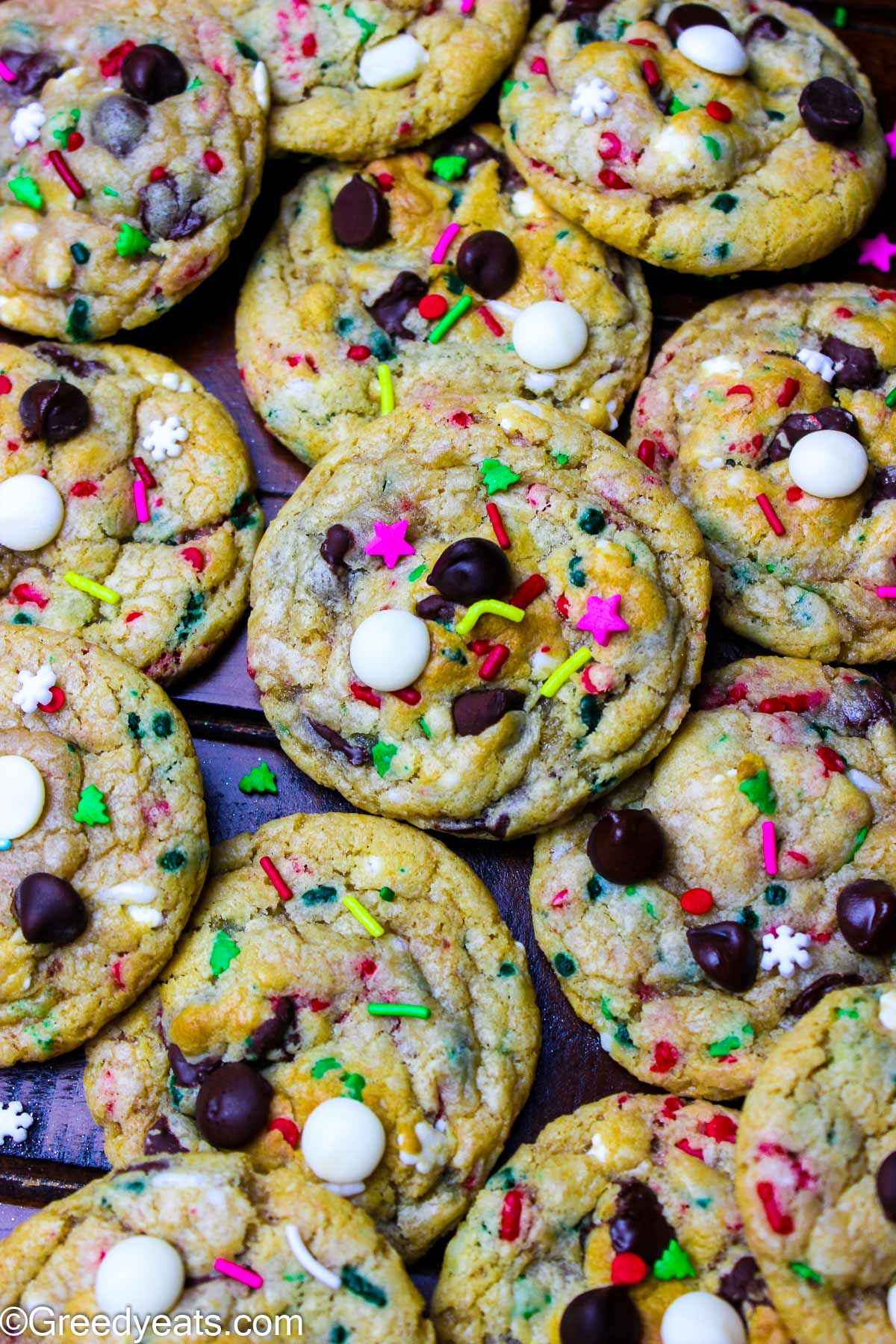 Chilling, freezing and make ahead tips:
For Cookie Dough Balls:
Chilling Dough Balls: Roll the cookie dough into balls and keep them on a large plate or baking tray.
Cover with a plastic wrap and chill them in refrigerator for a minimum of 2 hours before baking.
When in a rush, you can also freeze cookie dough balls for around 30-45 minutes and bake them straight away!
Freezing dough balls: Chill dough mounds on a tray lined with parchment paper till they get very firm, about an hour.
Then freeze them in a large zipped-top bag. This way the cookie mounds will not stick to each other in the Ziploc bag.
These cookie dough mounds will stay good for 2 months in the freezer.
You can then bake them straight from the freezer. Just keep them in the oven for an extra minute.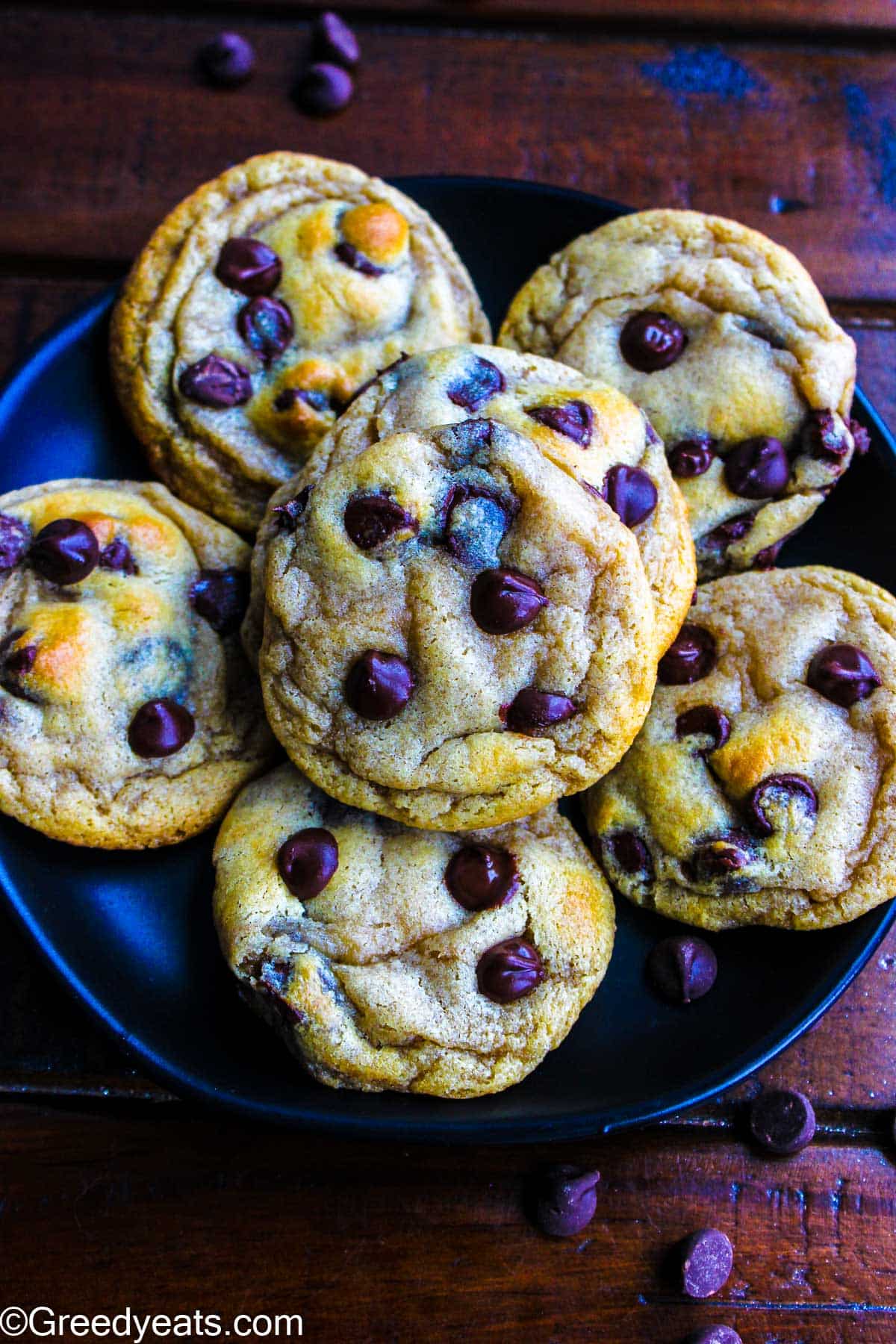 For Baked Cookies:
Storing Baked Cookies: Baked cookies will stay good at room temp. covered tightly for about a week.
Freezing Baked Cookies: Freezing cookies is a great way to preserve them for later enjoyment or to prepare a batch of cookies in advance.
Here's a guide on how to freeze cookies properly:
Allow cookies to cool: Before freezing cookies, ensure that they have completely cooled down. Warm or hot cookies can create condensation inside the storage container, leading to freezer burn or soggy cookies.
Choose appropriate containers: Select airtight containers or freezer-safe resealable bags for storing cookies. Make sure they are clean and dry before using them.
Layering and separation: Place a layer of cookies in the container, separating each layer with parchment paper or wax paper to prevent them from sticking together. This is especially important for cookies with soft or delicate textures.
Pack tightly and remove air: Fill the container or bag as much as possible without squishing the cookies. Idea is to minimize the amount of air inside, as air can lead to freezer burn. If using bags, squeeze out any excess air before sealing them tightly.
Label and date: Use labels or write directly on the containers/bags to identify the type of cookies and the date of freezing. This helps you keep track of what you have in the freezer and their freshness.
Freezing duration: Cookies can be stored in the freezer for up to 2-3 months. Beyond that, they may start to lose quality and taste.
Thawing and serving: When you're ready to enjoy the cookies, remove the desired quantity from freezer. Let them thaw at room temperature for about 30 minutes to an hour. This time can vary depending on the size and thickness of cookies.
It's worth noting that some types of cookies freeze better than others. Generally, drop cookies, such as chocolate chip or oatmeal cookies, freeze well.
However, cookies with delicate decorations or fillings, like macarons or cream-filled cookies, may not retain their texture or appearance after freezing.
More Cookies Recipes for you:
Strawberry Cookies with cake mix
Vegan Choc-Chip Cookies (Small Batch)
Is cream cheese a good substitute for butter in cookies?
Yes, it is. You can easily replace ½ of the butter called in a recipe with cream cheese. This is true not just for cookie recipes but pie crust recipes too!
Do you roll cookies before or after chilling?
I always like to roll my cookies into balls before chilling them. That way you are saved from working with hard and stiff cookie dough straight out of refrigerator.
Also you are saved from waiting around to let cookie dough come to room temp. again for rolling!
If you liked these Cookies give them a star review. Also, tell me in the comments below, how did this turn out for you! And don't forget to share your creations with me on Instagram at #greedyeatsblog
Recipe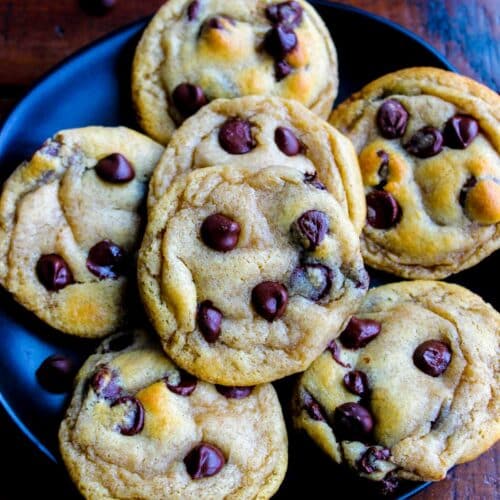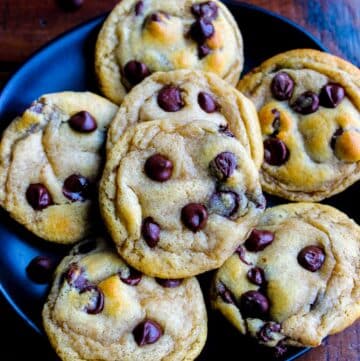 Cream Cheese Chocolate Chip Cookies
Soft in centers, chewy on the edges, ultra rich and oh-so-flavorful! With just 30 minutes of active time required in the kitchen, these Brown Butter cookies are an ultimate delight!
Print
Pin
Rate
Equipment
Hand/stand Mixer

Baking Sheets

2-inch Cookie Scoop

Wire Rack
Ingredients
¾

cup

unsalted butter

softened to room temperature

¼

cup

cream cheese

softened to room temperature

¾

cup

light brown sugar

packed

¼

cup

granulated sugar

1

large egg

at room temperature

2

teaspoon

pure vanilla extract

2 and ¼

cup

all-purpose flour

2

teaspoon

cornstarch

1

teaspoon

baking soda

⅛

teaspoon

salt

1 and ¼

cups

chocolate chips or chocolate chunks

semi-sweet

½

cup

Sprinkles of choice

(optional, only for decorative purposes)

¼

cup

White Chocolate Chips
Instructions
Take a light colored pan and keep the butter on medium heat. Light colored pan will help you see when the butter starts to brown. Once the butter melts, it will start to foam. Keep stirring/whisking in short intervals (about every 10-20 secs). Butter will start browning in about 5-7 minutes. Keep stirring. You will now notice milk solids turning golden brown at the bottom of the pan. Turn off the stove once it gets a nutty aroma, and turns brown. Enclose this browned butter in any heat proof and flat container. Chill it for around 2 hours.

Once solidified brown butter is ready, take it out of refrigerator and let it come to room temperature (Like you would to make regular chocolate chip cookie dough). Now beat brown butter and cream cheese with a handheld mixer or stand mixer fitted with a paddle attachment, on medium speed for about a minute. The mixture should get light and creamy at this point.

Next beat in granulated sugar and brown sugar on medium high speed until well combined, for about 2 minutes. Beat in the egg and vanilla extract. Mix them in too. Keep scraping the sides and bottom of your bowl as needed.

Now keeping the mixer on low speed, add in baking soda, cornstarch, salt and flour (add in 2-3 increments if using hand held mixer) and slowly mix until a smooth dough forms. Fold in the chocolate chips and sprinkles (if adding). Chill the dough for at least 2-3 hours and up to 3 days. Chilling the cookie dough is a must for this recipe to produce thick cookies.

With the help of a medium 2-inch cookie scoop, form 24 heaping mounds out of cookie dough. Roll the mounds tall in cylindrical shape and not round (see visual above). Place them on a large plate or parchment paper lined baking tray and cover with plastic wrap/aluminum foil. Chill the mounds in refrigerator for at least 2 hours (or up to 3 days) before baking. QUICK TIP: If in a hurry to bake, you can also freeze these mounds for about 45 minutes in the freezer. Or until they are super firm to touch.

When ready to bake, preheat oven to 350°F (177°C) and line 3 baking sheets with parchment paper or baking mats. Now place chilled cookie dough mounds on the baking sheet, I prefer to bake eight cookies per sheet. Space cookie mounds 2 inches apart and bake them for 9 to 10 minutes, or just until the edges have set and look golden brown. Tops will just begin to set and will appear glossy at this point.

Don't be tempted to bake cookies for longer than 10 minutes. Cookies will firm up even more as they cool down and set. Let the cookies sit on baking sheets for about 5 minutes and then transfer them on to a wire-rack to finish cooling.
Notes
Storing and Freezing Instructions:
Cookies will fresh at room temperature for up to a week, covered tightly at all times.
Cookie dough can be made ahead and can chill in the refrigerator for up to 3 days. Let it come to room temperature, scoop, roll into balls and bake it then.
You can also freeze cookie dough mounds for up to 3 months and bake them directly without thawing. Just add one extra minute to baking. Same oven temperature.
Baked cookies will freeze well too for up to 2 months. Thaw on counter top or reheat in oven at 300 def C for 5-6 minutes to enjoy warm cookies again!
Want to Chill The Dough First and then scoop/roll cookie dough mounds/balls?
After making the dough, cover and chill it for at least 3 hours and up to 3 days in refrigerator. 
When ready to bake, remove cookie dough from refrigerator and allow it to sit at room temperature for easy handling of the dough. If you chilled the cookie dough more than a few hours, you will have to let it sit on the counter top for about 30 minutes before you can scoop and roll it into mounds. Now bake as directed in step 6.
Tips to make perfect Brown Butter Cookies:
Cream Cheese: Always use block style cream cheese for cookie dough, not the spreadable kind.
Chill That Dough: Don't ever bake with warm cookie dough as the cookies will spread (not in a good way!) and bake super flat.
Never place cookie dough balls on warm sheets sheets (in which you just baked the pervious cookie batch.) This will bake thinner cookies!
Nutrition
Serving:
1
Cookie
|
Calories:
148
kcal
|
Carbohydrates:
18
g
|
Protein:
2
g
|
Fat:
8
g
|
Sodium:
90
mg
|
Sugar:
9
g