Learn how to make Almond Cake the easiest way! This moist and soft almond cake is paired with Almond Cream Cheese Frosting and delivers great flavor.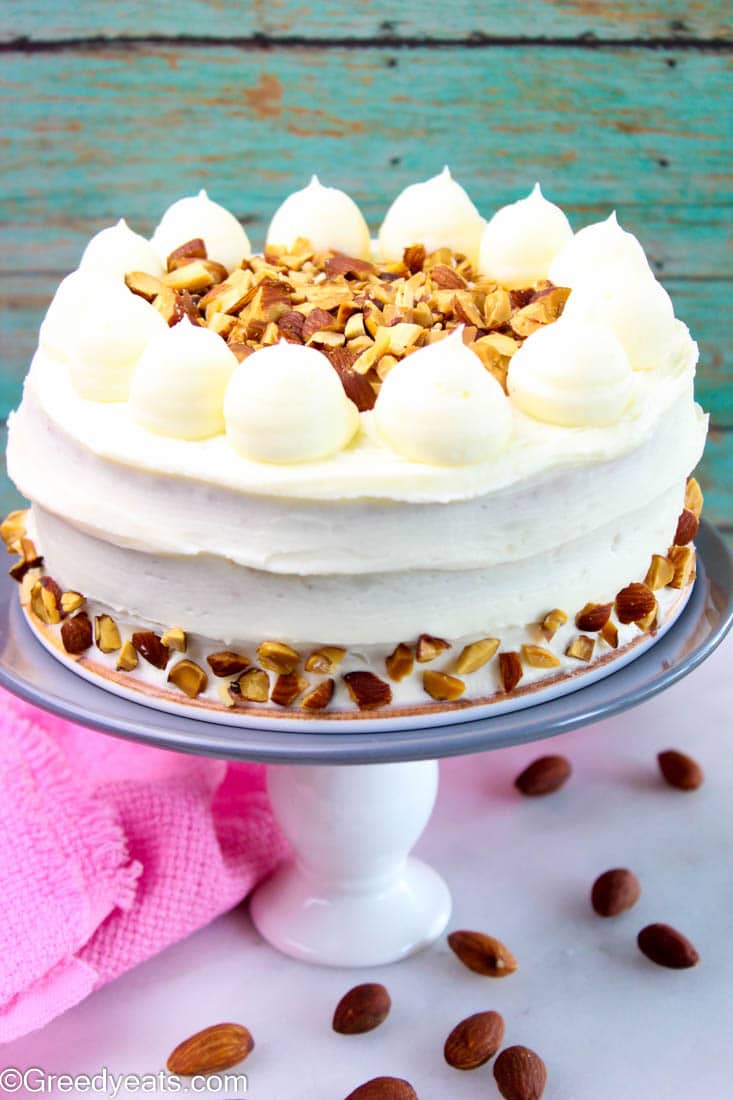 If you had ask me a few weeks before how do I like Almond cake! I'd go like mm.. Almond flavored cake? Can a dessert flavor get any weirder than this?
I mean I get certain dessert combinations with almonds. Like cherry, pistachios, peaches all pitted fruits! But just almond notes in a cake? Plain. Boring! Blah!
But wait! Stick here with me for a sec.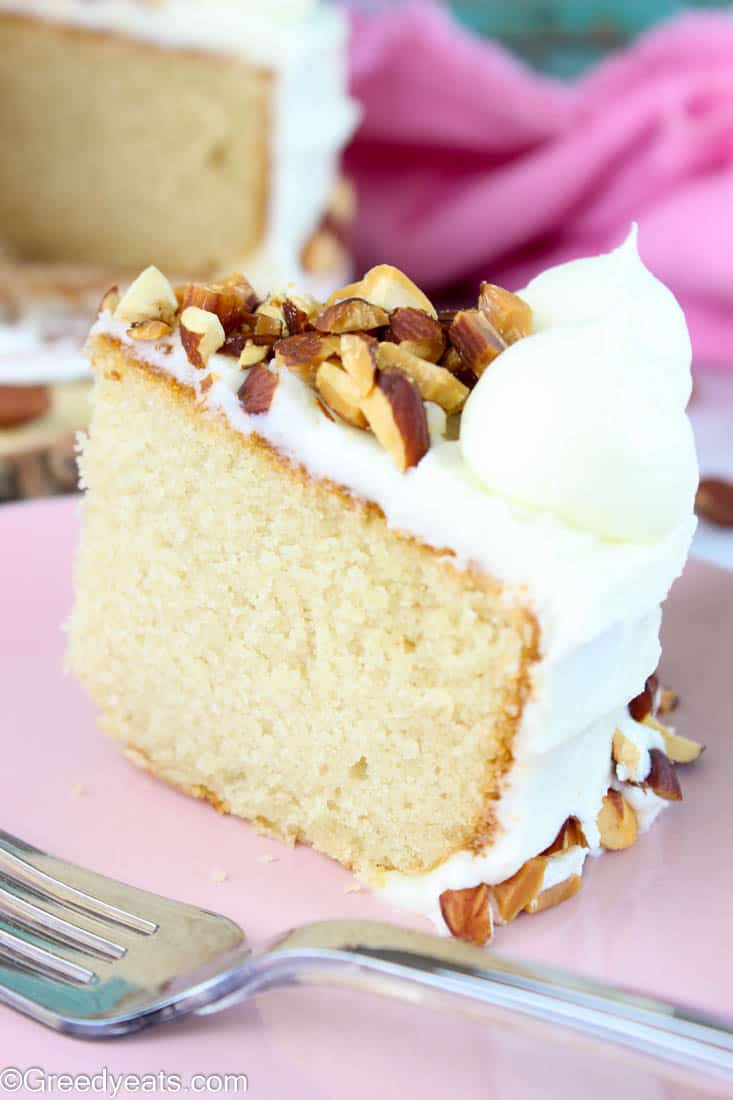 I learnt just 3 weeks before how stunning this cake tastes. It all happened when a dear friend of mine requested this flavor for her Birthday.
I was blown away by how well it pairs with a slight hint of vanilla. Oh and topped with cream cheese frosting, it is absolute heaven! I still can't believe I am saying this.
So lets quickly look at the process for this easy almond cake recipe that I can't stopping talking about!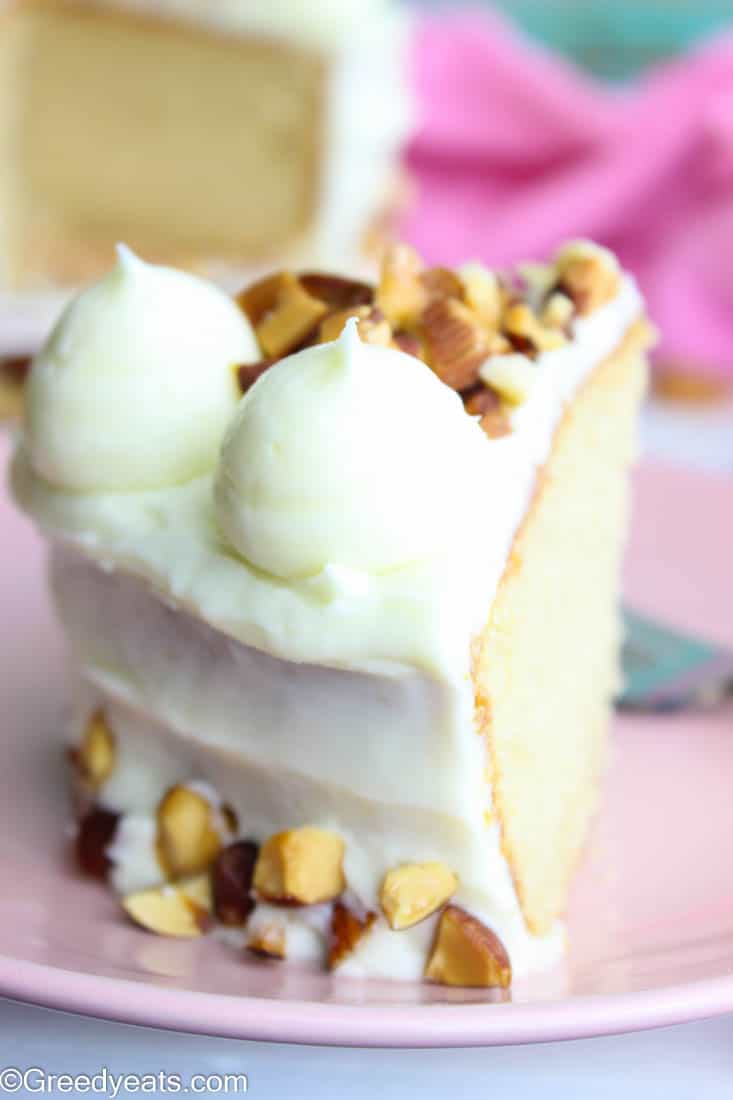 How to make Almond Cake
Now we are using the regular pantry staples to create batter for this cake.
Cream sugar and butter first
Beat in 2 egg whites
Add some sour cream and extracts next
Sift dry (flour, leaveners and salt) on wet, Yes this is a one bowl recipe!
Fold the batter adding some milk
Then bake at 350 deg F till done
There you have it. Nothing unusual here!
And for the flavor we will use a hint of almond extract. Just 3/4 of a tsp. Believe me less is more! You sure don't want to overdo it as the almond extract is quite potent!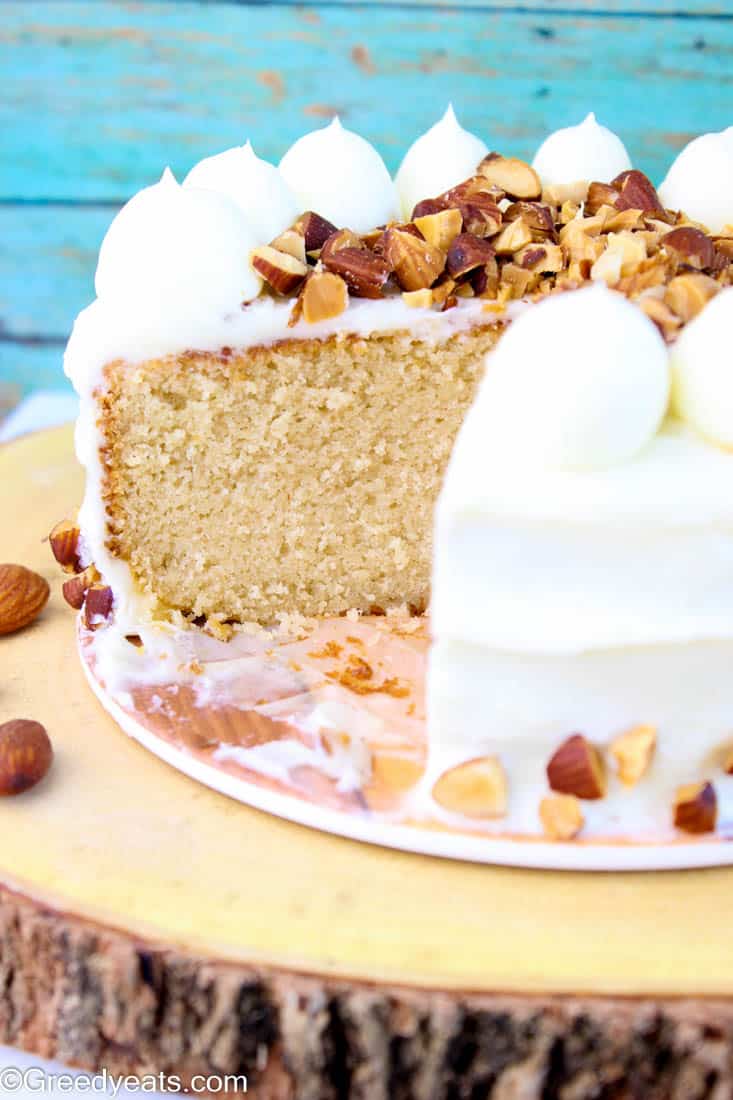 Ingredients for almond cake recipe
Butter: For added flavor and texture. I like to use unsalted butter for baking.
Sugar: To sweeten the cake 😉
Egg Whites: Give structure and binding to the cake (Egg yolks weigh the cake down).
Sour cream: Adds a ton of moisture and produces a tender bake
Flour: We are only using all purpose flour for this cake. Trust me you won't miss almond flour here!
Extracts: Now a combination of both the extracts work wonders to the flavor of this cake. You may omit vanilla if you prefer.
Milk: Always use fut fat milk. Low fat cakes don't bake as tender!
Leaveners: For lift
Salt: To balance the sweetness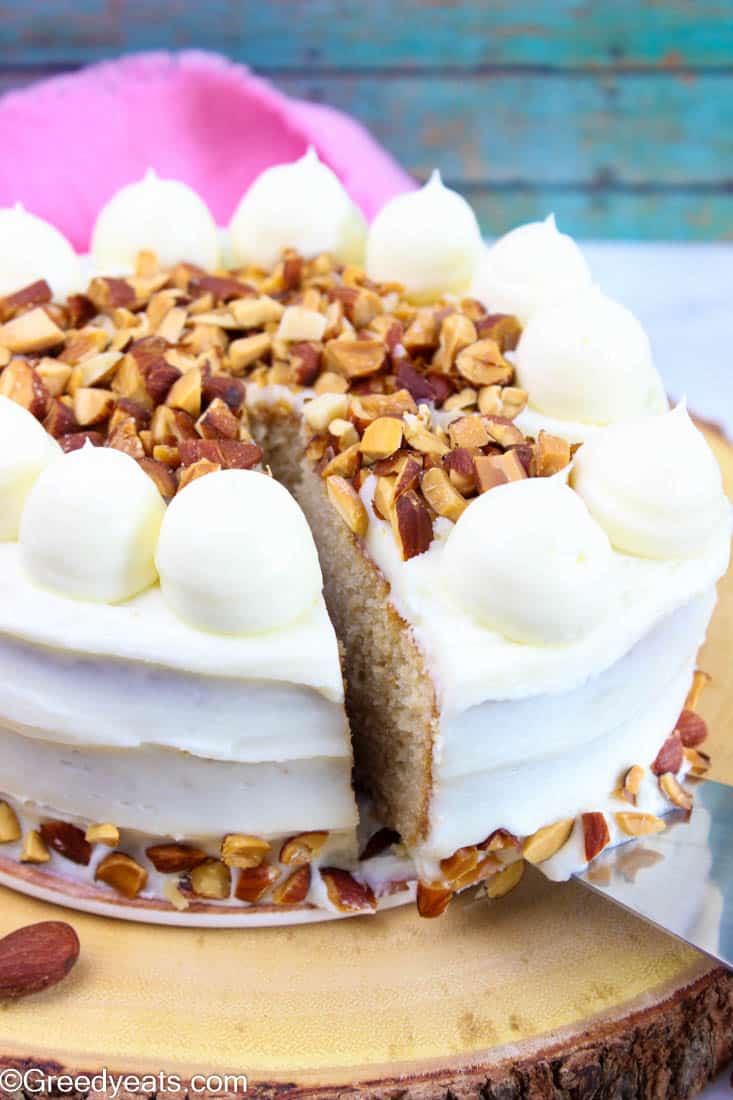 How much almond extract should I use in a cake?
I'd never go over a tsp of almond extract! Almond extract is super strong and you will never need a lot to get almond flavor in your bakes. Remember less is more?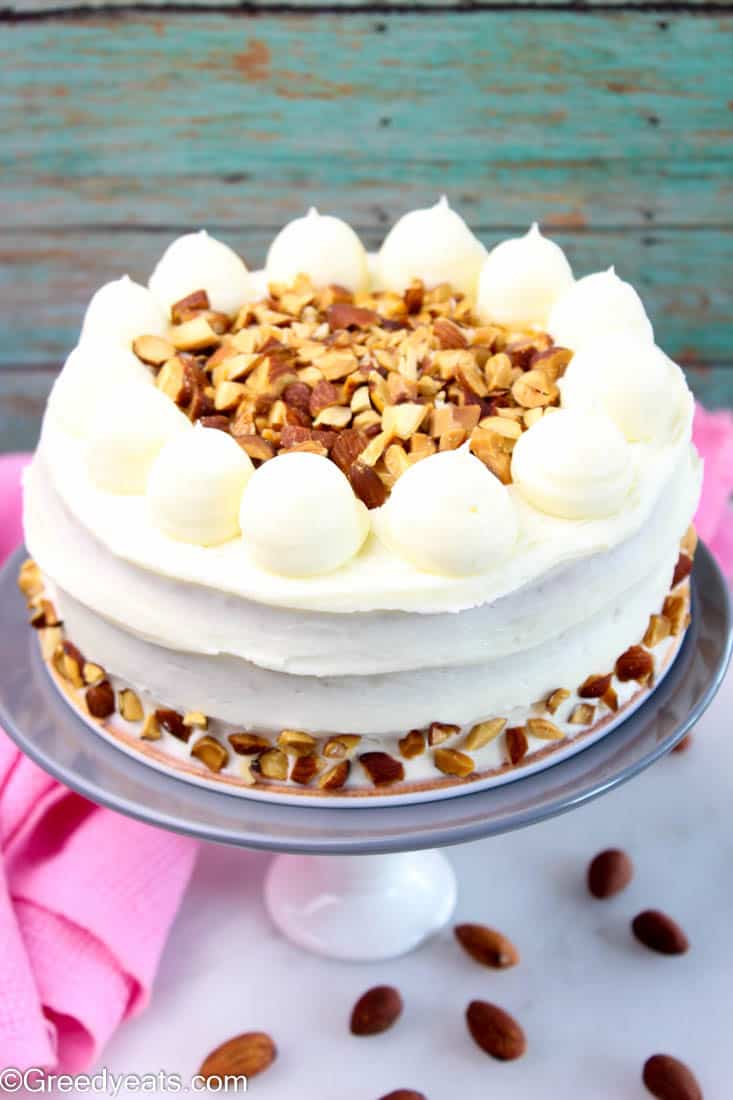 What can I use if I don't have almond extract?
AMARETTO LIQUEUR. About 1/4 cup. Reduce the milk in the recipe by 1/4 cup if taking that route. Olivia has explained it so well here!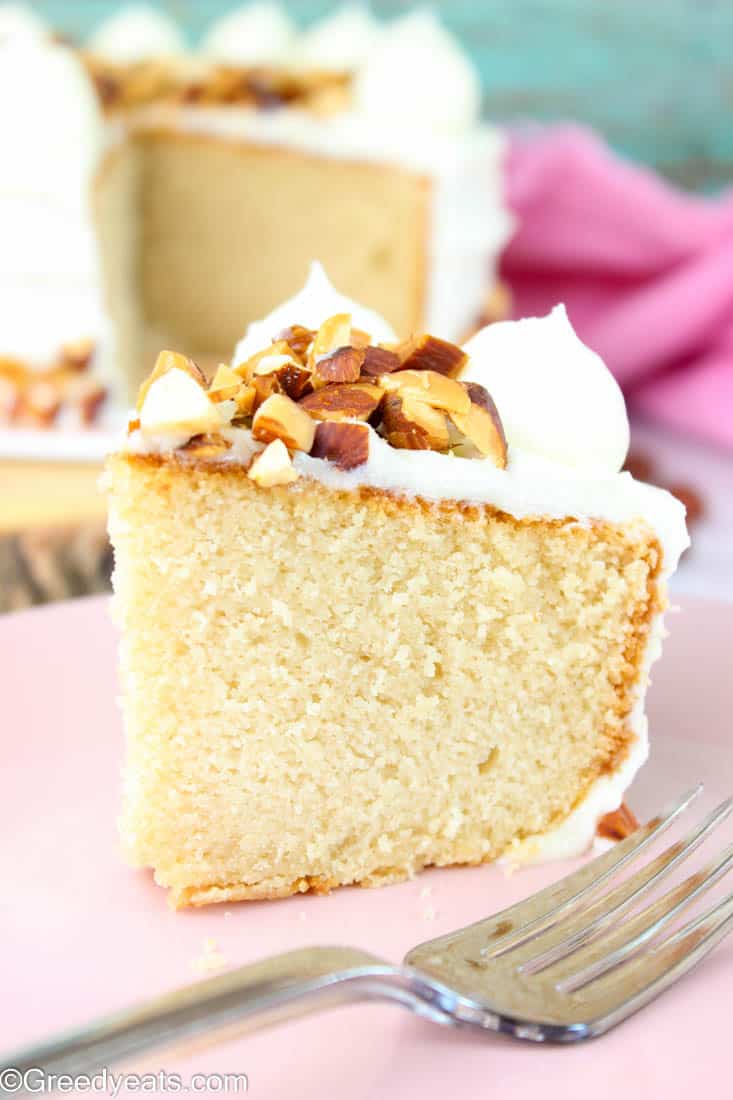 Almond cream cheese frosting:
This cake pairs perfectly with homemade cream cheese frosting. I love to add a hint of almond extract to it.
If you don't want almond flavor to be over powering, leave it out. Or add some vanilla instead!
Crumb coat your cake with a thin layer of frosting. Allow it to firm up in the fridge for about 1/2 an hour. This little trick makes frosing so much easier and neater!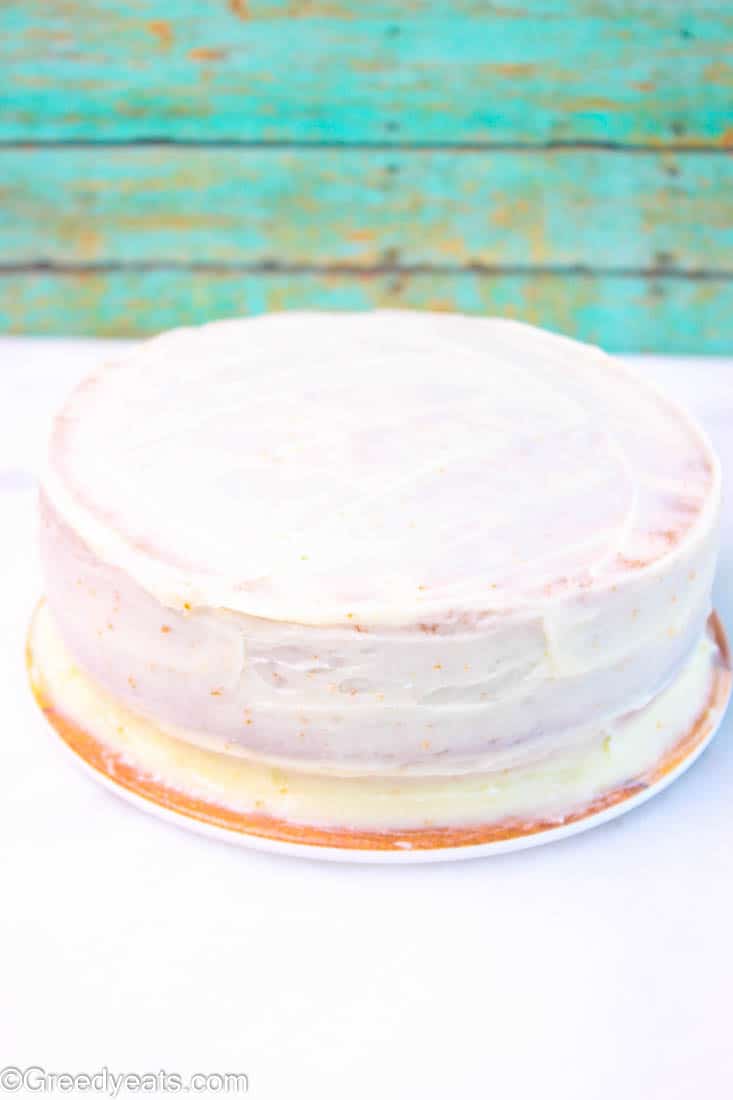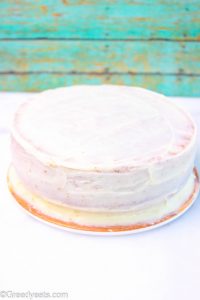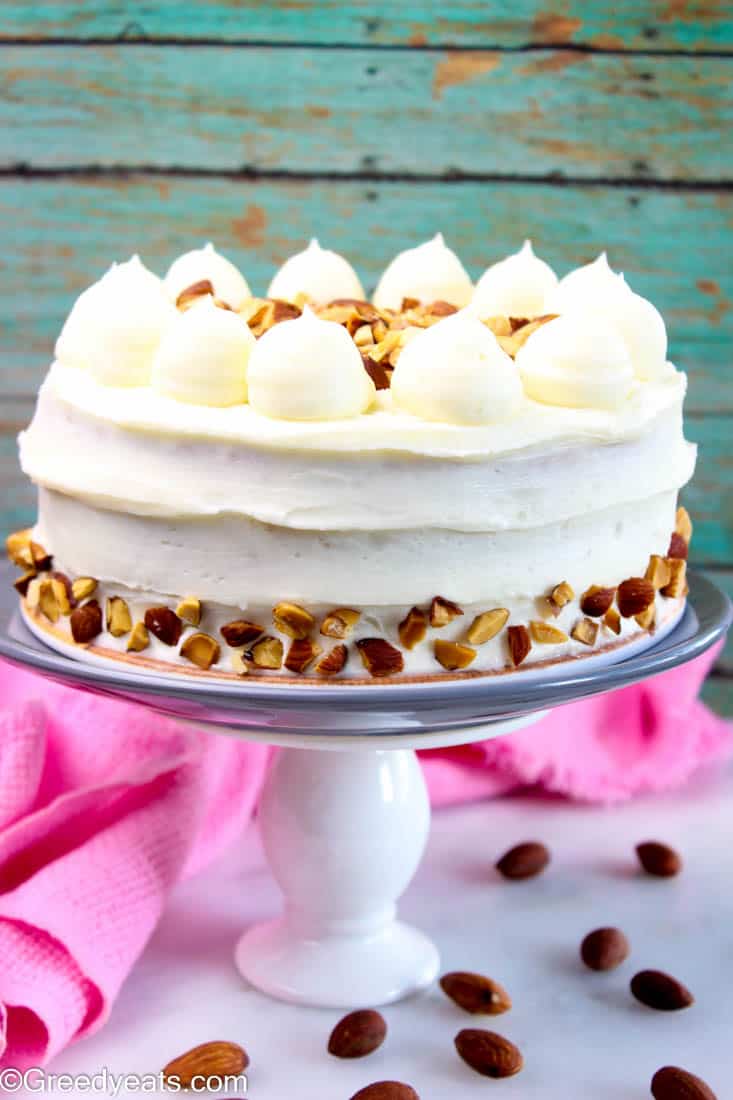 If you love nutty flavors in desserts then you will love these-
Almond Blueberry Bars
Healthy Almond Blueberry muffins
Prettiest Sugar Cookies ever (Sorry! Can't stop bragging ;))
Fruity and healthy cookie cups
Moist Pistachio cake
Super thick and soft walnut choc-chip cookies
Follow me on Pinterest for more such drool worthy dessert recipe updates!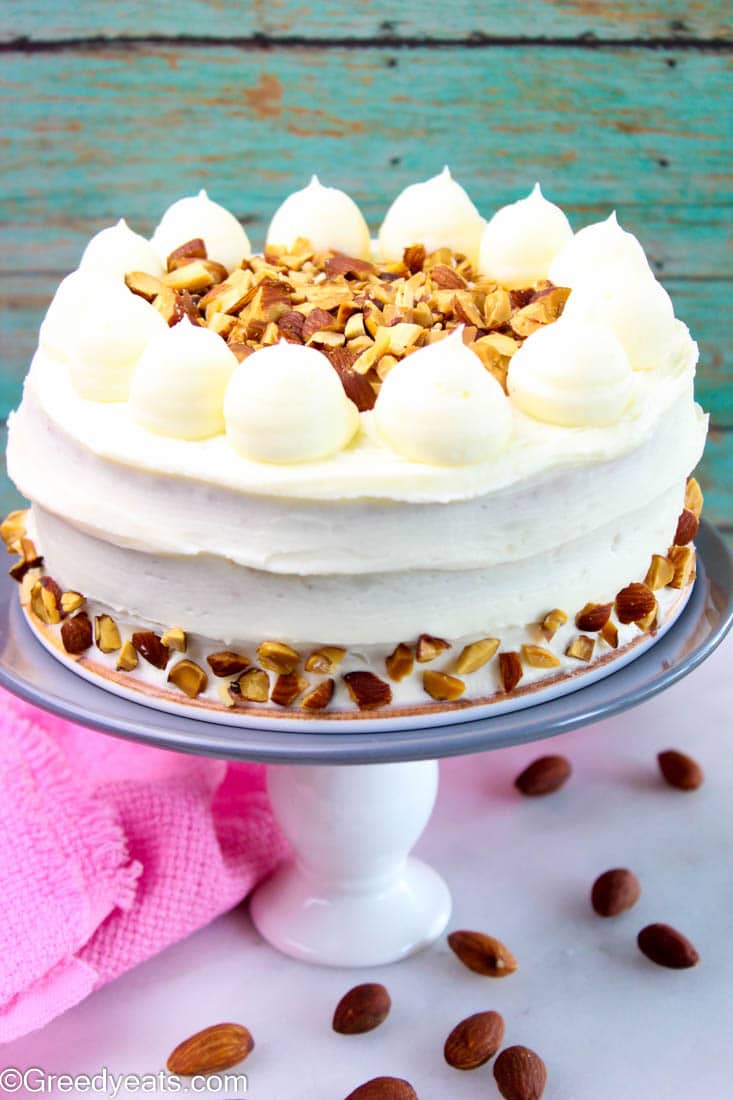 Total Time:
1
hour
15
minutes
Ingredients
1/3

Cup (75 gms)

Butter

(Unsalted, softened to room temp)

2/3

Cup (133 gms)

Granulated sugar

2

large

Egg whites

(room temp)

3/4

tsp

Almond Extract

1

tsp

Vanilla Extract

1/3

Cup

Sour cream

(Full fat, room temp)

1/3

Cup

Whole milk

(room temp)

2/3 +1/2

Cups (133 gms)

All purpose flour

1/2

tsp

Baking powder

1/4

tsp

Baking soda

1/8

tsp

Salt
Almond Cream Cheese Frosting
1/2 pkg.

4 oz

Cream Cheese

(softened to room temp)

2

Tbsp

Butter

(room temp)

2

Cups

Confectioners' sugar

1/4

tsp

Almond Extract

1

tsp

Vanilla Extract

Salt

a pinch
To decorate on top and bottom
1/3

Cup

Roasted Almonds

(roughly chopped)
Instructions
1. Preheat your oven to 350°F (177°C) and grease/spray a 6 x 3 inches round pan.

2. In a large mixing bowl beat butter and sugar till it gets light and fluffy. About 3-4 minutes.

3. Now beat in the egg whites. Add and beat in sour cream and extracts next. Sift flour, baking soda, baking powder and salt over wet. Now add milk and gently fold the batter till combined.

4. The batter will be thick. Do not over mix.

5. Bake for about 45-55 minutes. The cake is ready when it passes the tooth pick test. Cool it for 10-15 minutes in the pan. Cool down further on a wire rack before frosting.
Almond cream cheese frosting
1. Beat all the ingredients together except sugar until smooth.

2. Gradually add in sugar and beat well till the frosting gets light and smooth in texture.
Assembling the cake
1. Crumb coat cooled cake with a thin layer of frosting and chill for 1/2 and hour to let it set.

2. Evenly cover the top and sides of cake with more frosting saving some to decorate on top.

3. Spread roasted almonds on the top (center) and bottom (sides) and decorate with the remaining frosting.
Notes
Making the cake ahead:
The cake can be made ahead of time. Cool it and cover tightly. You may keep it overnight or upto a day.
Similarly, frosting can be made ahead of time and stored in the refrigerator. Allow it to soften to a spreadable consistency for about 10-15 mns before assembling.
Storing and freezing instructions:
Both frosted and unfrosted cakes can be frozen for 2-3 months. Thaw overnight in the fridge or at room temperature for a few hours.
Nutrition