Soft, thick and perfectly chewy Pumpkin Chocolate Chip Cookies Recipe, filled with loads of Pumpkin Flavor and fall spices! Blot your pumpkin puree, prepare the dough, quickly chill for 10 minutes in the freezer and bake! Yes, these cookies are ready in under 30 minutes from start to finish!
Once you make these cookies, they will be your go-to Fall Cookies. And why not? They deliver best pumpkin flavor and chocolatey goodness you'd expect from a Pumpkin Chocolate Chip cookie.
Try my Pumpkin Bars Recipe next. Find all Fall Desserts Recipes on the blog here.

Taste and Texture:
Soft and chewy Pumpkin Cookies
Thick and loaded with mini Chocolate Chips
Filled with loads of pumpkin and fall spice flavors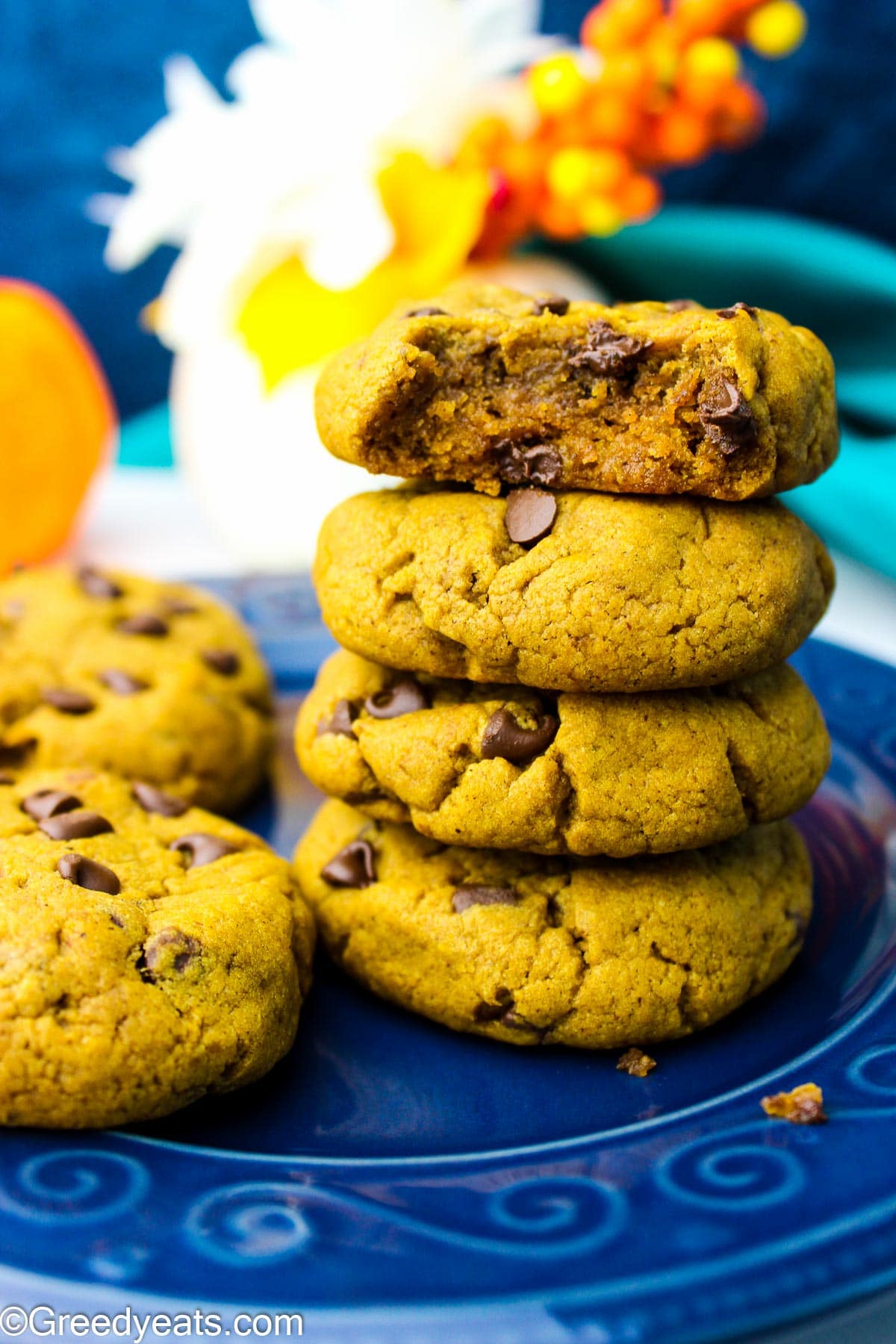 Pumpkin Cookie Recipe ingredients: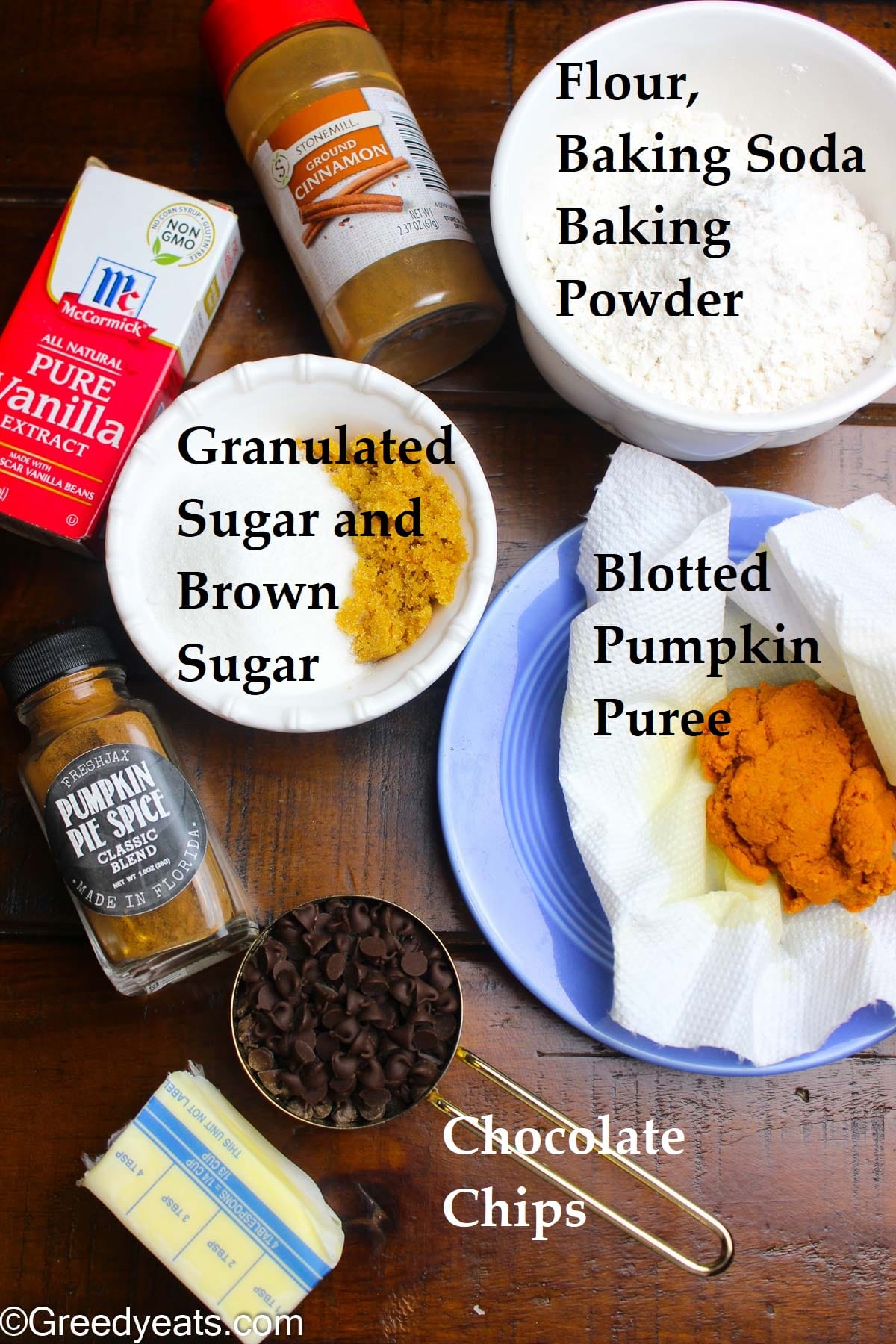 Canned Pumpkin Puree: I prefer canned pumpkin puree to fresh as it has a nicer flavor to make cookies and other baked goods.
Butter: Unsalted butter is my preference so that we can control the amount of salt that is added to the dough. If you are using salted butter, I recommend you skip adding the salt.
Sugar: Both brown sugar and granulated sugar are needed to make the dough. You may use either dark or light brown sugar, both will work well.
Flour: All purpose flour, a pantry staple is used in this cookie.
Spices: We are adding pumpkin pie spice and cinnamon to flavor these cookies. Don't skip the cinnamon as it adds a lot of flavor to the cookie dough.
Chocolate Chips: I used semi sweet mini chocolate chips, you can also the full sized chocolate chips or dark chocolate chips.
How to make Pumpkin Chocolate Chip Cookie: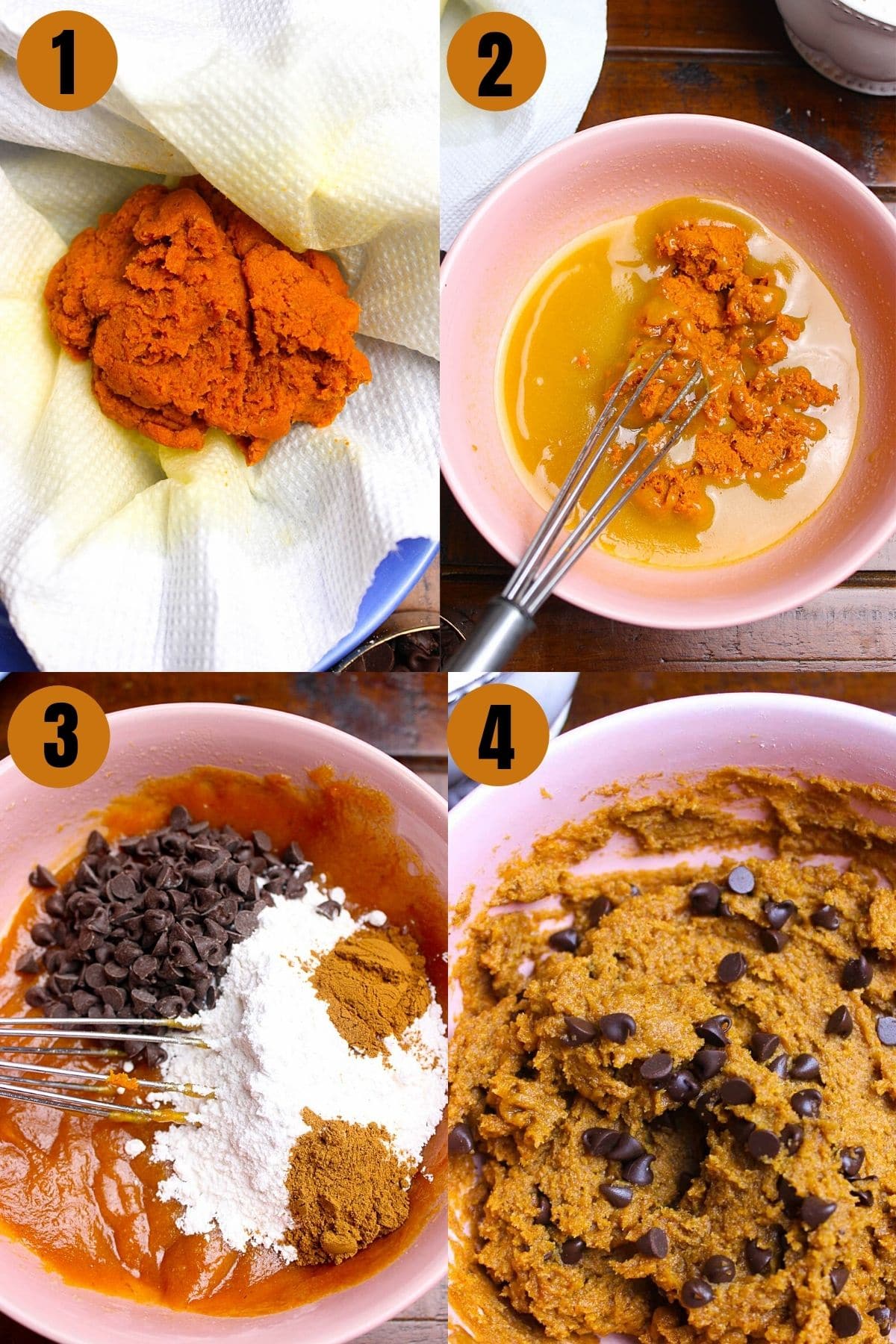 Blot Canned Pumpkin Puree: Blot pumpkin puree by squeezing all the extra moisture out of it using a paper towel. Pumpkin puree is about 90% water.
While we need all this moisture here in Pumpkin Cupcakes and we don't need it to make pumpkin cookie dough! So we will skip the egg and blot the puree here (as best as we can!)
Whisk all wet ingredients: Once you have taken care of all the moisture in the puree, it's time to mix the wet ingredients butter; blotted pumpkin puree and vanilla extract with the butter.
Make the Cookie Dough: Sift and mix in all the dry ingredients, spices and fold in the chocolate chips.
Make dough balls and chill them in the freezer: Chill the pumpkin dough balls on lined cookie tray while you preheat the oven. Press a few more chocolate chips on top for decoration.
Bake: Flatten your cookie dough balls slightly before baking as they don't spread in the oven. Then bake the pumpkin cookies at 350 degrees Fahrenheit for about 11-12 minutes.
Allow to cool them on a wire stand: The more time you give your cookies to cool down on a wire rack, the chewier they will taste. You can even place them on wire stand overnight and enjoy the next day.
You will love these Cookies because:
These are a perfect make ahead dessert as they turn even chewier the next day.
So quick and easy to make with only 10 minutes chill time.
Filled with just the right amount of spices and melty chocolate chips.
Not at all cakey!
How long does pumpkin cookie dough last in the fridge?
Pumpkin cookie dough like most other cookie doughs can be refrigerated covered tightly, for 3-4 days before baking.
Recipe Variations:
Use a combination of different chocolate chips; semi sweet, dark chocolate or milk chocolate.
You can add some pecans/walnuts, raisins or even pumpkin seeds along with choc chips!
Add some color and toss in a few M&Ms or other colorful candy.
Dust the pumpkin cookies with icing sugar or cream cheese glaze.
How long can you keep pumpkin puree in the freezer?
Canned Pumpkin Puree can be frozen for about 9-12 months. Fresh pumpkin puree can also be frozen for the same amount of time.
Do pumpkin cookies need to be refrigerated?
Most cookie recipes with pumpkin do not need to be refrigerated. If you wish to store baked cookies for more than 3-4 days, you may store them in refrigerator for up to 7 days, covered tightly. It's best to freeze dough balls and bake them fresh as needed without thawing.
Why are my pumpkin cookies sticky?
Cookies Recipes with Pumpkin call for blotted pumpkin in the cookie dough. Canned pumpkin contains a fair amount of moisture that can cause your cookies to become sticky.
Make sure to squeeze out as much moisture from the canned pumpkin to avoid sticky cookies.
How do you make cookies not cakey?
If your cookie is cakey it could be because you did not blot pumpkin puree well before adding it to the dough mixture. Use a few paper towels to blot all the moisture from the pumpkin. Seriously, I can't stress this trick enough.
It solves all cakey cookie and sticky cookie problems from your pumpkin cookies and they bake super soft and chewy!
Quick Tips to make Perfect Chocolate Chip Pumpkin Cookies: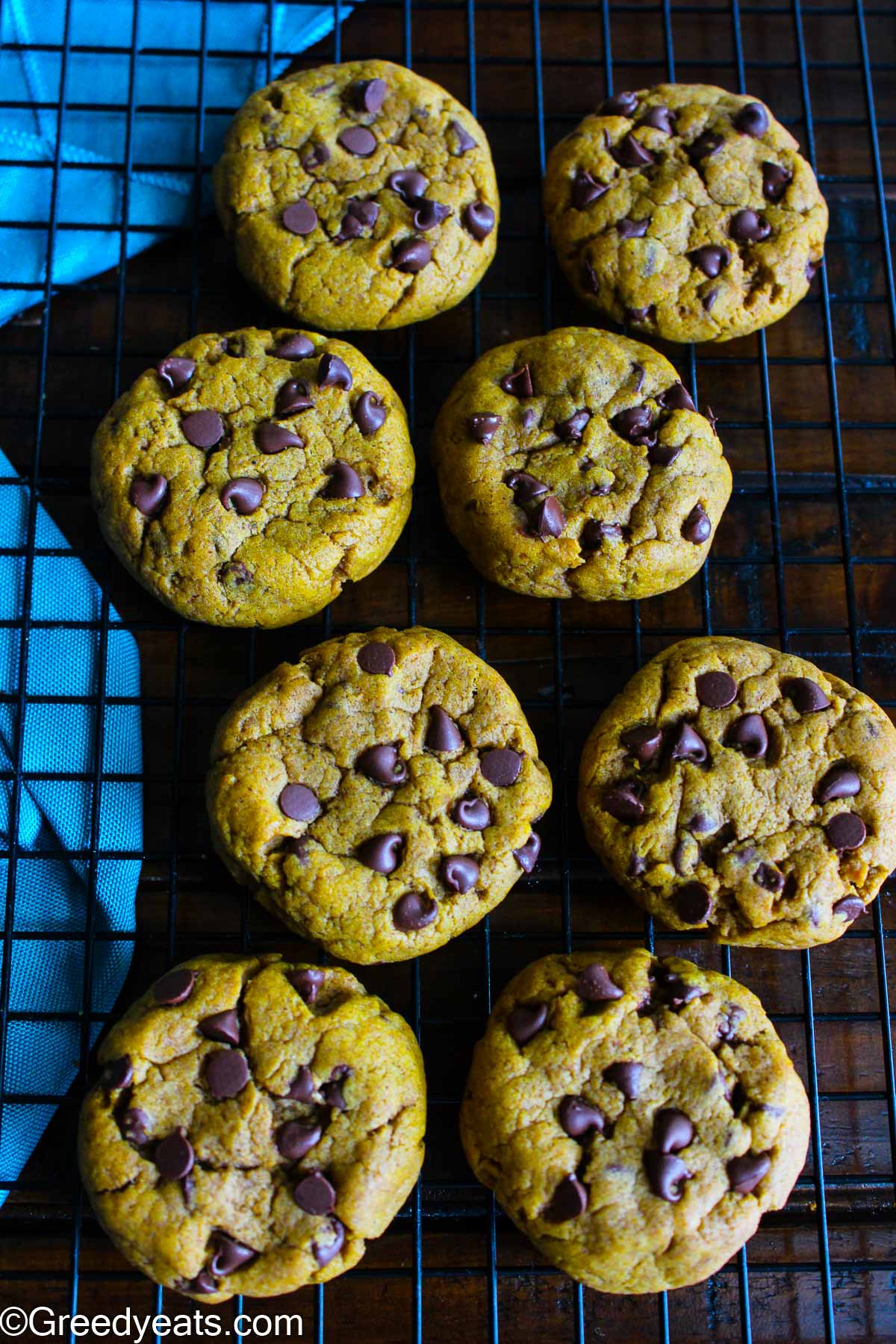 Melt your butter before beginning to make the dough. Coz Melted Butter= Chewy Cookies!
Skip Egg: We are not using egg in this dough to prevent more moisture getting in there!
Blot all the excess moisture out of canned pumpkin for guaranteed chewier cookies!
Allow them to cool down on wire rack for a few hours and do their thing (become chewier). I suggest keep them there for overnight and have Pumpkin Cookies for breakfast (well not necessarily :D)! But these are perfect cookie to make ahead!
More Pumpkin Desserts for you:
Nothing says fall more than pumpkin and these cookies are the perfect treat to celebrate the fall season. Using pumpkin spice and pumpkin puree really make these cookies sing fall. Of course dot them with ample chocolate chips for finishing touches!!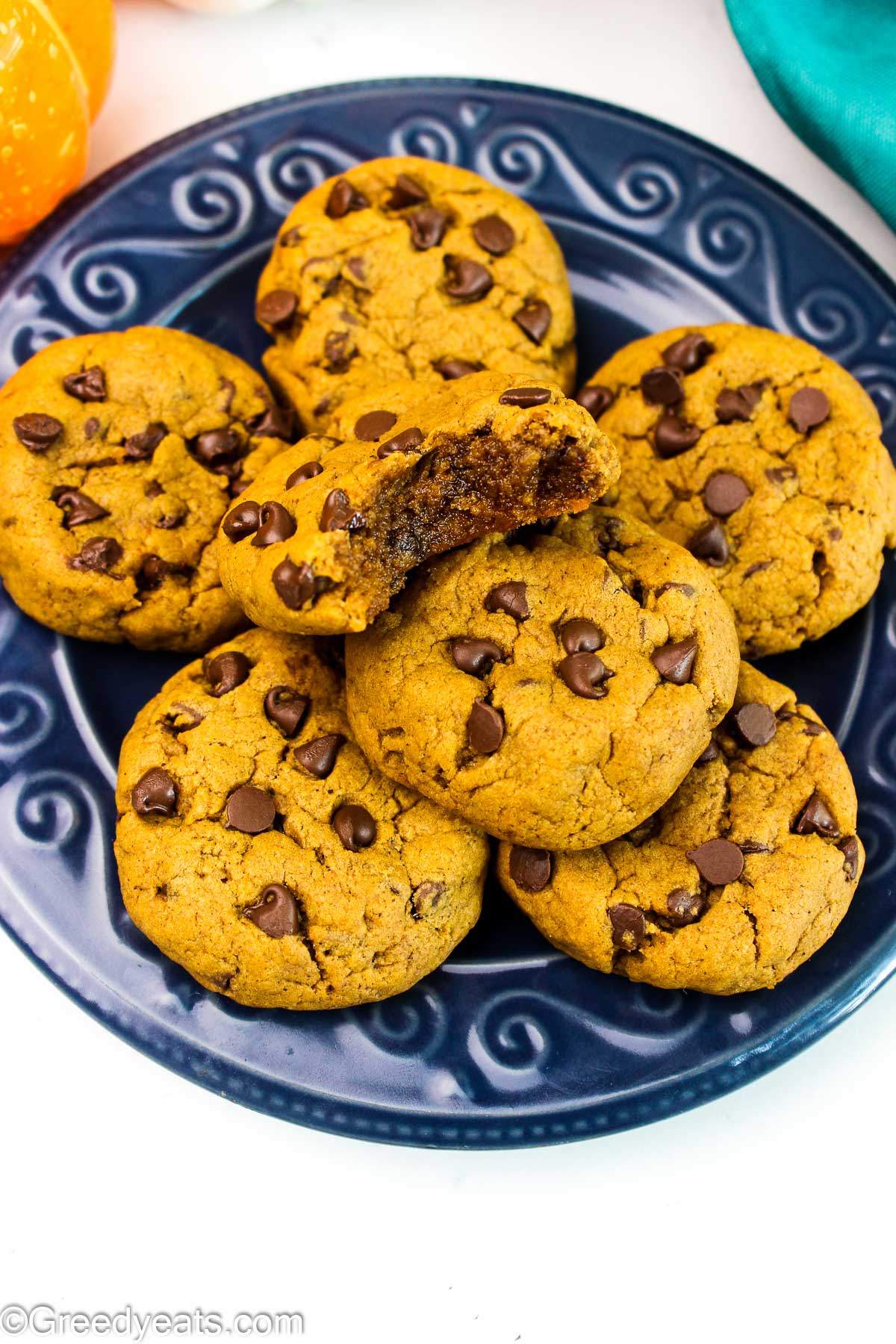 If you liked this recipe, give it a star review. Also, tell me in the comments below, how did this turn out for you! And don't forget to share your creations with me on Instagram at #greedyeatsblog And lets be friends on Pinterest and Facebook too! 🙂
Recipe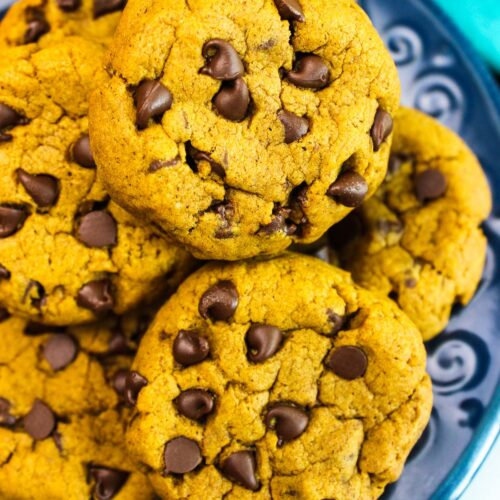 Soft Pumpkin Chocolate Chip Cookies
Thick, perfectly chewy and Soft Pumpkin Chocolate Chip Cookies Recipe filled with ample of Pumpkin Flavor and fall spices! Blot your pumpkin puree, make the dough, quickly chill them for 10 minutes in the freezer and bake! Yes, these cookies are ready in under 30 minutes from start to finish!
Print
Pin
Rate
Ingredients
¾

Cup

Unsalted Butter

(melted and cooled slightly)

6

Tablespoons

Brown Sugar

¾

cup

Granulated sugar

9

Tablespoons

Canned Pumpkin Puree

(Blotted, to get rid of excess moisture)

2 ¼

Cup

All Purpose Flour

¼ + ⅛

teaspoon

Baking Powder

¼ + ⅛

teaspoon

Baking Soda

⅛

teaspoon

Salt

1 ½

teaspoons

Ground Cinnamon

1

Tablespoon

Pumpkin pie spice

2 ½

teaspoons

Pure vanilla extract

¾

Cup

Mini chocolate chips
Instructions
Line a baking sheet with silicon mat or parchment paper. Now, in a small bowl mix melted butter, granulated and brown sugar, pumpkin and vanilla until well combined. Set aside.

In a separate bowl sift flour, baking powder, baking soda, all the spices and salt. Mix it well in wet ingredients to form Pumpkin Cookie dough. Add in the chocolate chips (saving some for pressing on top after baking).

Next roll the cookie dough into 1.5 inch balls, keep them on lined cookie tray and chill them in freezer until your oven preheats. Preheat oven to 350 deg F. Flatten the cookies slightly and bake for around 11-12 minutes. The cookies will look very soft in the centers but don't be tempted to over bake. These will set a lot more as they cool down.

Take them out and press the remaining choc-chips on top for the looks! Allow them to cool down for a few minutes on the sheet. And keep for a few hours on wire rack to get even more chewier cookies.
Notes
Storage Information:
You can chill the dough in refrigerator for up to 2 days. Allow it come to room temperature before forming those balls.
Cookies stay fresh at room temperature for 5-7 days. Baked cookies freeze well for 2 months. Thaw in the refrigerator or at room temperature before enjoying!
Can pumpkin cookie dough be frozen?
Yes, absolutely! You can even make dough balls, chill them individually on a cookie tray for 1-2 hours and then store them in ziploc bags for about 2 months. No need to thaw before baking, just bake for an extra minute.
Tips for Perfect Cookies:
Pumpkin: Blot pumpkin puree by squeezing all the extra moisture out of it using a paper towel. Pumpkin puree is about 90% water.  So we will skip egg and blot the puree here (as good as we can!) Measure pumpkin after blotting it.
Pumpkin Pie Spice: You can use ¼ teaspoon each: ground cloves, ground allspice, ground ginger and ground nutmeg instead of pumpkin pie spice. If taking this route, don't leave out ground cinnamon.
Nutrition
Serving:
1
Cookie
|
Calories:
144
kcal
|
Carbohydrates:
20
g
|
Protein:
1
g
|
Fat:
6
g
|
Sodium:
53
mg
|
Sugar:
12
g