Small batch chocolate chip cookie recipe with one secret ingredient, few tricks to make them thick and puffy, soft in the center and chewy on the outside!

Check out all my easy cookie recipes here!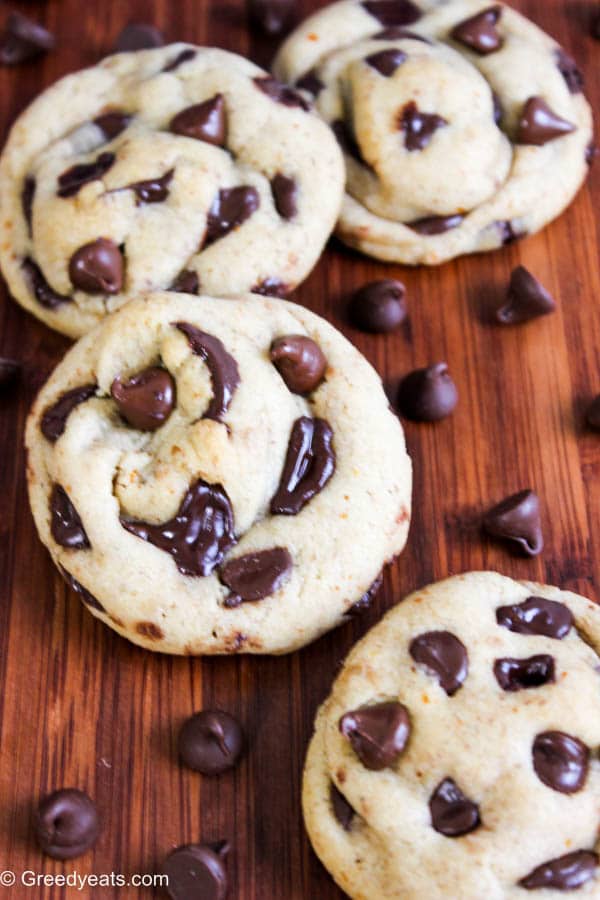 Not even 5 days into the New year and look what I am throwing at you! And can you blame me? Do you plan to eat a salad today? Can't relate!
Because all I care about right now is chocolate chip cookies! A timeless classic, a matchless flavor and loved by all.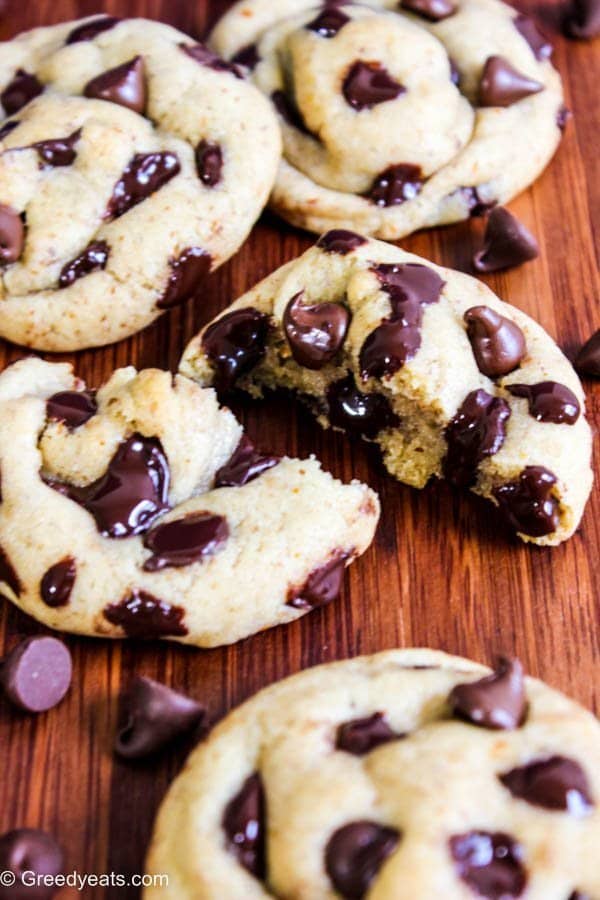 Almost everyone I know has a favorite chocolate cookie recipe of their own. Now I do too! What I wanted to achieve here was a perfect small batch chocolate chip cookie recipe.
A cookie so thick, so soft and so puffy that it puts even the most comfortable pillow to shame!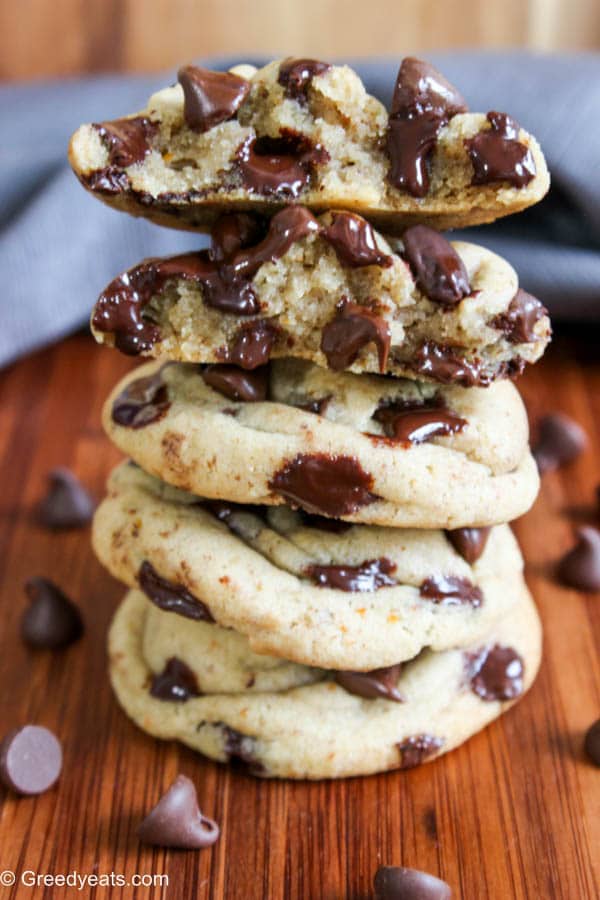 But what is that secret ingredient? An ingredient that bakes the thickest and the softest choc-chip cookies I am bragging about!
C-O-R-N-S-T-A-R-C-H!
Now I know what you are thinking! What's so new about this fact. Moreover every other chocolate chip cookie that claims to be thick uses it!
It's the amount, my friends! The amount of cornstarch that you use is directly proportional to the rise and softness in your cookie.
I used as much as I COULD get away with! And I most certainly made my thickest cookie dreams come true.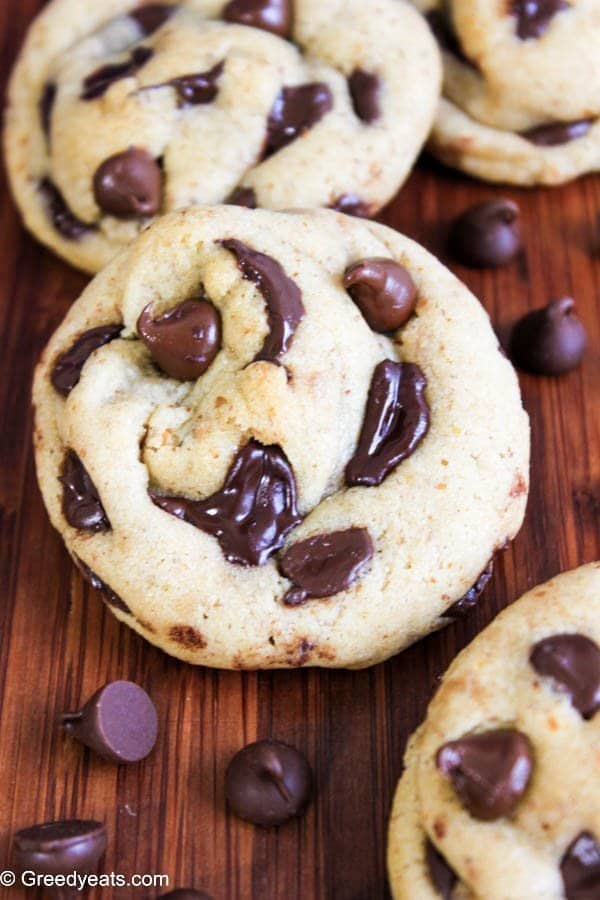 Lets get right into some more tips to bake the chocolate chip cookies for your dreams. In a small batch form of-course!
Tips to make your small batch chocolate chip cookies the thickest and the softest!
First of all, don't over work your dough and also don't press it too hard.
Secondly, chill that dough. Chilled Dough=Guaranteed Thickness!
Above all, bake them as huge cookies. One cookie= almost 2.5 tablespoon of dough. As a result they will stay soft even 3 days after you bake them.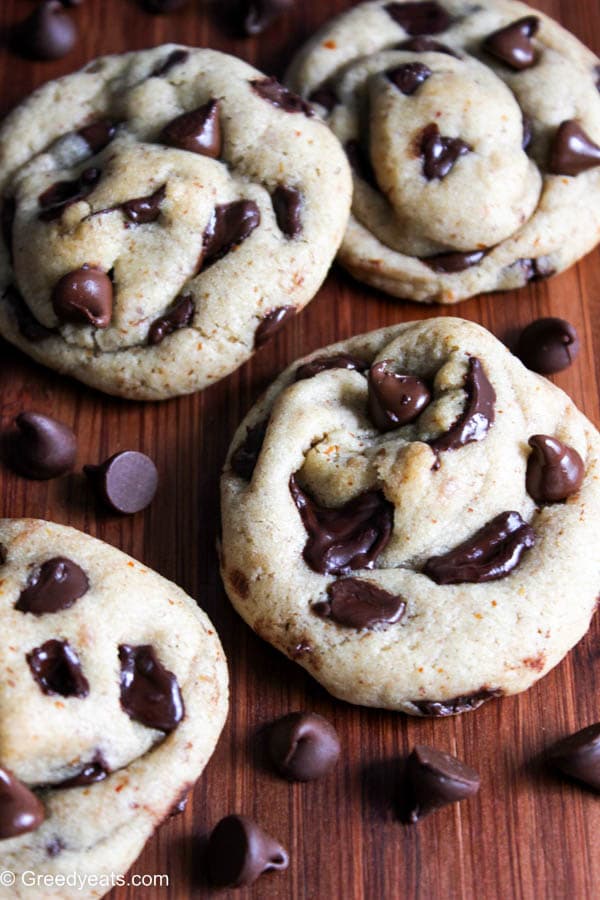 Add goodies. When used in a prefect dough to chips ratio, chocolate chips/chunks aid the lift in the cookies!
Don't skimp on the amount of cornstarch used.
Most importantly, roll the cookie balls on the taller side and not round.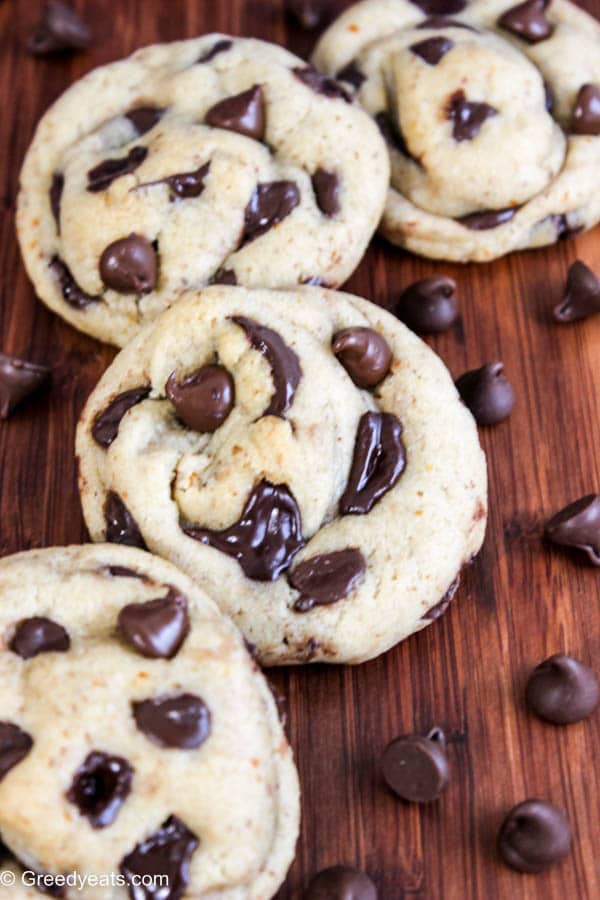 What are you waiting for? Get those ovens preheated!
Hungry for a chocolate chip cookie all dressed in pink?
So you want to bake them extra large with less effort? Here you go!
Jazz them up with fall flavors.
Or scratch everything else and bake the happiest cookie on my blog
Oh and also these cake mix cookies if you are in a hurry
And finally their vegan counterpart
Adapted from Averie cooks!
Recipe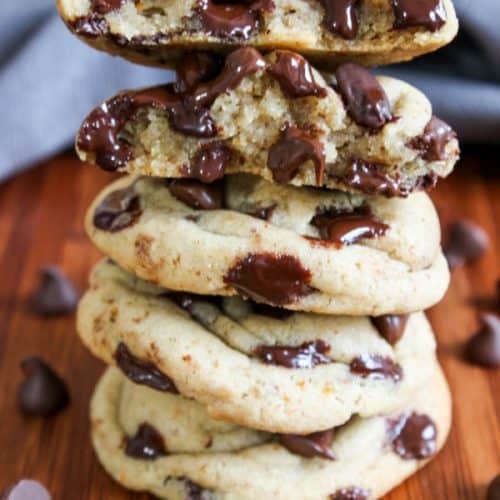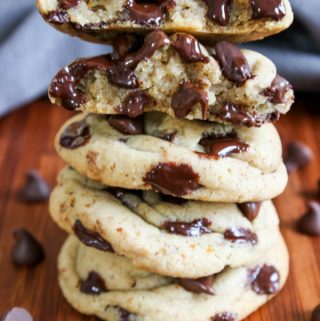 Small batch chocolate chip cookie recipe
Small batch chocolate chip cookie recipe with one secret ingredient, few tricks to make them thick and puffy, soft in the center and chewy on the outside!
Print
Pin
Rate
Ingredients
¼ Cup

Unsalted butter (Softened to room temperature)

¼ Cup (50 gms)

Brown sugar (packed)

4 teaspoon (16 gms)

Granulated sugar

4 tsp

Egg

1 teaspoon

Vanilla Extract

⅔ Cup (83 gms)

All purpose flour

1 tsp

Cornstarch

¼ teaspoon

Baking soda (heaping)

⅛ teaspoon

Salt

⅓ Cup

Semi sweet/milk chocolate chips

⅓ Cup

Dark chocolate chunks
Instructions
1. Beat softened butter in a medium bowl, using a hand held mixer for about a minute (on medium speed).

2. Add both the sugars and beat until light, fluffy and pale in color. Now beat in egg and vanilla.

3. Sift flour, baking soda and salt over these wet ingredients and slowly mix on low just until the flour disappears.

4. Fold in the chocolate chips and chunks. Cover the dough tightly using a foil/wrap and chill it for a minimum of 1 hour or up to 2 days.

5. Take the dough out of refrigerator and preheat your oven to 350°F (177°C) and line a baking sheet with parchment paper/silicon mat.

6. Chilled dough can be slightly crumbly but it comes together at ease as you roll them into balls with your hands. Divide the dough into 5 balls and roll them on the taller side rather than a perfect round.

7. Bake for 12-15 minutes. The cookies will still appear very soft. Take them out and allow to cool on the sheet for 5-7 minutes. At this time you can also press a few chocolate chips/chunks on top for added look!
8. Transfer on a wire rack to cool further.

Notes
Cookies stay fresh at room temperature (covered tightly) and in the freezer for up to 2 months. Believe me, you'd never want to freeze them anyway!
Unbaked cookie mounds can also be frozen for 3 months. When baking, add an extra minute, no need to thaw.
If chilling the cookie dough for 2-3 days, allow to come to room temperature slightly before rolling them. The dough gets easier to handle this way.
Nutrition