Tender and moist sweet potato pound cake recipe with thick chocolate swirl and slathered with chocolate glaze to finish things off!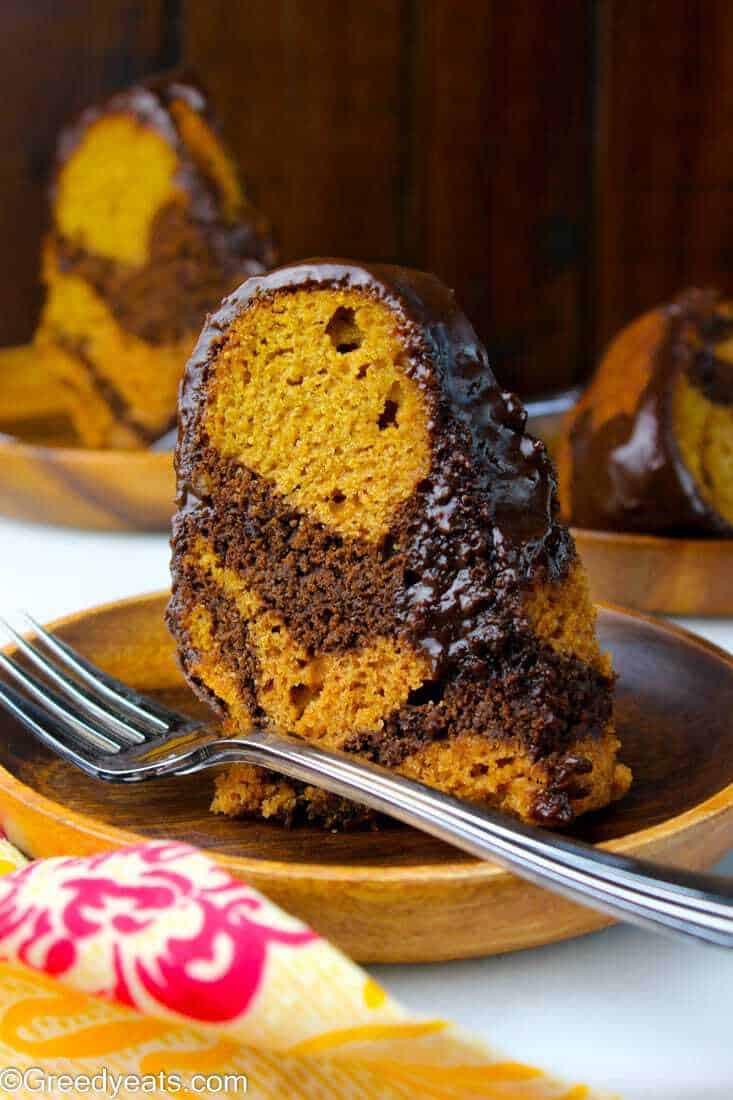 With all Pumpkin recipes floating around, we totally forget about one superstar!moist, mushy and gooey (sorry!). That works so well in fall cakes, spiced cupcakes, healthy cookies and so many other fall desserts!
I am talking about Sweet Potatoes. Such an underrated fall flavor!
They aren't just good to make fries! Instead think of a dessert recipe you were to put pumpkin puree in, sweet potato works!
And the result? Look for yourself! ⇓
Yes this sweet potato chocolate cake isn't inverted yet! It sure rose taller than my expectations. I was 183% sure that it is going to ooze out of my bundt pan. Infact I kept a tray underneath to bake this monster!
15 minutes in the oven and it looked so tall. I had my doubts that this cake will never be moist! But this pumpkin bundt cake did not fail me! More on that in a minute.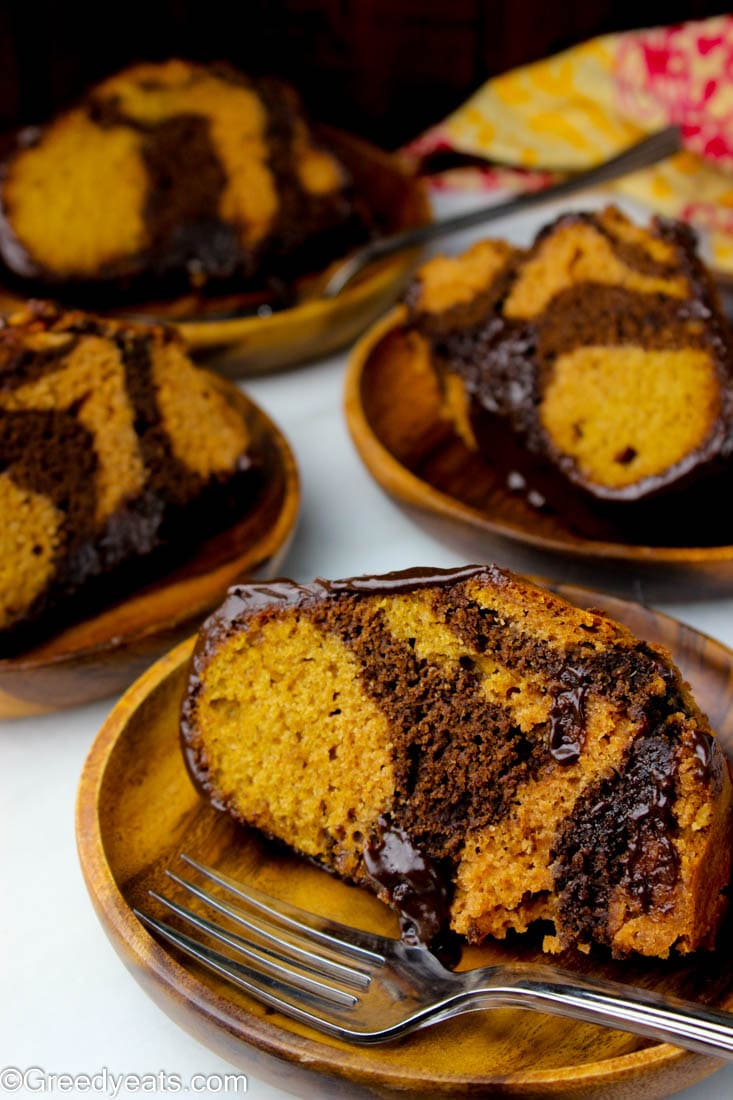 Sweet potato pound cake recipe ingredients
Besides Flour, leveaners, spices, salt, vanilla, granulated sugar and eggs we are adding the following to guarantee a moist, fluffy yet tender baked sweet potato spice cake!
Buttermilk: Reacts with baking soda to create a fluffy and moist bake.
Sweet potato puree: Bake your sweet potatoes and scoop the puree out. You can then blend it or just mash it with a fork. I did the latter one! 😉 
Greek yogurt: Bakes such a tender cake. You can even replace it with sour cream.
Clarified butter/melted butter or oil: Now I leave this up to you. Clarified butter/ghee gives this fall cake so much flavor. But melted butter or oil works in a pinch too! 
Brown sugar: Produces super moist bakes that are packed with flavor. Remember?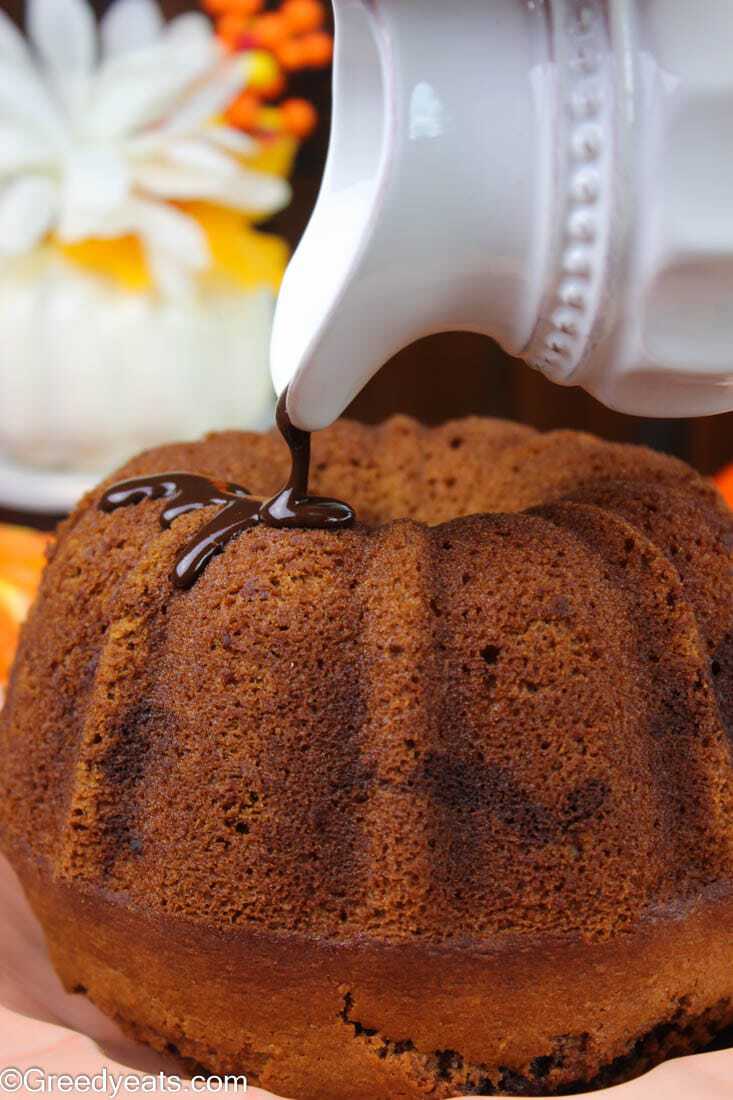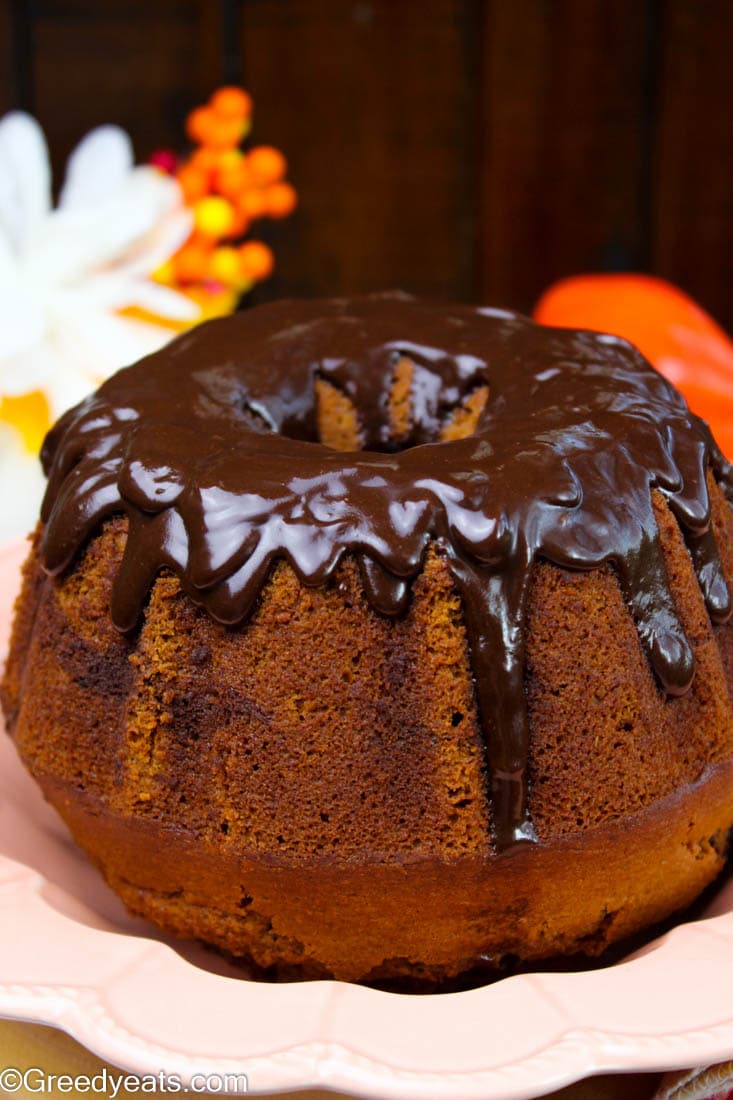 Sweet potato pound cake taste and texture
Taste wise this cake reminds me of my deliciously spiced cute pumpkin bundt cakes! Minus the cream cheese icing!
And texture wise? Omg! This cake is ultra rich and buttery with all the thick chocolate swirls and the chocolate glaze. Soft and tender, filled with warm scent of fall!
How to make a sweet potato cake with chocolate swirl
I promise you it is way easier than it looks! No special equipments required. No intricate techniques!
Just combine wet together and sift dry ingredients over wet.
Take about a cup of batter out and mix with some cocoa and buttermilk.
Then swirl!!! We are talking two super thick chocolate swirls in between spiced sweet potato batter layers!
Fill your bundt cake to the top. And don't be scared! Your cake batter won't over flow. As we are using tall muffins trick to bake this sweet potato cake recipe.
High initial temperature for the rise of cake. Then reducing the temp to 350 to let the cake bake in center.
This little trick will make your cake rise sky-high. And still bake so tender and soft inside.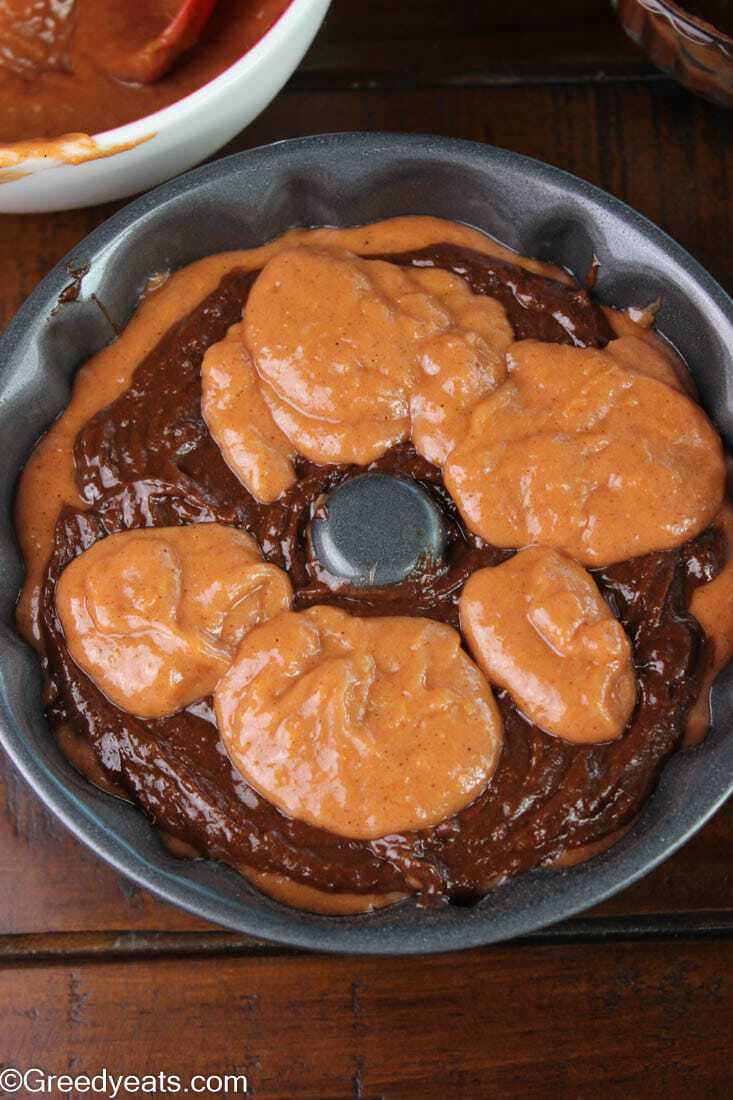 How do you keep a BUNDT cake from sticking?
Grease your bundt cakes with oil or butter well. I don't like to flour my pans as they leave an unappealing layer on the cake after baking.
Allow your bundt cake to cool in the pan for 10-15 minutes. Then run a knife (not very sharp) around the edges and invert the cake on wire-stand. Tap the pan a few times.
The bundt cake should release now. And in case if it doesn't, wait for another 5-10 minutes.
It will loosen a bit more as it cools further. Now again tap and shake the pan gently to help release the cake. Cool down further on wire rack!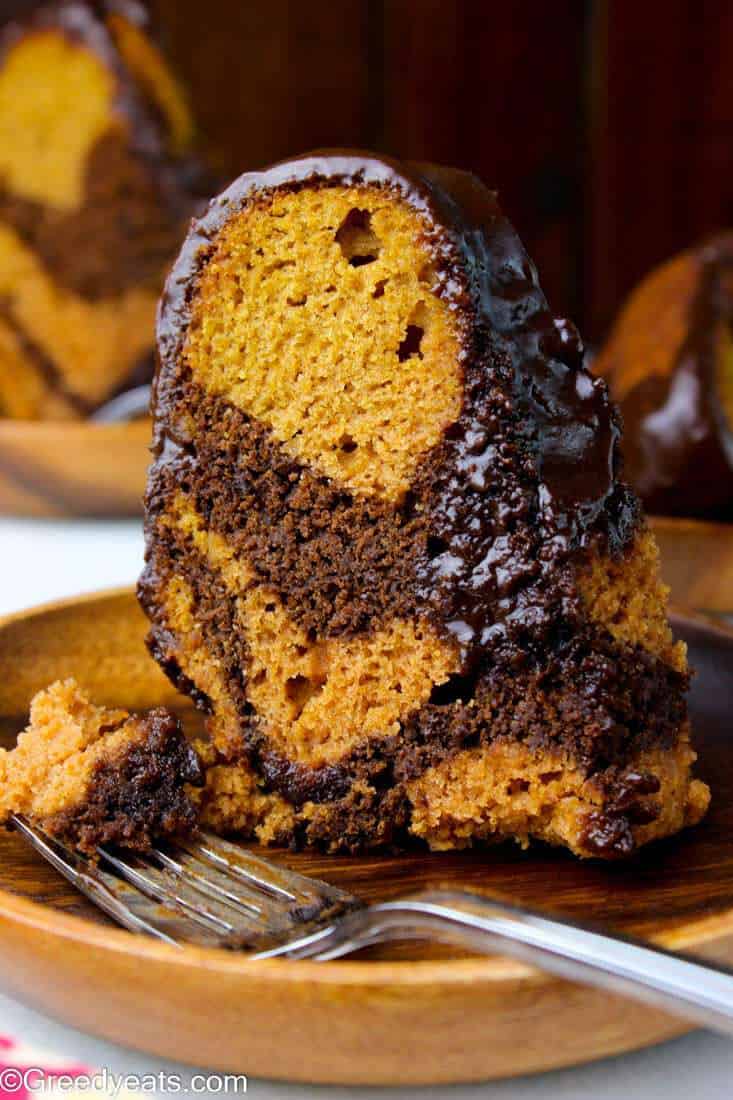 Filled with the goodness of vitamin A, vitamin C and ample of potassium this sweet potato pound cake recipe will delight you with it's soft texture, fall spices and ample of chocolate!
Follow me on Pinterest for latest recipe updates!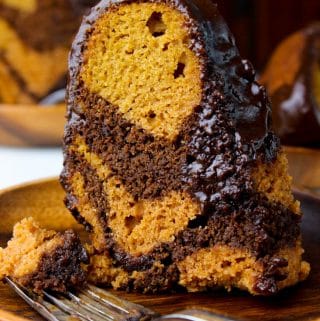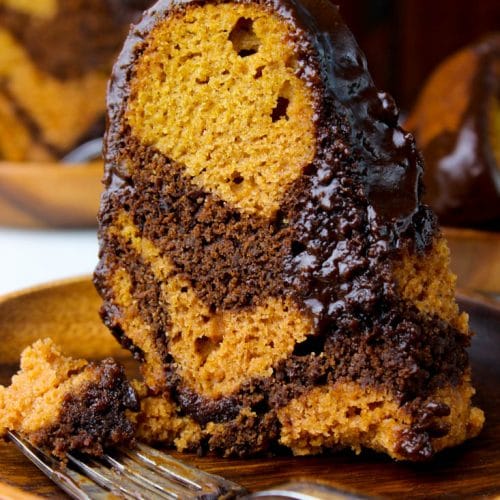 Sweet Potato Pound Cake Recipe
Tender and moist sweet potato pound cake recipe with thick chocolate swirl and slathered with chocolate glaze to finish things off!


Print
Pin
Rate
Servings
12
Medium thick Slices
Ingredients
3/4

cup

Brown Sugar

1/2

cup

Granulated Sugar

1/3

cup

Clarified Butter/ Flavorless Oil

3

tbsp

Greek yogurt

2 1/2

tbsp

Buttermilk

2

large

Eggs

1 1/4

cups

Sweet Potato puree

2

tsp

Vanilla Extract

2

cups

All purpose flour

1/4

tsp

Salt

3/4

tsp

Baking powder

3/4

tsp

Baking soda

2

tsp

Spice Blend

Ginger+cloves (1 tsp each)

2

tsp

Cinnamon
Chocolate Swirl
2 1/2

Tbsp

Cocoa powder

(natural, unsweetened)

1

tbsp

Buttermilk
Chocolate Glaze
1/2

cup

Chocolate chips

2

Tbsp

Butter

(unsalted)

2

tsp

light Corn Syrup

2

tsp

Milk
Instructions
1. Preheat oven to 425 deg F and grease or spray a 6'' bundt pan with butter/oil spray and set it aside.

2. In a large bowl, combine both sugars, oil, yogurt, and buttermilk until blended. Add in eggs next and mix well using a beater or with hands. Now stir in vanilla, cinnamon and sweet potato puree.


3. Sift flour, baking soda, baking powder, and salt on wet ingredients and fold till combined.

4. Take a cup of batter out in a bowl. Mix cocoa and buttermilk in and fold in to form chocolate batter.

5. Pour sweet potato batter in the pre-prepared bundt pan. Next pour half of chocolate batter in. 3rd layer will be sweet potato batter again.

6. Layer with the remaining chocolate batter next. And finish off with sweet potato batter. Don't be afraid to fill your bundt pan to the top. The initial high temp. will not let the batter to overflow.

7. Bake for 45-55 mins or until the cake passes the toothpick test.

8. Allow to cool down for 15 mins in the pan. Then invert on a wire stand to cool down further. Top with chocolate glaze on completely cooled cake!
Chocolate Glaze
Place choc chips, butter, corn syrup and milk in a bowl and microwave in 30 sec increments till chocolate melts, smoothens and turns glossy. Stir in between.
Notes
Storage info:
Sweet Potato Bundt Cake can be stored covered tightly at room temp up to 2 days. Keep in fridge for longer storage. Up to 5 days.
Bundt cake can be freezed for up to 2 months. Thaw before enjoying. Or warm up in microwave.
Nutrition