We all know and love our trusted cupcakes but what if I told you cupcakes could be even better. Yes! Ice Cream cupcakes are simply the best. Made with few simple ingredients, super quick and easy to make, these cone cupcakes are a summer staple in my home!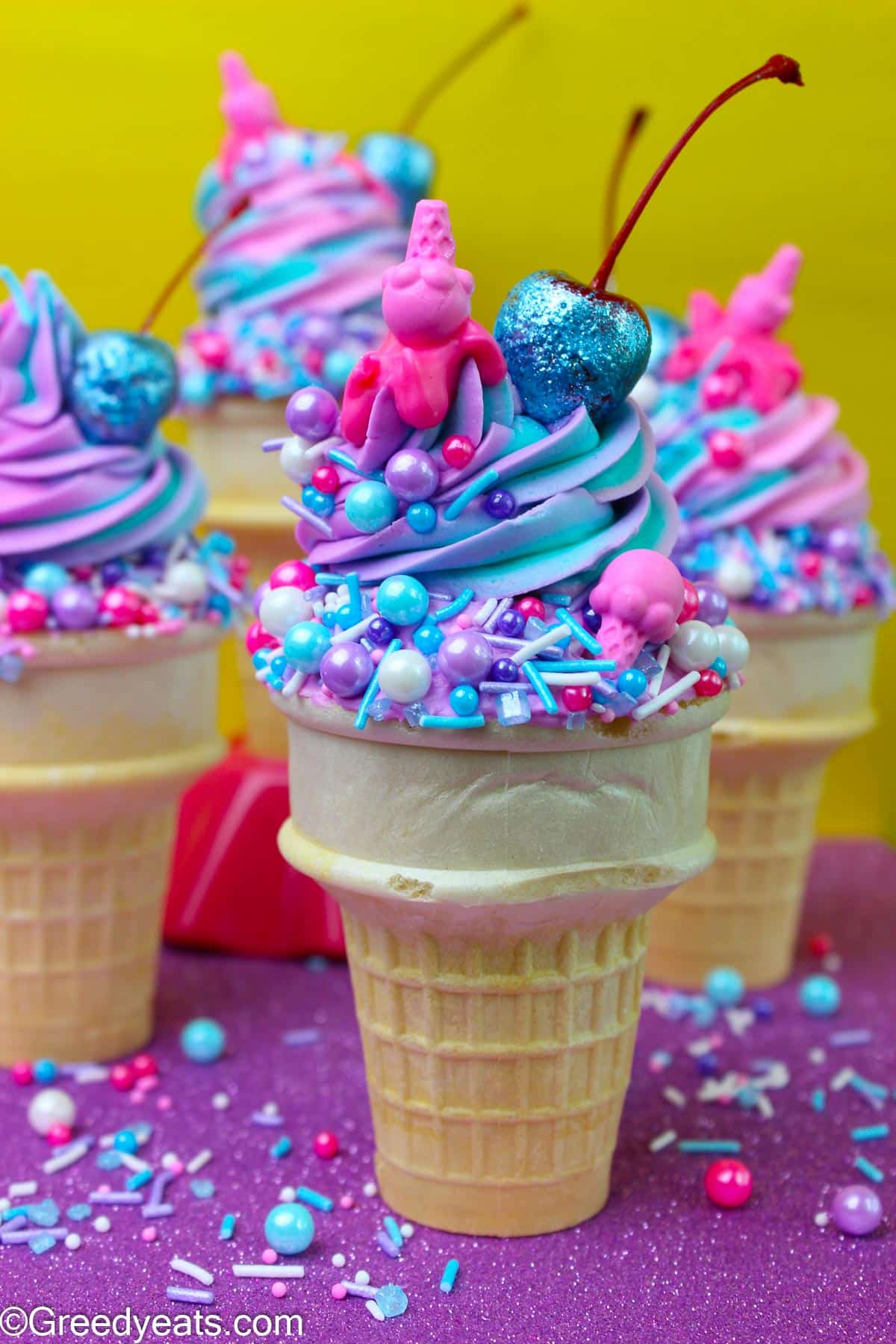 Take your beloved cupcake, top with super rich frosting and sprinkles and then eat it out of an ice cream cone. Brilliant, don't you think?
I've made this batch as vanilla cupcakes, but you can easily convert them into Chocolate cupcakes in ice cream cones.
Looking for other celebratory cakes? I've got you covered! Check out these Mini Vanilla Cupcakes, this Funfetti Cupcakes Recipe or these Easy Chocolate Cake Pops. Whichever recipe you choose I guarantee you won't be disappointed. They also give you some flexibility as to how to decorate. Go crazy! Use your favorite toppings or make them more seasonal and use holiday specific toppings.
ICECREAM CUPCAKES TASTE AND TEXTURE:
Soft and fluffy cupcakes
Smooth creamy frosting
Crunchy and texture packed from cones and sprinkles
CUPCAKE INGREDIENTS:
A box of cake mix: Keep things simple and buy a box of vanilla cake mix. Or if you have some time and want to make your own cone cupcakes from scratch choose one of these options: Vanilla Cake, or try a flavored cake batter and follow one of these recipes: Lemon Cupcakes, Orange Cupcakes, or these, another favorite- Strawberry cupcakes!
A batch of homemade or store bought frosting: I made Vanilla Buttercream Frosting for these cupcakes but you can easily swap it for one of these: Chocolate Frosting, or this Cinnamon Frosting.
Ice cream Cones
Sprinkles of choice (optional but pretty!)
VANILLA BUTTERCREAM INGREDIENTS:
Confectioner's sugar: this powdered sugar gives frosting a smooth, soft texture.
Heavy cream: creates just the right consistency so you can spread the frosting.
Butter: Make sure to use butter at room temp.
Vanilla: Use pure vanilla extract for best flavor.
HOW DO YOU MAKE CONE CUPCAKES:
If using a store bought box mix, simply follow instructions on the package to prepare batter. You really choose any flavor you like. I choose vanilla this time!
Line your cupcake pans with tin foil before placing the cones in so as to prevent the cones from burning.
Pour cupcake batter into the cones as you would in to regular liners and bake. Not to worry we have taken the necessary precautions so the cones won't burn.
Apply frosting to completely cooled cupcakes.
Top with sprinkles or decorate as you wish.
HOW DO YOU MAKE SWIRLED VANILLA BUTTERCREAM FROSTING?
To make the frosting:
Using the paddle attachment in the bowl of a stand mixer or in a mixing bowl with a handheld electric mixer, beat the butter on medium-high speed until creamy and pale in color, about 1-2 minutes.
confectioners' sugar, vanilla, heavy cream and salt. Beat on low speed just until the sugar has fully moistened.
Add the vanilla and salt and turn the mixer on low and slowly add 3 tablespoons of the heavy cream.
Turn the mixer up to medium-high and beat. Scrape down the sides and bottom of the bowl a few times to incorporate all the sugar.
Frosting should be soft, smooth and thick and easy to spread yet still hold its shape.
How to get the swirl effect using a piping bag:
Fill ⅓ of a piping bag with one color and then other ⅔rd with two other colors using a spoon.
Frost as you would normally pipe a swirl.
HOW DO YOU STORE CUPCAKE CONES?
I suggest storing them without a covering. This will prevent them from becoming soggy.
How do you keep ice cream cone cupcakes from getting soggy?
You can do 2 things to prevent your ice cream cupcakes from turning soggy:
Don't bake them too far ahead of time. Bake these cupcakes 1-2 hours before serving them.
Or you can poke a few small holes in the bottom of each baked cone to allow steam and air to pass. This way the cones won't turn soggy!
Aren't these the cutest treats ever? Both kids and adults love them alike. Looking for more information on how to make the perfect cupcake? Read my Cupcakes 101 tips and tricks to bake perfect cupcakes every time.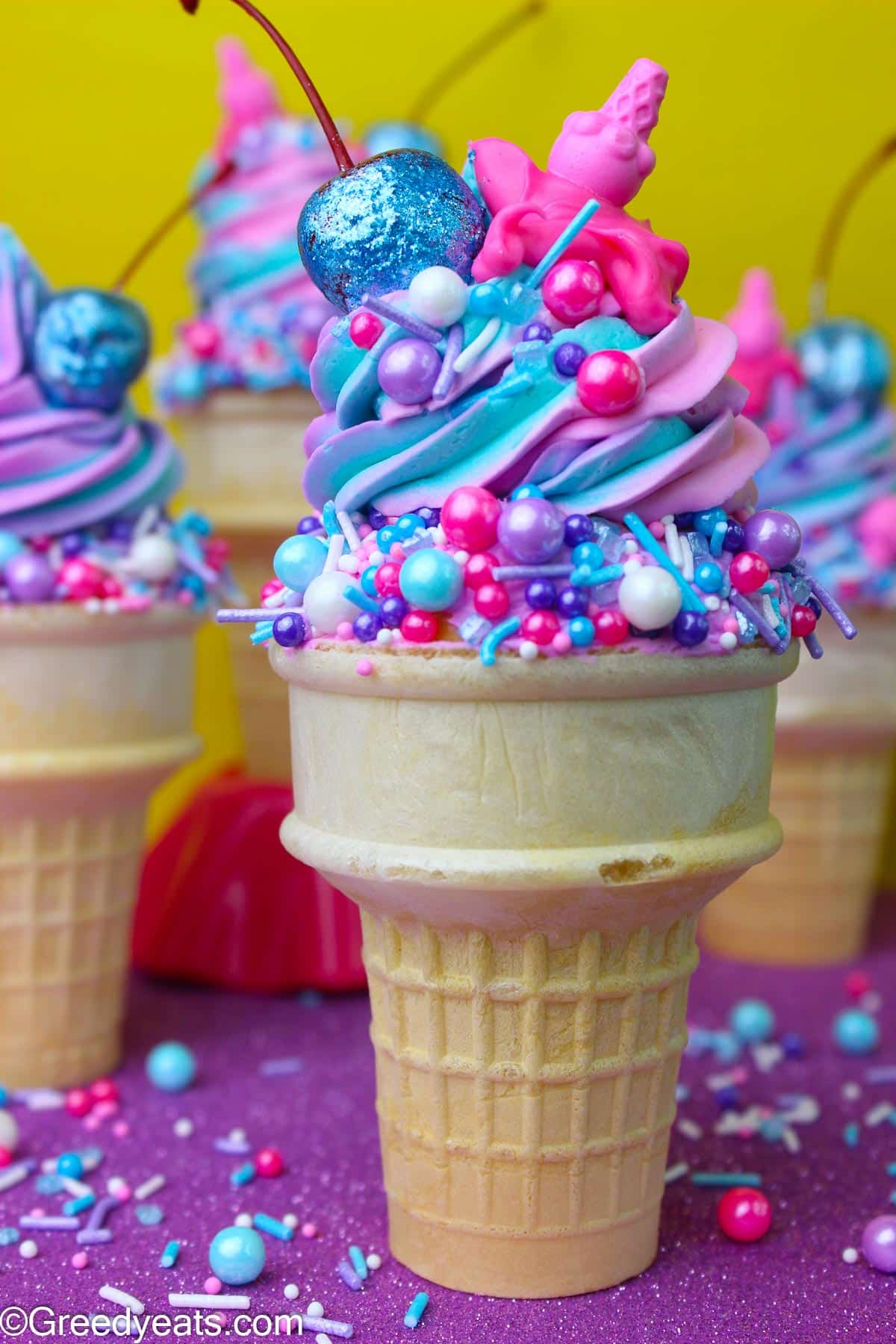 Recipe FAQs
How do you swirl food coloring in frosting?
In a piping bag fitted with piping tip, use a spoon to scoop one color of frosting into ⅓ section of the bag. Repeat with remaining two colors. Squeeze the bag to allow the frosting to slide down into the tip. Now twist the piping bag and frost your cupcakes.
You can also opt for plastic wrap technique as I use here to make this
rainbow frosting
.
How do I make my buttercream color vibrant?
To get a more vibrant color use a gel or paste based food coloring. These colors are more saturated and won't turn your frosting thin.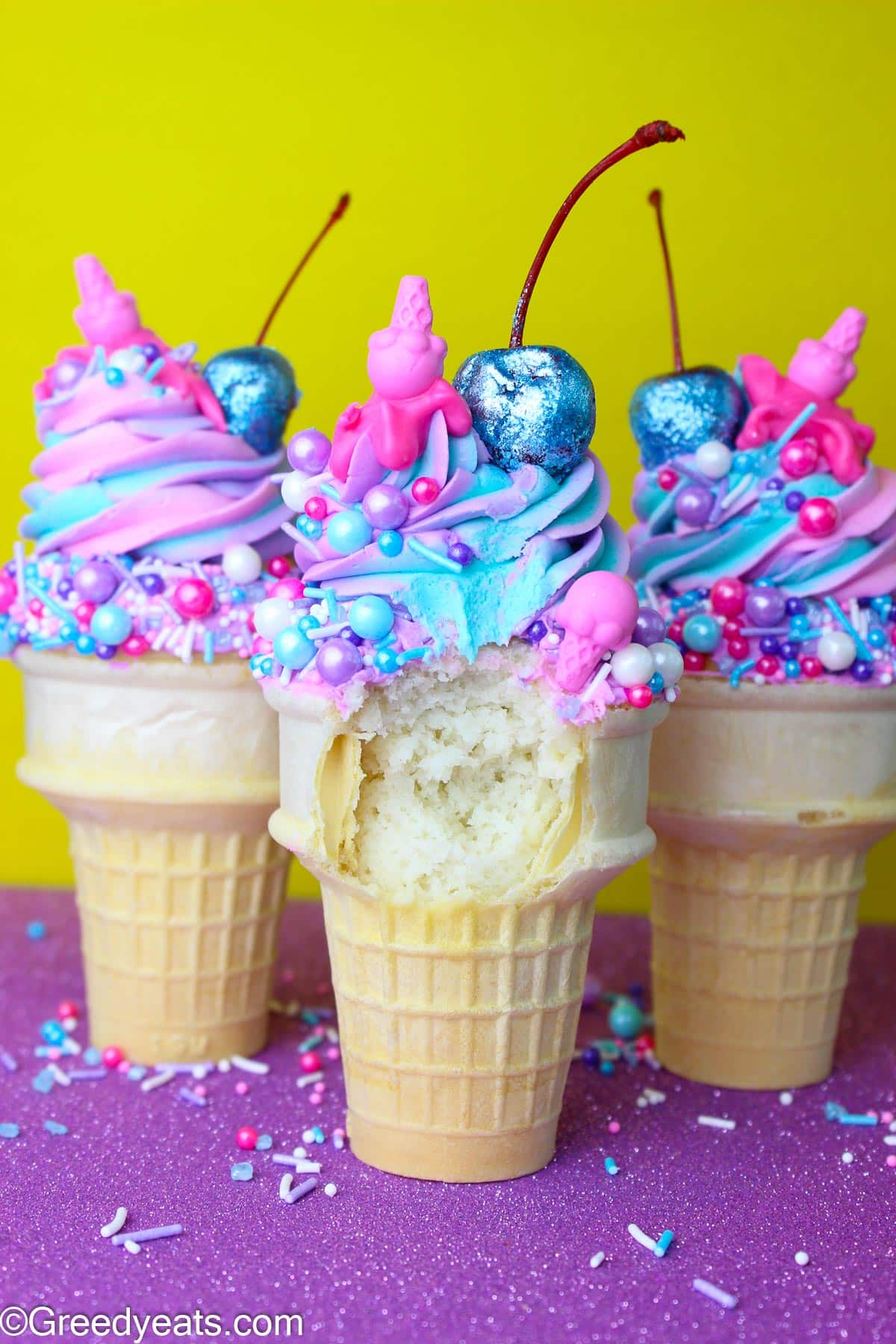 What frosting tip makes swirls?
The Wilton 1M and Ateco 849 tip both will help you make the perfect swirl in your icing.
How do you make swirls on cupcakes?
To make swirls on your cupcakes, fill your piping bag with frosting and start squeezing frosting in the center of the cupcake and then gently swirl it around the edges.
More Cupcakes recipes you will love:
If you liked this ice cream cone cupcake recipe, give it a star review. Also, tell me in the comments below, how did they turn out for you! And don't forget to share your creations with me on Instagram at #greedyeatsblog. And let's be friends on Pinterest and Facebook too!
Recipe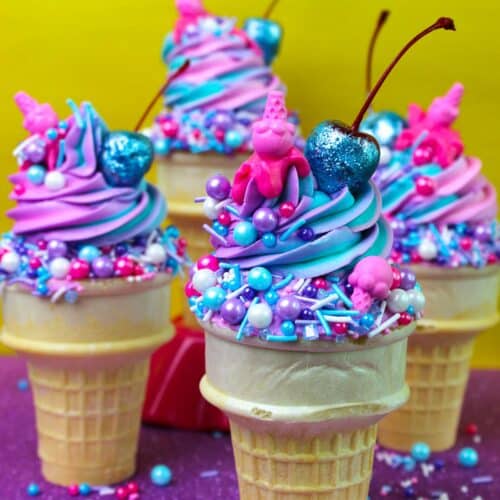 Ice Cream Cone Cupcakes
We all know and love our trusted cupcakes but what if I told you cupcakes could be even better. Yes! Cone cupcakes are simply the best. Made with few simple ingredients, super quick and easy to make, these cone cupcakes are a summer staple in my home!
Print
Pin
Rate
Equipment
Hand/stand Mixer

Cupcake Pan

Piping bags and decorating tip (1m or Ateco 849 piping tip)
Ingredients
Vanilla Buttercream Frosting
1 ½

cups

Unsalted butter

room temperature

5 ½

cups

Confectioners' sugar

1

tablespoon

Pure vanilla extract

6

tablespoon

Heavy cream

room temperature

a pinch

Salt
To decorate: (optional)
Gel food coloring

(electric blue, electric purple and hot pink)

¼

cup

Candy Melts

(in hot pink color)

12

Cherries

(dipped in blue glitter dust)
Instructions
Prepare cupcake batter as per the instructions on the box.

Line Cupcake Pan with tin foil, place cones and pour cupcake batter in cones. Fill each cone to ⅔ full.

Allow the cupcakes to cool completely before attempting to frost.

Top with sprinkles to finish off!
Vanilla Buttercream Frosting
Beat butter in a stand mixer fitted with the paddle attachment or use a handheld electric mixer and a mixing bowl until the butter is creamy and pale in color, about 1-2 minutes.

Pour in half of the confectioners' sugar and beat on just until the sugar has mixed in. Increase the speed and beat until well incorporated.

Add the remaining confectioners' sugar, heavy cream vanilla and salt. Then beat on low speed just until the sugar has fully moistened. Now turn the speed to medium-high and beat until the frosting turns fluffy and smooth, about 2-3 minutes.

Add more cream to reach the desired consistency if your frosting is too thick. 1 Tablespoon at a time. The frosting should be smooth and creamy yet pipeable
To Decorate Cupcakes:
Apply a thin layer of frosting on the edges of each cupcake and coat it in sprinkles. I used purple colored frosting for this step, but you can even keep it white. You won't see the color of frosting after coating it with sprinkles anyway!

Now divide the frosting among 3 bowls and mix food colorings in each of them. Shift all three frostings into a piping bag and swirl on cooled cupcakes.

Melt the hot pink candy melts and allow it to cool down slightly (add a teaspoon of oil in it to thin it down if needed). Spread some on top of each frosted cupcake and allow it to drip down a little for the melted ice cream effect. Top with icecream toppers, a cherry on each cupcake and more sprinkles.
Notes
Recipe Success Tips:
Don't bake these cupcakes way ahead of time. May be bake these just 1-2 hours before serving.
Or you can poke a few holes in the bottom of each baked cone cupcakes to allow steam and air to pass. This way the cones won't turn soggy!
Storage Info:
You can store frosted/unfrosted cupcakes for 1 to 2 hours. Bake them only when you are ready to use them within a few hours.
Nutrition
Serving:
1
Cupcake
|
Calories:
324
kcal
|
Carbohydrates:
3
g
|
Protein:
2
g
|
Fat:
33
g
|
Sodium:
104
mg
|
Sugar:
43
g